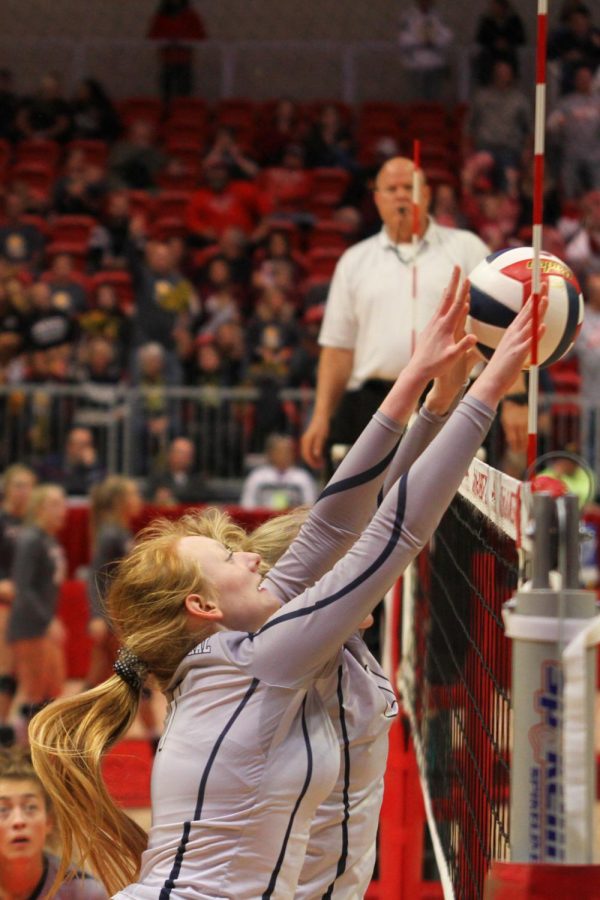 Facing Fierce Competition
The girls volleyball team battled tough competition in game two of the MSHSAA state tournament
November 8, 2019
As the girls warm up, they realize what needs to be accomplished. After losing both sets in their first game, winning their upcoming matches will be crucial in deciding whether they play for first or third place. 
Unfortunately, winning both sets isn't that easy. Battling the Liberty Blue Jays, who finished their season with a record of 28-7, the Spartans knew this would be a tough team to face. Losing the first match 25-20, the team switched sides of the court hoping to end with a different outcome for the next set.
After losing their third set for the day, the girls decided to walk into the fourth set with a more positive attitude. Senior setter Emily Mundle helped to encourage the team to take a look at everything they have accomplished despite their recent losses.
"Everybody felt more relaxed and we kind of decided as a team to take in a moment that we actually made it [to state] and to just have fun. Whatever happens, happens. We still made it," Mundle said.
They started off the second set of the game slow. Trailing by several points from the get-go, it was evident that the team started to lose hope. The end result was a loss of 25-12 for the second set.
Head coach Steven Le feels the Spartans were prepared to play against Liberty, but could not reach a desirable outcome.
"I think the first set we lost because of nerves, and the second set we lost because they outplayed us," Le said. "This team, we knew what they were going to do, they just did it too well. We couldn't stop them."