Springing Ahead
Winter workouts give spring athletes a head start on conditioning and strength training for their upcoming season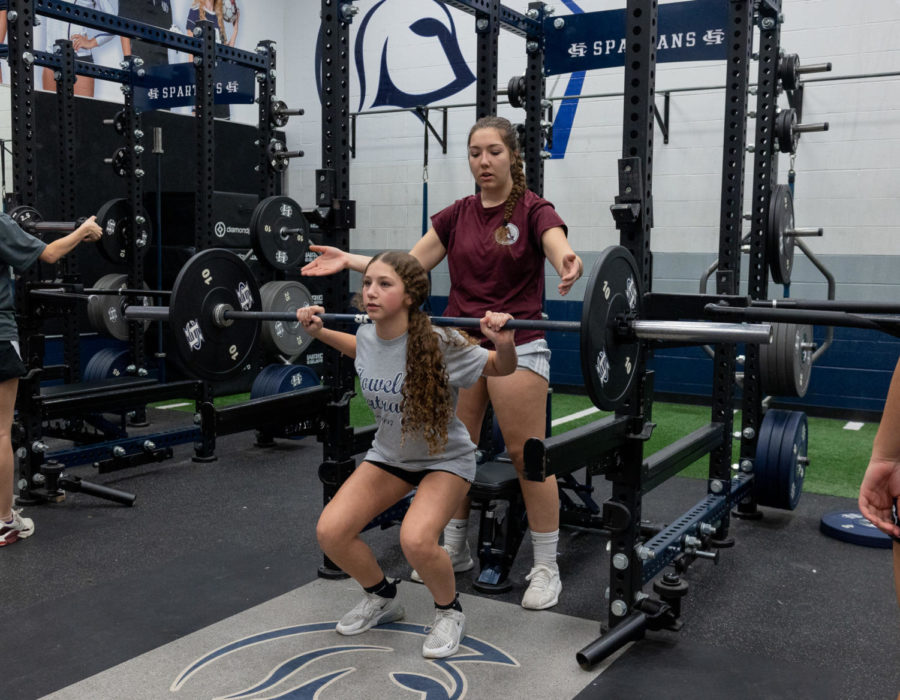 Beginning in November, junior Ava Lunders double checked her bag to make sure she had everything. Tennis shoes, check. Cleats, check. Water bottle, check. After school, she heads to the weight room to prepare for her upcoming soccer season. Gathering with her teammates, they begin to lift and the sound of clanking weights quickly fills the room and chatter follows as the players catch up with each other. Sipping from her bottle, Lunders looks around the room at her fellow players and excitement for the season begins to rise within her. 
"It's good to see everyone and see the [incoming] freshmen and get to know everyone," Lunders said. Additionally, Lunders mentioned, "[winter workouts] help me be more fit, ready for the fitness tests, and [be] able to play the whole game."
Coaches of spring sports such as girls soccer and baseball hold winter workouts in order to meet players and prepare their athletes for the upcoming season, while players attend to connect with new and old teammates, rehab from injuries, but most importantly, improve their skills. 
 The start of second semester is when athletes can find themselves readying on their home turf, up to three days a week after school. During the hour-and-a-half training, athletes are conditioning, strength training and doing technical work. The workouts vary from soccer to baseball, but athletes need to come prepared with gear for any weather and situation. Senior varsity girls soccer player Delaynie Brown makes sure she has everything she would need for her workouts. 
"We're supposed to bring clothes to lift in and then clothes for indoor and outdoor just depending on what we'll be doing that day, as well as cleats and our soccer attire," Brown said.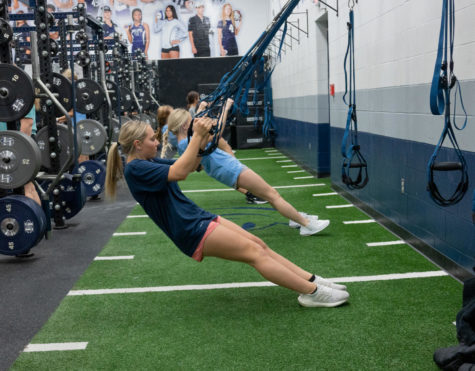 Primarily, pre-season workouts are held to prevent injury in players that start abruptly at tryouts, so, winter workouts offer a way for players to gradually build up strength and techniques again. Athletes readying themselves by going to winter workouts can also expect to see improvements in their all-around abilities. Senior varsity baseball player Bryan Forbes has noticed the impact of winter workouts on his playing abilities and time on the field. 
"I noticed that going to winter workouts before [tryouts] improves my season, even getting more playing time at the beginning," Forbes said. "I'll hit better [and] especially throwing, [I]'ll notice that I can throw further, if [I'm] staying on top of it." 
Every athlete should be looking to improve their game, and pre-season workouts are a great opportunity to do so. However, for some athletes, winter workouts are used more for rehabilitation, as Brown got her appendix removed and attends the pre-season workouts to get back to the strength she used to have.
"Last year, I got my appendix taken out the night before the last game of our season," Brown said. "Getting your appendix taken out, you have to rebuild your core a lot, so I'm definitely getting better during winter workouts."
With consistency, athletes attending these workouts can reap benefits aside from strengthening their physical abilities. Getting out there ahead of time at winter workouts offers the chance for coaches to get to know you before the season begins, and additional playing time could be in your future. Additionally, being given the space to connect with other athletes of the same sport offers the chance to get to know each other and see how your team will come together during the season in hopes for success. "[Winter workouts] are useful to see the team, see how people get together, and kind of build [a] relationship early before the season starts. It really helps to bring the entire program together to kind of see where people are at, how we want to improve, where we need to improve when the season starts. Overall [they] help [to] blend the team and really helps to get everyone ready for the season," Forbes said. 
Leave a Comment
Your donation will support the student journalists of Francis Howell Central High School. Your contribution will allow us to purchase equipment and cover our annual website hosting costs. FHCToday.com and our subsequent publications are dedicated to the students by the students. We hope you consider donating to allow us to continue our mission of a connected and well-informed student body.