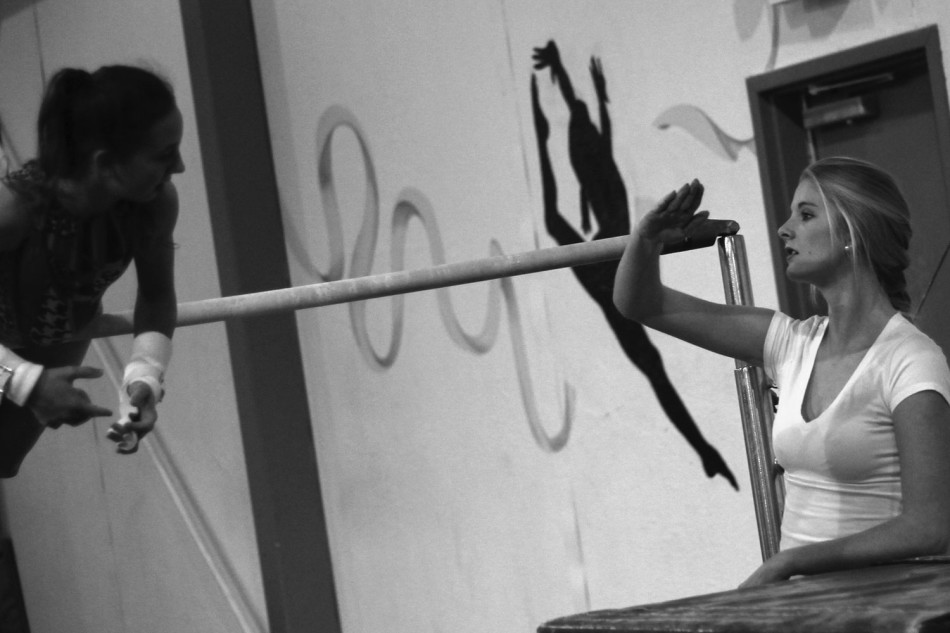 Zach Grau
Many would agree that gymnastics is one of the world's most difficult sports for girls. It's one of the most watched events during the Olympics. It's one of those sports that people will tune in to see even if they know little about it because it's easy to tell how difficult it is just by viewing it. People can recognize the work a gymnasts puts in because it shows through their physique.
"It's physically demanding because it takes a big demand of conditioning and body awareness. Skills like flexibility, power, strong muscles, speed, and balance are needed and it takes a long time to build all that up," senior Diana Jacob, a former gymnast of 14 years, said.
Mrs. Janet Besselman, coach at Northside Gymnastic Academy,  agrees that the body of a gymnast works all muscles. A gymnast trains hard to get their body to be able to bend and jump and flip and twist and pound. While other athletes only have to train during their season, Jacob would train year-round. Once she developed a routine schedule, missing a day or two of practice because of times like Christmas break could have affected her stability.
"Gymnastics works every muscle group in the body," Mrs. Besselman said.
It is also very mentally demanding. Gymnasts like Jacob had to be very dedicated to be able to train and stay ambitious so that they didn't feel like they hated the sport. They must maintain a positive attitude. A negative attitude will only add frustration.
"A gymnast has to be mentally tough. The skills are very difficult and making an error can be extremely dangerous. A gymnast has to block out his/her fears in order to give 100 percent to the skill," Mrs. Besselman said.
Senior Madison Jilek did gymnastics for eight years and now coaches at FlipSide Gymnastics. She started gymnastics later than most kids, but once she got into it, she fell in love with the sport. She loves how it is sport for brave athletes who are not all the same. Some are better at floor while others are better at vault. Each gymnast is different and has different skills to accomplish and set their mind to every day. Learning a new skill can be scary at first. Once it's accomplished, it's a matter of keeping the skill consistent. But it doesn't end there. Gymnasts are constantly finding new skills to achieve.
"Attempting to do skills on a four-inch wide beam that most people won't throw on floor is terrifying," Jilek said.
Competitive gymnasts work year-round, so these athletes have little free time. Jilek and Jacob would spend about 20 hours per week when they were training. It is common for gymnasts to stop training during their late teen years.
Jacob admits she feels she has too much free time now and doesn't know what to do with it. She developed a daily schedule of going to school for seven hours then to gymnastics for four. She wouldn't get home until after dark and then she would eat and try to tackle homework. Jacob has been having that schedule for several years so she got used to it. She didn't have the luxury to compare how a schedule with more free time felt since she trained year-round.
"Our low-level competitors work out six hours per week to up to 16 hours. Many of the gyms we compete against are working out up to 24 hours per week. Some kids even in elementary school are homeschooling because they workout too many hours to go to school," Mrs. Besselman said.
Gymnasts compete in four areas: floor, vault, bars and beam. All areas have to be approached with caution. A gymnast must know what they are doing and how to do it before attempting a new skill full out in any of the four events. Learning a new skill can be a journey. When Jacob learned how to do a back tuck (a backwards flip in the air with the knees tucked in), she had to go through steps in order to understand what she had to get her body to do. She learned she must jump and stretch up to her highest point in the air. Once she feels like she's at her highest, she must tuck in her knees with correct technique in order to get the right momentum and direction to flip herself. Then she had to learn how to land with her body upright and her legs sticking the landing so that she doesn't break an ankle. No matter what the skill is, gymnasts must have an understanding of what their body must do and how to get to the point where they can make their body do it on a consistent basis. Each skill has steps. They have to go through each step before forming the sequence. Jilek believes bars to be the most difficult task. Going through steps on a skill for bars can be frustrating.
"It's different for everyone, but in my opinion, bars is most challenging," Jilek said.
The muscles required for bars also make Jacob believe it is the most demanding. It uses muscle groups the other three events would not typically use. Bars requires gymnasts to use muscles from mostly their upper body. The other three events have a more balanced effort from a variety of muscles throughout their body. Going from a floor routine to a bars routine requires a switch of the mind-set. A new focus must be made because the new task calls for new muscles and new methods of thinking.
"It takes different muscles that you wouldn't use for other events. It's swinging so you have to rely on your upper body strength and momentum to keep going," Jacob said.
Mrs. Besselman and Mrs. Jessica Frisz, coach at GymQuarters Gymnastics, agree that bars is the most physically challenging, while beam is the most mentally challenging. Though every event requires a strong attitude and confidence in what one's own body can accomplish. It seems easier to mess up on beam because of the restricting area a gymnast has to stay in. The beam is high and gymnasts can't just move past it like they can on vault or bars. They have to keep concentration and courage even though the fear of falling and hurting oneself or messing up their routine is at a high.
"Beam is the most mentally demanding because of the fear involved," Mrs. Frisz said.
It takes many traits and skills to be a successful gymnast. They can't afford a bad day. Maybe they can handle an okay day, but a poor day can cause damage to both the mental and physical state of a gymnast.
"It takes strength, balance, determination, leadership, good presentation, sportsmanship and mental toughness," Jacob said.
One thing that separates gymnastics from some other sports is that not only can they always improve each skill they already have, but there is always something new to be learned. This can add a lot more pressure and ambition.
"It adds pressure because there is also a constant drive to get better and better. It can be hard if you're having difficulties with skills or mental toughness," Jacob said.
Gymnasts feel a sense of accomplishment when they finally master a new skill. But once they have it on a consistent basis, they're already striving to earn expertise on the next skill to learn. Their drive and pride keeps them pushing.