Girls Volleyball Heads to State
Program will vie for its first ever state title against three other schools.
November 7, 2019
The girls volleyball team departed for Cape Girardeau and the campus of Southeast Missouri State University at 8:45 a.m. this morning through a tunnel of students sending them off to the team's first visit to the state championship. The Lady Spartans will take on Nixa High School, Lafayette High School and Liberty High School from Liberty, Mo.
Please revisit this space for updates throughout Friday and Saturday for stories and photos from the state championships. In addition, you can find more information by following us on our social media channels.
Spiking Through Loss
The girls volleyball team loses the first two sets in the State Tournament
As the first game in the girls volleyball state tournament came to a close, tensions were high. The Spartans lost both sets in their pool play game against Nixa High School, but as the girls sigh in defeat and disappointment, they pick themselves back up, prepare for their next game and hope for a chance to redeem themselves. 
Senior Kayla Steinmeyer, one of the most valuable players over the course of this game, drew support and inspiration from more than 50 students and staff members who traveled to the Show-Me Center for the game. 
"It made it … a lot better for us. It was really exciting," Steinmeyer said.
Though the added energy from the Spartan community aided in the girls' performance, it was not enough to help them secure a win. In their upcoming games, the girls aim to communicate more efficiently and hopefully beat their opponents.
"[We hope to improve] communication and [work on] not getting down on [ourselves] so easily," Steinmeyer said.
Junior Lexi Peterson agrees that there is much to work on in order to perform better during the remainder of the tournament. 
"We're just gonna establish what needs to be done first, you know come out stronger," Peterson said. 
Steinmeyer has faith that the team will be able to turn its loss into something positive.
"[Losing] was kind of a bummer, but there's two more games, we'll be fine," Steinmeyer said. "I'm gonna take it as a learning experience and move on."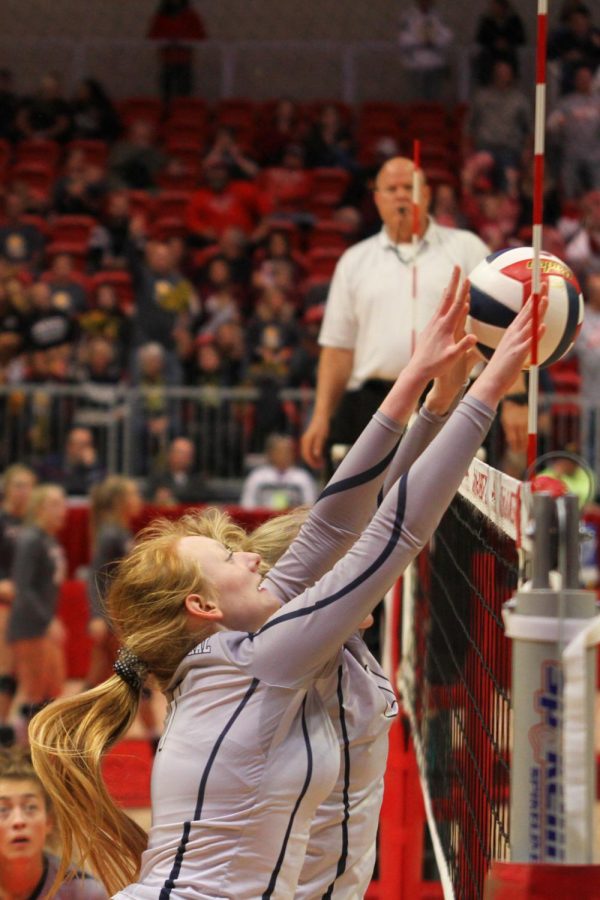 Facing Fierce Competition
The girls volleyball team battled tough competition in game two of the MSHSAA state tournament
As the girls warm up, they realize what needs to be accomplished. After losing both sets in their first game, winning their upcoming matches will be crucial in deciding whether they play for first or third place. 
Unfortunately, winning both sets isn't that easy. Battling the Liberty Blue Jays, who finished their season with a record of 28-7, the Spartans knew this would be a tough team to face. Losing the first match 25-20, the team switched sides of the court hoping to end with a different outcome for the next set.
After losing their third set for the day, the girls decided to walk into the fourth set with a more positive attitude. Senior setter Emily Mundle helped to encourage the team to take a look at everything they have accomplished despite their recent losses.
"Everybody felt more relaxed and we kind of decided as a team to take in a moment that we actually made it [to state] and to just have fun. Whatever happens, happens. We still made it," Mundle said.
They started off the second set of the game slow. Trailing by several points from the get-go, it was evident that the team started to lose hope. The end result was a loss of 25-12 for the second set.
Head coach Steven Le feels the Spartans were prepared to play against Liberty, but could not reach a desirable outcome.
"I think the first set we lost because of nerves, and the second set we lost because they outplayed us," Le said. "This team, we knew what they were going to do, they just did it too well. We couldn't stop them."
Spartans Lose Both Sets to Lafayette
Despite a hot start in the first set, Lady Spartans fall to Lafayette; will play for third tomorrow at 3 p.m.
The Spartans ace the first point of the match. Followed by a kill from senior outside hitter Olivia Green. Then another ace, and another kill, and another and another. The girls volleyball team leads the Lafayette Lancers 6-1 to start off their last game of the day strong. With the crowd cheering and the atmosphere fully energized, the Spartans look to capture their first win of the game this set. After three kills by Green in a matter of minutes, she saw this momentum as a possible turning point for the team. 
"It was definitely nice, especially since we didn't play as well as we could have against Nixa and Liberty in the first two games," Green said. 
Bouncing back from losing two prior matches is no easy feat. It can dampen morale and lead to easy mistakes, but sophomore libero Alexis Arnel believes that is what the team is best at: bouncing back. 
"I think we did good at just like shaking off plays. Like we're not letting the last play affect our other play," Arnel explained. 
Even after this trigger of momentum, the Spartans suffered another loss in the first set 25-18 and the second set 25-17. The Spartans hope to carry this attitude over to their game tomorrow competing for third place against Liberty at 3 pm. 
"We just need to focus on having fun and kind of goofing off because I think we play a lot better when we just enjoy the game; not as tense and nervous as we were the first two games for sure," Green said. 
With the energy for this last game on point, both Green and Arnel agree the one thing that has to improve from today's play in order to capture a third-place title tomorrow is passing. 
"[For tomorrow] we need to have our passing. Passing is what starts the whole thing, and I mean you can't have a good hit if don't pass good and our passing wasn't on point it normally is," Arnel said. 
Even after today's' series of highly competitive games that resulted in losses, the team made it. They are in the Final Four. They are grateful, ecstatic, and proud; no matter the outcome. After capturing the first conference championship in nine years, the first district championship in 12 years, the first sectional and quarterfinal wins in program history, and the first final four appearance in program history; nothing can beat just the opportunity to be here competing. 
"It's definitely been surreal," Green explained. "Honestly, I didn't think that we would make it this far, and I love being here. I love soaking it all in and then just like watching other teams play, watching good volleyball, it's just so fun."