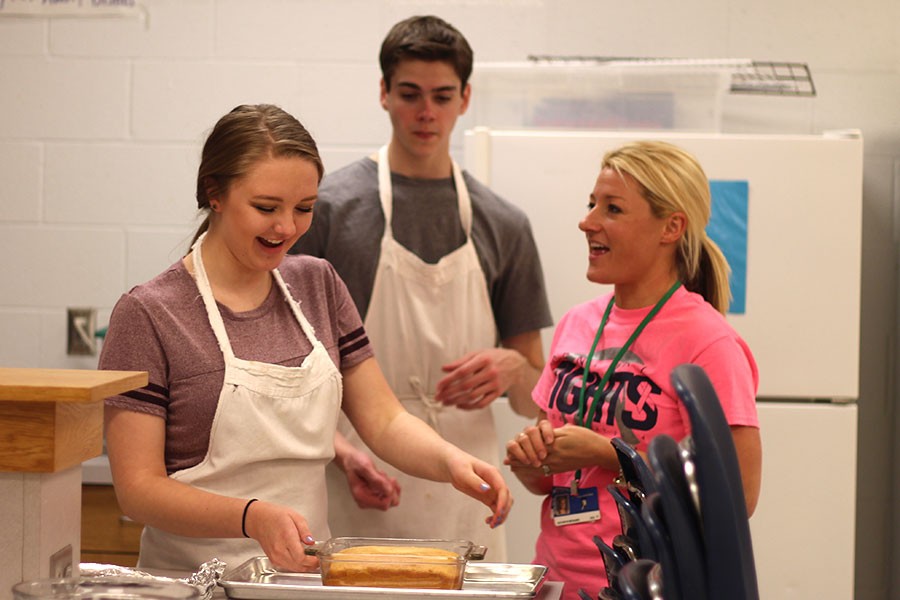 Teacher appreciation week: Mrs. Mcguire
Motivating FACS teacher creates a classroom environment that is exciting, involved, and rewarding for students
May 6, 2015
I've only been in FHC for two years and I don't particularly like it, but Mrs. McGuire is a teacher that I've had for both years and she's definitely my favorite. Most teachers I have encountered aren't quite my type. But Mrs. McGuire's teaching style just really clicks with me.
Mrs. McGuire is the loudest teacher I have ever had, but not in a bad or annoying way. Her voice demands attention and keeps you awake and listening, which is great for slow mornings, and her personality and humor are very enjoyable and realistic.
Last year, she helped me learn and actually remember tons of information in child development, then helped me grow and improve as a teacher and caregiver through tough love and brutal honesty while I taught children with my classmates.
Taking both Child Development 1 and 2 last year I now feel incredibly knowledgeable about pregnancy, babies, and children. I know just about all there is to know about that thanks to her, and for that I'm grateful. Especially because I now have multiple credible references and people trust me to care for their babies and kids, which is rewarding in both money and fun.
Her class was one of the most exciting, involved, fun, and rewarding classes i've ever done and im glad I did. This year I'm in Human Relations as a way to introduce myself in to my long lived goal of acing Psychology classes, and Mrs. McGuire is really helping me achieve the start of a long term goal.
She makes me laugh without even trying and is naturally motivating in her demeanor. She has multiple talents and successes and I aim to be someone like her once i'm out of college. Plus, she gets ton of respect points for dealing with not only her own kids and other peoples toddlers almost everyday, she deals with teenagers on a daily basis.