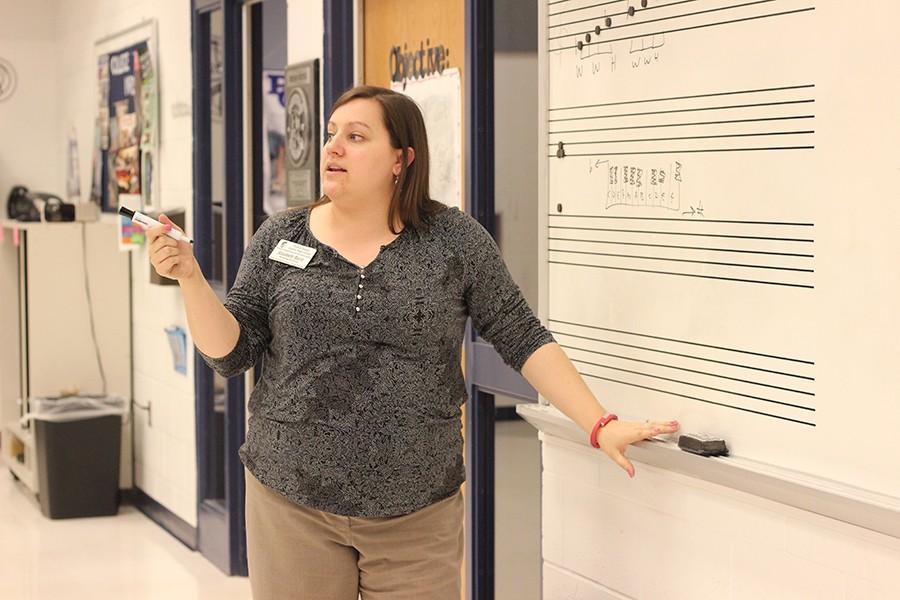 Teacher appreciation week: Mrs. Baird
Choir teacher creates a positive environment in the classroom with her passion for music
May 7, 2015
From Ilene Holder:
Think of the perfect teacher. One who has the passion of a thousand suns, the dedication of an emperor, the amount of love in all of Cupid's arrows and the comfort of an older sibling or favorite family member. Someone who has one of the most beautiful personalities ever known. There is one person in particular that comes to mind when I think of the teacher who does their best and is one of the best.
This person is someone who tends to be looked up to by the young ones and even the ones who are considered veterans of the organization. There's no one who can compare to this person because they are just that unique and special. Any time spent with this teacher is time that will be cherished for the rest of my life, especially since their work is going to help part of my future.
My person is the amazing Mrs. Elisabeth Baird, who has been working hard for years to make sure she does her best when it comes to teaching and directing the choirs. She is the best teacher I have ever had. The amount of growth I have had over the past four years is in part due to her. If Mrs. Baird had not pushed me to stay in choir my freshman year, I would not be in choir and I cannot explain how much that upsets me.
I remember the day when I was about to quit. Mrs. Baird had the most heartbroken look on her face, but she didn't talk to me negatively, instead she tried to remind me of all the good memories I had in the choir room during my first year. She continued to work on making me stay for the next few days too, she never gave up.
For that, I thank Mrs. Baird a thousand times over. Without her determination and dedication to me and the program, I would have missed out on one of the best things that I have ever experienced. There is so much love and appreciation for Mrs. Baird. Without a doubt, there have been ups and downs, but I can't imagine having anyone else as my director for the last four years, nor would I ever. An infinity of thank yous to the phenomenally lovely Mrs. Baird.
From Sarah Lupescu:
I love singing; it's something that I feel that I'm good at & it's always fun for me. When I started high school freshman year, I knew that I was going to join choir. Mrs. Baird is the choir director and I love going to choir everyday because of her.
She is the funniest, kindest person ever and I love being in her class. She is so easy to talk to, and I literally tell her everything. I feel like over the years, because I am a junior now, I have really gotten comfortable there and the choir has become a second family to me.
She is always there for me and she has gotten to know me, and it's really nice to know that she genuinely cares about me and my life. Mrs. Baird has a passion for music, and it's really inspiring to me and the rest of the choir. She uses her passion for music and always pushes me to do my best.
Singing everyday is the best thing ever because I love learning new songs and Mrs. Baird knows how to make it fun for us, but she also knows when to keep it serious and get to work. Recently our choir went on a trip to Atlanta, and I definitely feel like I learned more about music, and my love for music and choir grew even more. I appreciate her so much and everything she has done for me, and she is really important in my life.