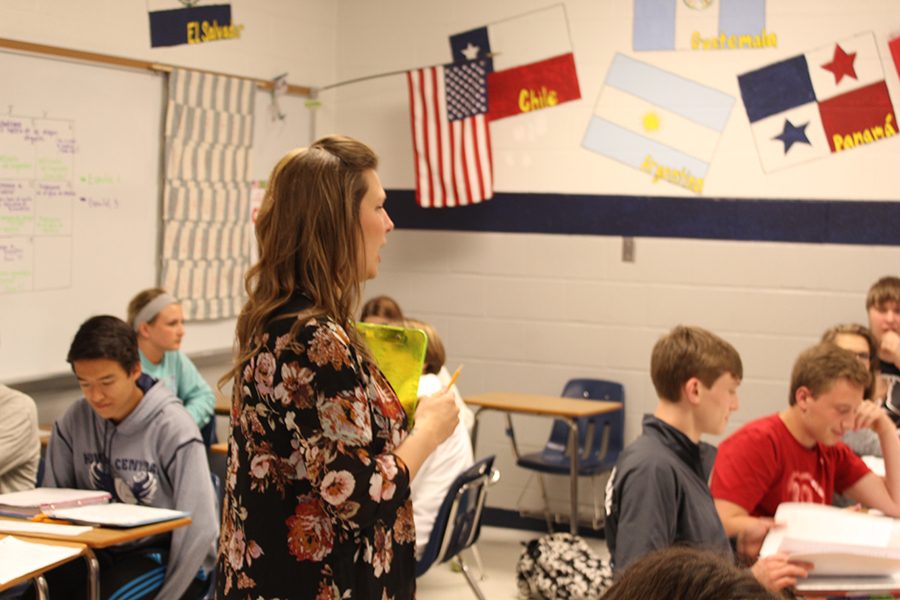 Mrs. Mair
Cadence Bippen:
Mrs. Mair (I think this is the first time I haven't referred to her as Mrs. Wager) is without a doubt one of the best teachers I've had in my 13 years of school. I didn't take Spanish in eighth grade because I was afraid of the teacher. I didn't take Spanish freshman year because I wanted to take two music classes. Now, I am a senior in Spanish III, and thanks to Mrs. Mair, I will forever regret not starting sooner.
Mrs. Mair's class is everything I want it to be. It is a room of communication, understanding, laughs, silly teenager jokes and learning. Her class is organized, colorful, educational and fun, and I never feel like my time is wasted. With every game, quiz, activity or test we take, I know there is a reason for it and I know I will get something out of it. Even when we do Conjuguemos, an online activity, I don't feel like it's just busy work — I know it's a great review and study tool.
Maybe I'm lucky, but I think Spanish comes pretty naturally to me. It combines logical thinking with creativity, and has real, tangible applications to our world. I'll be the first to admit that I probably like Spanish because I'm good at it, but I can honestly say that I am never bored in class with Mrs. Mair. I continue to be challenged with the material we are taught, and if I want to know something a little more, Mrs. Mair won't say "Wait, we haven't learned that yet." She will say "Do you want me to teach you how to do it?"
Taking Spanish in high school has made me part of who I am today. It is something that I truly, honestly enjoy doing. I LOVE timed writes. I like practicing at home. I remember when Mrs. Mair said "Today we are going to learn commands, I'm so excited!" and I thought "I am excited too! I've been waiting for this!" Maybe it's nerdy, but I am so thankful to Mrs. Mair for creating a class in which I know I am learning and growing and I look forward to every day. I don't know what I want to be when I grow up, but I plan to minor in Spanish no matter what. I look forward to when I am fluent and can use Spanish in my career (whatever that may be) to help people.
Thank you, Mrs. Mair, for giving me something to be passionate about. I wish more than anything that I could continue on to Spanish IV with you next year, but I can promise that this isn't the end for me.
Gracias por todo.