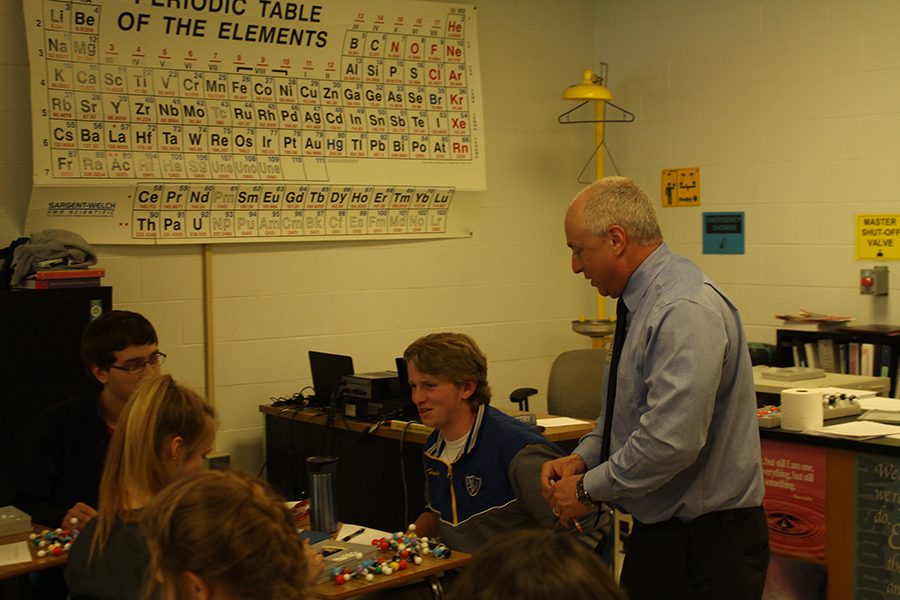 Mr. Kozlowski
Becca Abrams:
I remember my junior year when Mr. Koz was filling out recommendations for AP Chemistry and he went around the room asking kids what their intended major was. Most of them said something in science or math and then it got to me and I said business. I immediately went home that night and reevaluated what I actually wanted to be and what I wanted to gain from my education. I didn't want to be a business major, I felt like I was copping out, so I made the decision to continue into AP chem and it has been the best decision I have ever made.
I have always asked myself whether or not I genuinely liked Chemistry or if I only liked it because Koz was my teacher. But I have come to the conclusion that I wouldn't want to endure the torture that AP Chem puts on its victims, unless I enjoyed the challenge.
It's the passion he shows for the subject and his willingness to make sure students understand is what made me decide that I would be majoring in Chem.
The atmosphere in the room is always positive and Mr. Koz has a way of insulting you in the nicest way possible. Especially when he tells you that he needed Pepto Bismol to grade your quizzes.
Thank you Mr. Koz for being one of the best teachers I have ever had and although I might be sad in college because of Chem 2, I will always remember your chemistry cheer.
Kaleigh Zehnle:
Though many kids take honors chemistry as a sophomore, I didn't take it until junior year, worried that it would be too hard, but little did I know what a great teacher I would have. I didn't necessarily like chemistry or even know that much about it, but after having a class with Mr. Koz for two years, my perspective has completely changed. Koz makes class fun; from the chem cheers to the corny periodic table jokes to all of the squiggly line data tables, I'm always entertained by his sarcastic sense of humor. I appreciate that sense of humor because I know that when I'm in class I can expect jokes and fake heart attacks and not just something monotone and boring. I'm sure that I would like any subject he taught because he makes it interesting and he gives me a reason to pay attention and learn. Koz is just a cool guy. Even if a student doesn't have Koz, they know who he is because that's the reputation he has gotten from being such a cool teacher and being so good at what he does. He makes chemistry come easily to me, and because of that, I have decided to continue using chemistry for the rest of my life and major in chemical engineering at Missouri S&T. Koz helped me figure out what to do with my life back when I had no idea whatsoever. The way he teaches makes chem make sense, and I know that I'm going to use his notes and remember his techniques throughout college. I can tell that he puts a lot of time into preparing lessons and creating good ways for kids to remember and learn. Though he may seem a little harsh on the outside when he tells you to cancel your plans that night for chemistry, deep down, he really does care about his students. I am thankful to Koz for helping me to understand chemistry and to steer me in the right direction for my future. I'll definitely miss having him as a teacher.