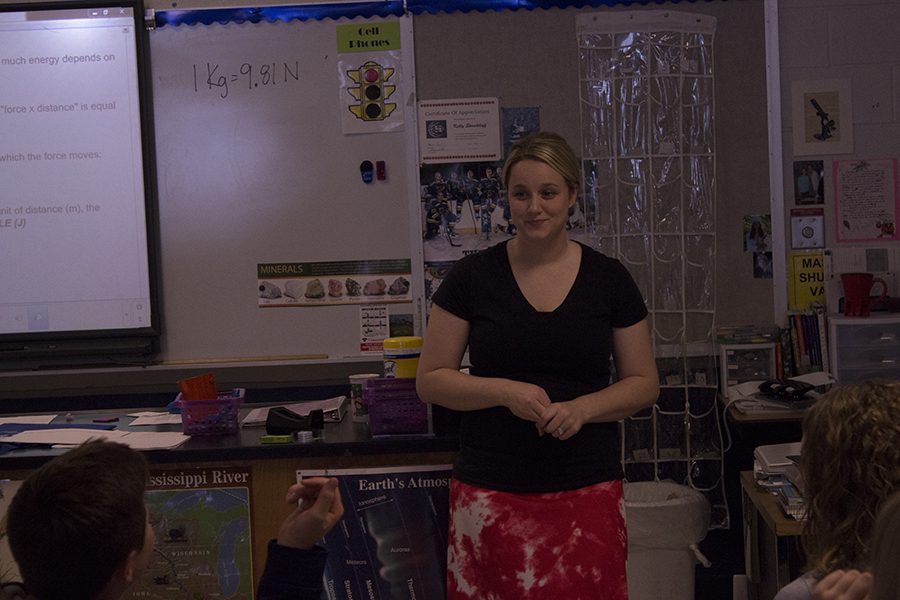 Ms. Struckhoff
Will Sills:
Few jobs are as selfless as being a teacher. They teach the next generation of doctors, lawyers, engineers, and stock brokers, yet they seem to receive little thanks for their hard work. In fact, if they do receive attention, it usually isn't for anything good.
It seems as if fewer and fewer teachers are coming, and several aren't very good. So when a new teacher comes around and is awesome, kind, and very talented, it really is a nice and wonderful surprise.
This year, I have one of those teachers. That would be my earth science teacher, Mrs. Kelly Struckhoff.
When I first walked into her class and heard her talk, I could tell she was kind, smart, and funny. Over the years I've had many great teachers, yet she is already near the very top.
I never have liked science, whether it was chemistry or biology. I was afraid earth science would continue that trend. Had it not been for Mrs. Struckhoff, it very well could have become one of those classes.
Mrs. Struckhoff, even as young as she is, almost feels like a motherly figure: someone you can tell anything and she will support you.
It seems like most teachers now try to act like friends to their students, which is something that I've always disliked, something Mrs. Struckhoff does not do.
She also is just a great educator in general. She gives us good notes and means to study, her tests are challenging but not impossible, and I can honestly say that I've learned more in her class this year than in any of my other classes combined.
It's unfortunate that she came this year instead of when I was a freshman, but I am very grateful that I at least got her for one year.
I wish her the best of luck and hope she has a long and great career as a teacher.