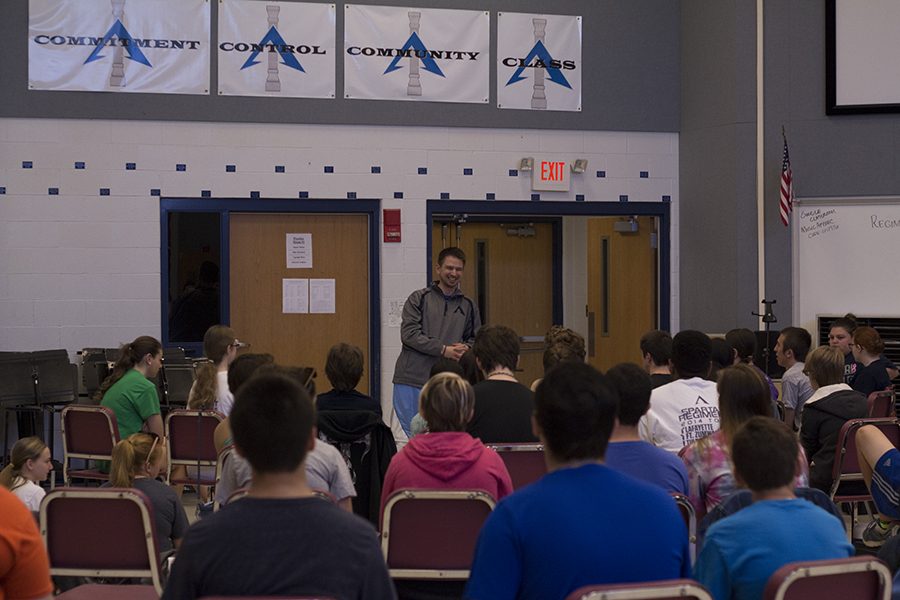 Mr. Griffin
Amy Wilkerson:
I want to start with saying thank you. Thank you for the endless hours you have put in with teaching us and helping us all grow as musicians. I have learned so much in the past two years and I don't know where I'd be today without this band program. I'm always amazed by the amount of patience and passion you have for teaching us music.
Because of this band program, I have been pushed past my limits and my comfort zone and I appreciate all the effort you have put into helping me develop as a musician. You've helped me work past what I've thought were my limits and at the same time, taught me the limits of my instrument and how loud and long I can play it before my clarinet physically will not play anymore. It has been outstanding each and everytime. Once again, thank you.
Skylar Laird:
I still remember when I first decided to play baritone, at the instrument night when I was in fifth grade. That was the first time I met Mr. Messerli, sitting with the baritone and French horn at a table in the corner. I still remember playing it for the first time as well as Mr. Messerli's enthusiasm as he encouraged me to choose the baritone to begin playing in middle school. I obviously listened, as I still play it to this day. That was my first real introduction to band, and it changed my life. Since middle school, band has remained one of my favorite classes, and marching band season is honestly my favorite part of the year. From the first band camp, where we do nothing but learn how to stand at attention, to our last competition, when everyone is in tears, I absolutely love every second of it. And that is due mainly to you, our incredible directors. I can honestly say that I have never met anyone more passionate about anything than you are about band. You dedicate a ridiculous amount of time and effort to making this band the best it can be, beyond even just rehearsals. You're always there for your students, ready to help us with any problems we may have. It's obvious to me that you love band, as you continue to put effort into it, something many teachers tend not to do. You spend every moment possible working to make all our bands, whether marching, concert, or jazz, amazing, and it's truly affected me. Band, specifically marching band, has become easily one of the most influential activities in my life; it's made me more confident, helped me make some of the best friends I have, and just generally made me a better person through every little lesson you teach during rehearsals. You say every day that we have to learn fundamentals first to be successful, that the first step is the most important, that we can't have victory without hard work, all lessons that apply both to band and life outside of it. Your passion for music and for marching is contagious and admirable. I think I speak for the entire band when I say that this amazing passion and dedication has not gone unnoticed and we all appreciate it. Thank you for everything you do for us, and for changing my life.