BREAKING: Power outage sends students home at 11:40 a.m.
A compromised generator near Hwy. N led to 2.5 hours of darkness for students before being sent home midday
January 25, 2017
Today at 9:06 a.m. – right in the middle of seminar – the power went out on campus. A generator on Highway N blew out, and the construction site near campus hit a transformer and blew. Ameren EU was on the scene outside the school to fix the problem. The power was out for 2.5 hours before students were sent home at approximately 11:40 a.m.
Senior Tatianna Hanna, says this is the first time she has experienced a power outage at school, and though she wasn't concerned, she had multiple thoughts and questions initially.
"[At first] I just thought someone was playing with the lights , and then I thought it was an intruder," Hanna said.
Hana's next concern was for her classes, and other students as well, and what could be going on, and what will happen in those classes.
"Some classes are going to be further behind than others because [some] people are taking tests right now," Hanna said. "Some people are giving lessons and all the teachers lessons for certain hours might get behind."
"
"I think we are going to end up getting sent home honestly they are going to be taking a long time to get here and fix it." "
— Tatianna Hanna
From her own thoughts, and her peers in the classroom Hanna heard students wanting to go home, and believed this might be the case.
"I think we are going to end up getting sent home honestly they are going to be taking a long time to get here and fix it," Hanna said. "And then it's going to be out for a while and power takes a long time to boot up"
Teacher of the year Laurie Penuel said this is not her first time experiencing a power outage on campus, as this has happened once before, but she still has some concerns.
"The first time this happened it was not as long … my main concern is the children's education being interrupted," Mrs. Penuel said. "I don't think this is very concerning [as far as safety goes] we have a very safe campus."
Penuel's initial thought was to take precautions for her students, similar to an emergency drill.
"My first thought was to lock my doors in case there was an intruder, or something was happening," Mrs. Penuel said.
As far as the rest of the day is concerned Mrs. Penuel was unsure of what the day would hold and is going by principal Sonny Arnel's word.
As of publication of this story, the power at FHC was still out. Dr. Arnel shared that Ameren UE said the repairs could take anywhere between four and eight hours.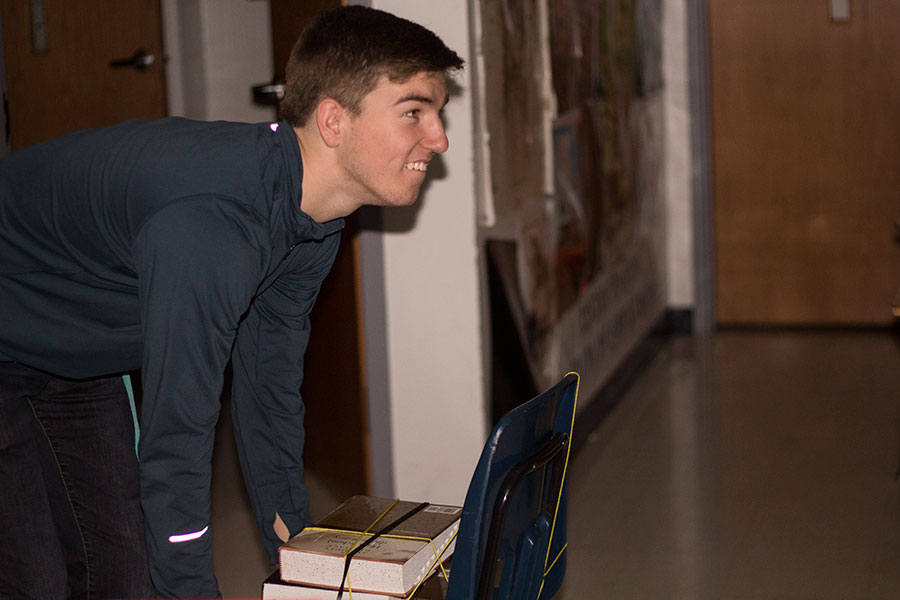 Molly Ebert
Finding some light in the darkness
Three juniors found a fun, yet competitive way to pass the time during the blackout in Mrs. Penuel's classroom
During the power outage, students Austin McKinley, Samuel Kaplan, and Will James  decided to make the most of the uncommon situation, and have a little fun while stuck in Mrs. Laurie Penuel's classroom
"The power went out so we decided to use some of the materials that are in the school and use our creativity," James said. "[We] combined those to make a game called Office Olympics inspired from the TV series 'The Office.'"
The three boys devised a game consisting of three events: chair rolling, shuffle board, and wiffle ball basket. In addition, there were points kept and medals given in gold, silver, and bronze, similar to an actual Olympic event.
"I did take gold in chair rolling, and I am in first as of right now for [shuffle board], so I do believe I am on the track for gold right now," James said.
McKinley explained how the game worked, and how scores were kept, as they stated there were different sections with different point values, and those points are racked up and recorded depending on where their chairs land.
"We are in a very heated competition right now, we used a rolling chair with three dictionaries tied up on it, and we are using that weight to try to score the highest score we can," McKinley said. "I think it was a fun thing to come up with to do during the power outage, something fun to do, we don't want to sit in the dark."
Though the scores varied for each round of events, Kaplan believed he could come out on top, as they all fought for gold overall.
"Right now, I'm just trying to do the best I can and come up from behind and end up taking the gold here so we will see how it goes," Kaplan said. "We are going to decide the next game after this event."
The final scores resulted in James scoring gold in chair rolling, McKinely scoring gold in shuffleboard, and Kaplan scoring gold in whiffle ball basket.