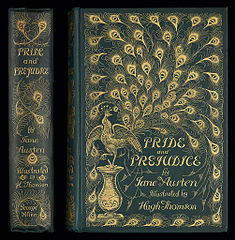 Love books
"I'll Give You the Sun"

Written from the alternating points of view of two twins, this book addresses more than romantic love. It also discusses sibling love between the twins and parental love as they struggle with loving both their parents equally and as more than just through blood. The poignant character development and poetic writing combine to make this a heart-wrenching novel.

"Pride and Prejudice"

For the lover of both romance and classic literature, this is the perfect book. It tells a typical love story in an incredibly atypical way, avoiding usual cliches and portraying the characters in a very human way, yet still falling in love despite their flaws.

"Looking for Alaska"

Written by John Green, who is most known for his teenage romance novels, this definitely does not stray too far from his other work, but this one does stand out for its realism, which can be attributed to the fact that many of the events in it were taken directly from John Green's own life. It's very much the story of a manic pixie dream girl, but it portrays her as more real than most other novels do. It brings all the characters and their tendencies to life and is characterized by a heart-wrenching plot full of fun teenager activities created through Green's iconically poetic style of writing.