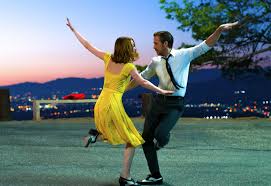 Musicals
"Rent"

Characterized by its touching story and amazing soundtrack, the movie adaptation of this stage show simply never gets old. The characters are dynamic instead of being simply black and white, the story is exciting and interesting, and the music isn't just "typical" show tunes, being very upbeat and rock 'n roll.

"Into the Woods"

A newer movie adaptation of a stage musical, this is the perfect movie for anyone who loves fairy tales, telling a unique version of traditional fairy tales that twists them and interlocks them in an original and compelling way. The music is catchy and beautiful and the story shifts between funny and whimsical to dark and heartbreaking. The traditional storybook characters are all flawed in distinct and human ways, giving the fairy tales an incredibly unique twist.

"La La Land"

Critically acclaimed, this movie is absolutely beautiful, following the story of two people as they fall in love and attempt to build their careers at the same time. The cinematography and music are both absolutely phenomenal, and this movie has even been credited as the revival of movie musicals.

"High School Musical"  

The movie everyone watched in middle school, High School Musical continues to hold up as a fun movie, complete with a cheesy Romeo-and-Juliet plot, iconic music, and enough originality to keep it the well-known movie it is. For those who don't enjoy typical movie musicals or want to watch something less heavy, this is the perfect movie.

"Rocky Horror Picture Show"

This movie is one for anyone looking for something a little more bizarre, as it follows a young couple whose car breaks down as they stay at a castle, discovering all of its strange inhabitants and participating in weird events to the tune of some of the catchiest, most well-known movie musical songs ever written. It's an absolutely iconic movie for its fashion along with its music, and is just generally very well-done.