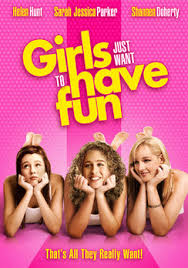 Throwback movies
"Girls Just Wanna Have Fun"

A classic dance film, this movie follows the story of a girl competing on her favorite dance show. It's beautifully '80s in its clothes, hairstyles, and cheesiness, but still a great watch as its story arcs through a rollercoaster of ups and downs, romance, friendships, enemies, and, of course, twists. The movie is perfectly vintage and just a fun watch.

"Breakfast Club"

One of the most classic films from the '80s, this movie appeals to all audiences with its raw, real portrayal of high school and diverse character archetypes that portray the stereotypical high schoolers and that anyone can find themselves in. It's the touching story of these different cliques coming together that has a way of sticking with the audience.

"Mean Girls"

One of the most iconic movies of our generation, this is only a throwback to the early 2000s, but a movie that is still quoted and watched today. Known for its memorable lines like "on Wednesdays we wear pink", this movie is a hilarious yet touching tribute to high school – something we all can relate to.

"Singin' in the Rain"

A serious throwback, this movie follows the story of a silent movie actress with an annoying during the transition into movies with sound. Although older, this movie still holds up with its unique plot and sweet romance. This movie is perfect for anyone looking for a nice feel-good movie, or something older but still good.

"Heathers"

This movie is the perfect one for those who don't like horror but who want something edgier. It resembles the classic movies of the '80s, but with a twist: murder. It's exciting and keeps the watcher on the edge of their seat, but retains that same cheesiness that everyone loves about '80s movies.