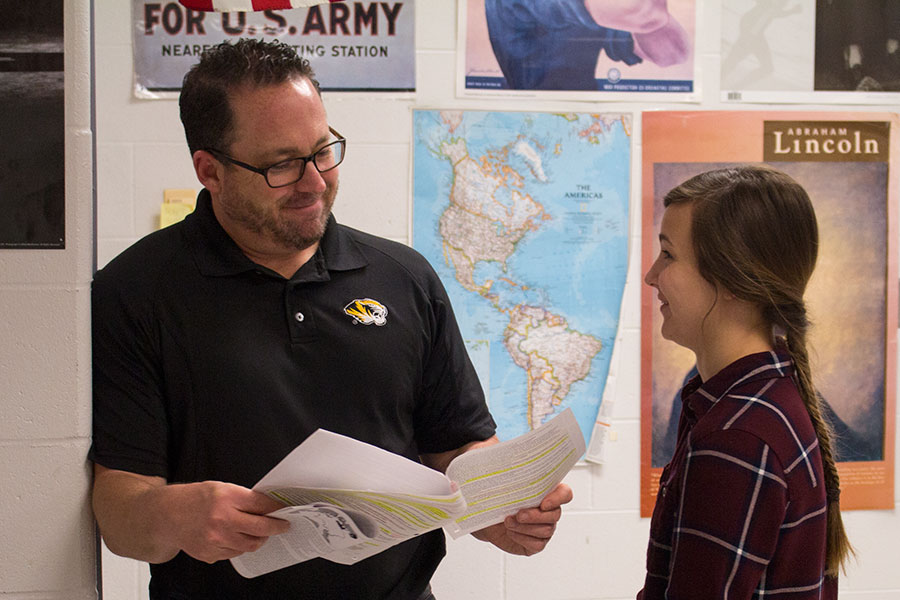 Lovable Lober
Senior Elaine Mallon thanks Mr. Lober for always making her day brighter
I remember when I was a really awkward Sophomore, and I didn't talk to you at all when I was in your class.  A lot has changed since then. Now as a senior,  I always look forward to your class at the end of the day.  Ok learning about Joseph the second's social reforms in Austria isn't as exciting as the last few units were, but I still love your class.  DJ Lobeezy, you always crack me up. I always look forward to hearing your sick rapping skills in all of your videos.  And in class, I love all the different accents that you do too. I don't think there's been a day this school year when I haven't laughed in your class due to your crazy shenanigans.
 Along with being hilarious, you're a pretty good teacher too.  Honestly, you're phenomenal.  I'm not just memorizing random facts about the european rulers in the 18th century. I know it.  I still remember information that you've taught me sophomore year.  Your class is one of the very few classes that I've taken where I actually want to learn. You have so much passion for your students and the subject that you teach.  It's inspiring learning about the different sculptures and paintings from this time from you.  I still remember all the laughter from our sophomore class when you first described the historical significances of Donatello's bronze David. One day whenever I travel to Europe, I'll be able to appreciate all the artwork and museums and sites because of you.  I can't wait to geek out at Voltaire's house like Mary did.  
Aside from being hilarious, and a great teacher, you are truly a role model for me.  You possess such strong convictions in your faith in God, and it's refreshing knowing there's someone at school who shares the same belief system as I do.  You're just a very caring person, and I can't thank you enough for all you've taught me about life in these past few years. You're one of those teachers where I will be telling stories about you to my kids in 20 years.