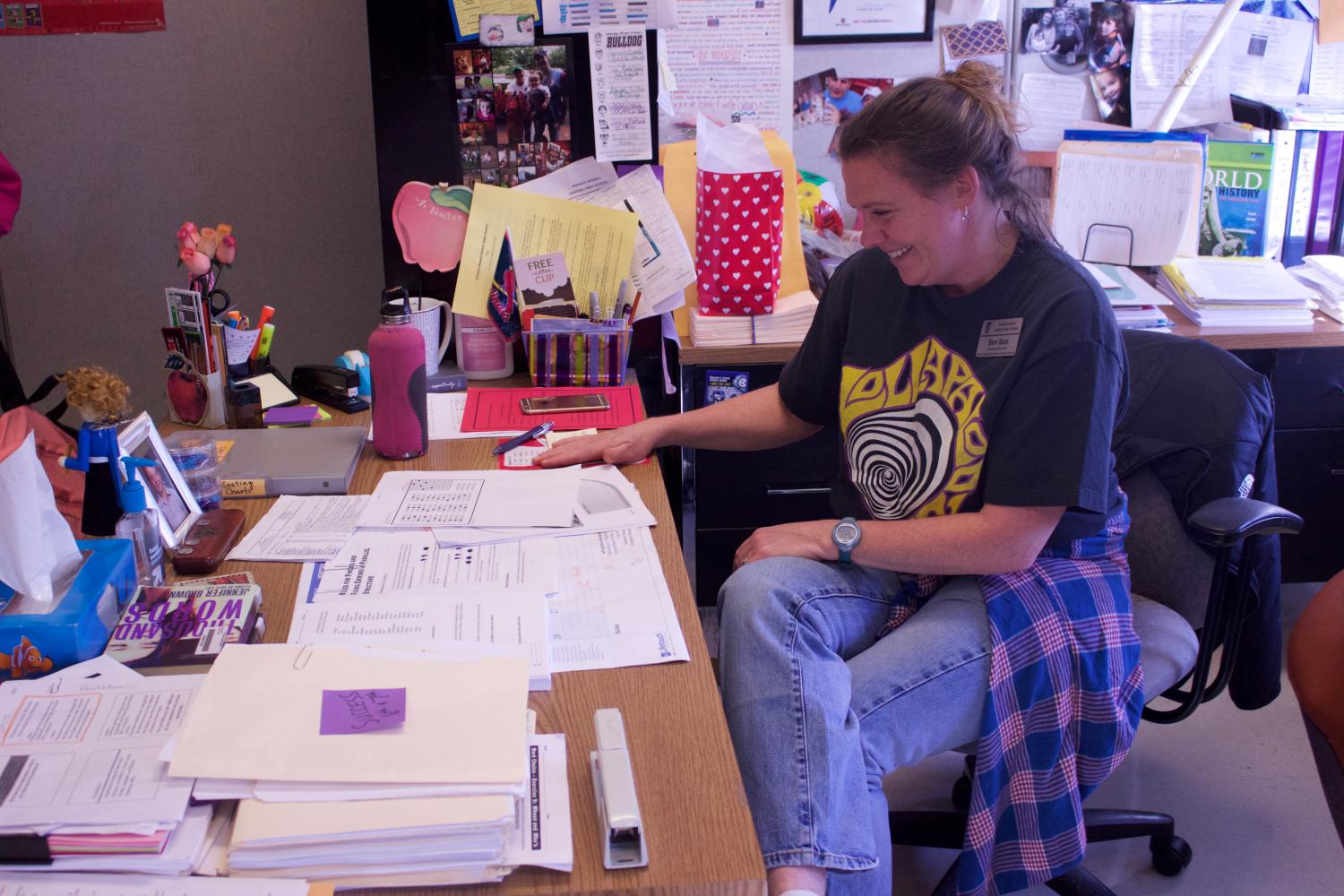 Beautiful Baize
Mackenzie Morris and Garrett Allen appreciate Mrs. Baize for her drive and optimism
Why I love Basil:
Mrs. Baize is just a joy to be around. She is always happy, and if she isn't she tries to pretend she is even though we can all tell, but she keeps on that smile anyway. She's also super adorable when she talks on the phone with her husband and kids. She loves so hard and I am honored that I and my teammates have made our way into her heart. Baize has been with me through it all. Since sophomore year, I have been able to count on her to understand what I have going on, and support me on the Speech and Debate team. I feel bad that I haven't been competing as much as I know Mrs. Baize would like me to, but she's the one who keeps me competing at all. I don't think I would be on the team to this day if it weren't for Mrs. Baize. Despite its stress and time consuming nature, Mrs. Baize always keeps me coming back and I am so grateful she does every time I go to a tournament. Every time I get to school at 7am and she has her "surprise" donuts for us, every time we get take out Chinese food after our rounds, every time I see my name on the list of competitors that broke to finals, I am so glad I had Mrs. Baize there to push me harder and make me make time because I don't know where I'd be without this team or without her. It is where I have seen some of my greatest successes and my greatest failures, but I wouldn't trade it for anything. Mrs. Baize taught me more than just how to make a good speech, she taught me how to be dedicated to something and stick with it because just a few weekends a year make it all worth it.
Mrs. Baize is one of the most big-hearted people I've ever met, and I honestly wouldn't be who I am now without her.
-Mackenzie Morris
Mrs. Baize has been there since day one. Since day one, she's pushed, encouraged, and driven me to heights I previously thought impossible, and she's still there. As an individual, there are extremely few I've ever met who are as perseverant, as optimistic, or as incredibly motivated to put the best of themselves out there every single day as she is. We've been through the best of times, and the worst of times – from the disasters of competing as freshman in varsity debate, to the glory of fighting through a moonshot of a state bid in the 4×800. Mrs. Baize never quits on anyone, yet is never afraid to speak up when she knows we aren't pulling our best. Truly, in my humble opinion, to know Baize is an enormous privilege, and her presence in my life has changed it. It means so much to be able to call her my friend.
-Garrett Allen