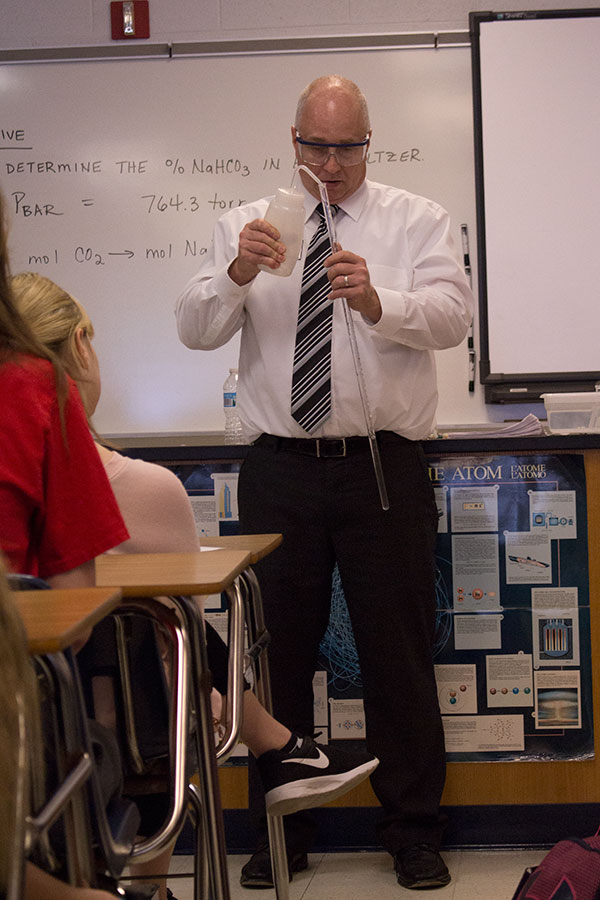 Kind Koz
Juniors Emily Mann and Garrett Allen expresses his thankfulness for Koz's way of teaching
When I first met Mr. Koz on the first day of sophomore year, it was immediately apparent that I was in good hands – for what people told me was one of the hardest subjects in the school. Since that day, I've learned what it's like to be taught by one of the most devoted, hard-working, knowledgeable, organized people I've ever met. Sometimes I imagine what it would be like to learn chemistry at any other school, from any other teacher, and the magic just fades. To me, Koz is chemistry. He's an irreplaceable mentor in the incredibly long journey I've taken upon myself to do, has taught me so much about how to comprehend and explain the enormity of the world around us, and has pushed me to be a more practical, perseverant individual. I'm really going to miss the hell out of him.
-Garrett Allen
Good afternoon my seventh hour teacher,
First, thank you for taking time out of your busy schedule to read my sappy note. Additionally, I apologize in advance for the cheesiness that will soon follow, I know you are a tin man with no heart *tink tink*, but I still appreciate you and all that you do for myself and the rest of your students, so this might get a little sentimental.
Let's throw it back to first quarter chemistry, I remember not knowing anyone in my class, and being intimidated by you (probably because you are not an actual human, and have no feelings). I was struggling in your class, and I was terrified of asking you for help because I didn't want to bother you. As silly as it sounds I know you deal with honors students all the time, and I just didn't want you to be disappointed by my lack of chemistry wisdom. But as I continued to struggle, I finally got over my fear of talking to the Chemistry teacher made of Sn and came in after school. To my surprise, you were in fact human! You were very understanding, helpful, and flexible. You allowed me to get help on a homework assignment and turn it in the next day with no penalty. I wouldn't even have to use a KAPP. From that day forward, though I did still fear an impending roast, I came to look forward to your class. Though I am not the best chemistry student, I really appreciate coming to your class knowing I will end my day on a good note. Furthermore, I saw that you made yourself available before and after school to help students and really admired that you were willing to do the best you could do. Thank you so much for all your Boron chemistry jokes, I was always slapping my Neon that one. I never Sulphur-ed in your class.
Thank you for being you, and impacting me so positively everyday in your ADD seventh hour.
(ps. thanks for never roasting me)
-Emily Mann