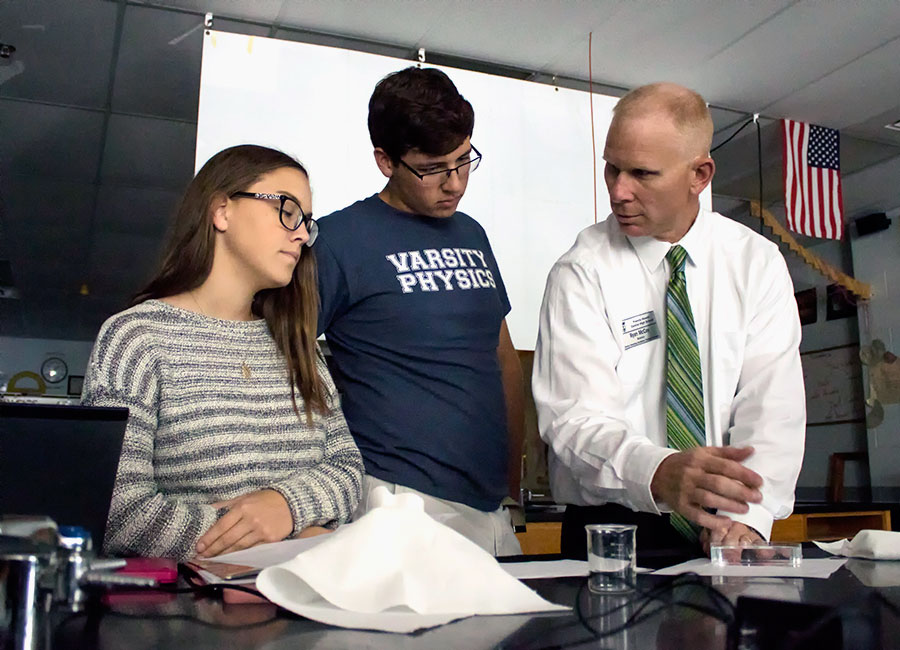 Marvelous McCoy
Seniors Elisa Swanson and Haley Karlas thank Mr. McCoy for his dedication to teaching them physics
Dear Mr McCoy,
To be honest, I don't know how to completely articulate how much I appreciate you, but I'm going to try.
Walking into your classroom, I had no idea the emotional roller coaster I would be riding. All semester I struggled so much, all the way up to the final. I started to even debate my major (double major with Aerospace and Mechanical engineering). Yet, I still enjoyed coming to class, because even though I had no idea of what was going on in class, you still made it fun. It's so obvious how much you love physics, with how excited you get about it.
I'm glad I stayed second semester, because even though it would sometimes make me upset, I still had fun. Then, the greatest thing happened. After a few weeks into second semester, everything clicked for me.  Coming to class everyday wasn't as stressful, and I started to enjoy it even more.
Now that I understand what you're teaching, I've started to see how well you teach it. You've solidified what used to be unstable: my grades in class, my understanding, my major. I'm so thankful for all of this, and for having a teacher like you in my life.
Thank you,
A decent Physics student (Haley)
-Haley Karlas
McCoy-
Mr. Mccoy is one of the most enthusiastic teachers I have ever had. I come into class and every day he wants to know how it's going and he urges us to be as excited about Physics as he is (which is nearly impossible-there's no other person that can have an entire class discussion about the forces and momentum involved in a star imploding). Truth be told, I was not too sure about Physics when I joined at the beginning of the year because I'd spent the last two years in a chemistry lab and I thought I could not like anything as much as I loved chemistry. Somehow, Physics has found a way into my heart and I have Mr. McCoy to thank for that.  
There is never a dull moment in Physics. Every lab, every lecture, every practicum is funny; I always leave that class with a smile, even if I have had a rough morning. I love the work we do in Physics. The other day, we just played with cars and even when it seems we are just having fun, there is a lesson behind it. We calculated the time it took Tigger to fly in a circle and what height to drop toilet paper rolls so they land at the same time. I love how we do math and then we can try it out and see our answers come true right in front of our eyes. Mr. McCoy has opened up the magic that is Physics and when we make a discovery, he is just as excited for us as we are.
Every problem is either real-world and because of Mr. McCoy I have seen Physics in my mundane life, when I went skating with friends, when I throw a ball, when I drive my car. I have been inspired to truly challenge myself and not settle for the mediocre. I love sitting down with a problem and knowing that even if I do not get it, I can come in the morning and ask away and I won't be judged. There hasn't been a question that is dumb or laughed at. I have been given the confidence in my intuition and my work. I've been encouraged to try new things and look at things every which way. I don't know how many times I have tried to settle for the lab we are doing and the task at hand when Mr. McCoy will come over and just tip the world slightly with a simple, "How you guys thought about this?" or "What if we did this?". At the time it can seem infuriating, but it challenges us and makes us truly think, not just spit out an answer or an equation on the piece of paper.
The lessons we learn in Physics are not just scribbles on a piece of paper. I've learned how to accept different ways of getting the same answer, to look at something 7 different ways, and how to work with what you have. I have learned the importance of resilience and also the significance of the small details as well as the big picture. I've learned how to take a step back and just appreciate what I have.
Mr. McCoy has this bright personality that is channeled into each of his students; he also cares so much for each of his students. I know when I walk into his classroom, I am in for a good time and it's a place I feel truly at ease. Thank you, Mr. McCoy for keeping up with Abbi, Skylar, and I's antics especially when it may or may not be Physics related. Thank you for combatting our craziness and giving me the confidence to excel. Thank you for supporting your students and impacting my life.
-Elisa Swanson