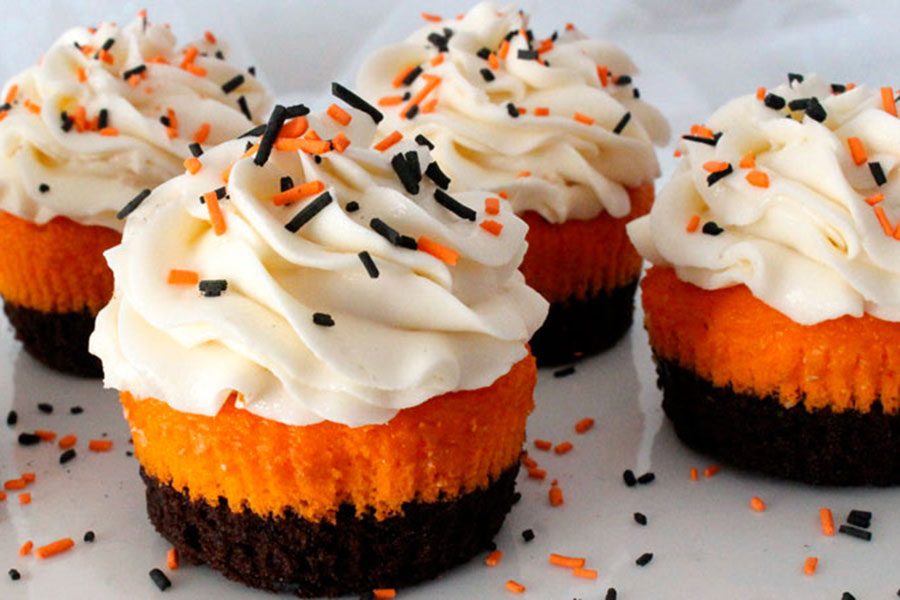 Savory Halloween sweets
Sometimes, the typical Halloween candy bars and lollipops can become worn out. Here are some Halloween sweets that will have you craving for more!
Looking to spice up your Halloween with some sweets other than the usual chocolate bar or lollipop? Here are some recipes that you may enjoy alongside your family and friends this Halloween season.
Candy Corn Cookies
Ingredients:
2 sticks butter, softened
1.5 cups powdered sugar
1 tbsp vanilla extract
1 egg
½ tsp baking soda
½ tsp salt
3 cups flour
red food coloring
yellow food coloring
Directions:
Cream together the sugar and butter until light and fluffy. Add the egg and vanilla and continue to beat until incorporated.

In another bowl, whisk together the flour, baking soda and salt. Add dry ingredients to the butter sugar mixture and mix until a soft dough just forms.

Remove dough from mixer bowl and separate into three equal pieces (use a food scale to weigh each piece if you want to be exact!). Mix together a little bit of red and yellow food coloring to make orange and then add the orange coloring to one of the dough pieces. Make another dough piece yellow and leave the third plain.

Place a piece of plastic wrap or tin foil inside a loaf pan and pat down the white dough inside. Place the orange dough on top (pat down firmly) followed by the yellow dough. Remove dough from pan, wrap up in either tin foil or plastic wrap and refrigerate overnight or for at least four hours.

When you are ready to bake your cookies, preheat your oven to 350 degrees. Cut 1/4th inch slices down the width of the dough. Continue cutting each slice into small triangles.

Place triangles on a lined baking sheet and bake for 6-8 minutes until tops are puffy and bottoms are golden.
Pumpkin Spice cupcakes
Ingredients:
2 1/4 cups all-purpose flour
1 teaspoon ground cinnamon
1/2 teaspoon ground nutmeg
1/2 teaspoon ground ginger
1/2 teaspoon ground cloves
1/2 teaspoon ground allspice
1/2 teaspoon salt 1 tablespoon baking powder
1/2 teaspoon baking soda
1/2 cup butter, softened
1 cup white sugar
1/3 cup brown sugar 2 eggs, room temperature
3/4 cup milk
1 cup pumpkin puree Cinnamon Cream Cheese Frosting
1 (8 ounce) package cream cheese, softened
1/4 cup butter, softened
3 cups confectioners' sugar
1 teaspoon vanilla extract
1 teaspoon ground cinnamon
Directions:
1) Preheat an oven to 375 degrees.
2) Grease 24 muffin cups, or line with paper muffin liners. Sift together the flour, 1 teaspoon cinnamon, nutmeg, ginger, clove, allspice, salt, baking powder, and baking soda; set aside.
Beat 1/2 cup of butter, the white sugar, and brown sugar with an electric mixer in a large bowl until light and fluffy. The mixture should be noticeably lighter in color. Add the room-temperature eggs one at a time, allowing each egg to blend into the butter mixture before adding the next. Stir in the milk and pumpkin puree after the last egg. Stir in the flour mixture, mixing until just incorporated. Pour the batter into the prepared muffin cups.
3) Bake in the preheated oven until golden and the tops spring back when lightly pressed, about 25 minutes. Cool in the pans for 5 minutes before removing to cool completely on a wire rack.
While the cupcakes are cooling, make the frosting by beating the cream cheese and 1/4 butter with an electric mixer in a bowl until smooth. Beat in the confectioners' sugar a little at a time until incorporated. Add the vanilla extract and 1 teaspoon ground cinnamon; beat until fluffy. Once the cupcakes are cool, frost with the cream cheese icing.
Pumpkin fudge
Ingredients:
2/3 cup evaporated milk
2 1/2 cups white
3/4 cup canned pumpkin
1 teaspoon ground cinnamon
1 cup white chocolate chips
7 ounces marshmallow creme
2 tablespoons butter, room temperature
Market Pantry Salted Butter 1-lb
1 teaspoon vanilla extract
Directions:
Line a 9×9 inch pan with aluminum foil. Butter the foil or spray with cooking spray and set aside.

In a 3-quart saucepan, heat milk and sugar over medium heat. Bring to a boil, stirring occasionally with a wooden spoon.

Mix in pumpkin puree and cinnamon; bring back to a boil. Cook, stirring constantly, for 18 minutes Remove saucepan from the heat. Allow to cool slightly, 2 to 3 minutes.

Pour white chocolate chips in a large bowl. Pour fudge mixture over white chocolate chips. Let stand 5 minutes to allow white chocolate to soften; stir until smooth. Mix in marshmallow creme, butter, and vanilla until butter is melted and mixture is smooth. Pour into prepared pan. Cool, remove from pan, and cut into squares. Store in a cool, dry place.
Peanut Butter Spider cookies:
1/2 cup shortening
1/2 cup peanut butter
1/2 cup packed brown sugar
1/2 cup white sugar
1 egg, beaten
2 tablespoons milk
1 teaspoon vanilla extract
1 3/4 cups all-purpose flour
1 teaspoon baking soda
1/2 teaspoon salt
1/4 cup white sugar for rolling
24 chocolate candy spheres with smooth chocolate filling (such as Lindt Lindor Truffles), refrigerated until cold
48 decorative candy eyeballs
1/2 cup prepared chocolate frosting
Directions:
Preheat oven to 375 degrees F (190 degrees C). Line baking sheets with baking parchment.

Beat shortening, peanut butter, brown sugar, and 1/2 cup white sugar together with an electric mixer in a large bowl until smooth. Beat egg into the creamy mixture until fully incorporated. Stir milk and vanilla extract into the mixture until smooth.

Mix flour, baking soda, and salt together in a small bowl; add to the wet mixture in the large bowl and stir until completely incorporated into a dough. Divide and shape dough into 48 balls.

Spread 1/4 cup white sugar into a wide, shallow bowl. Roll dough balls in sugar to coat and arrange about 2 inches apart onto prepared baking sheets.

Bake in preheated oven until golden brown, 10 to 12 minutes. Remove cookies from oven and quickly press a dimple into the middle of each cookie using the blunt end of a wooden spoon. Cool cookies on sheets for 10 minutes before transferring to a wire cooling rack to cool completely.

Cut each chocolate sphere into two hemispheres. Put one piece atop each cookie with the rounded side facing upwards.

Spoon frosting into a pastry bag with a small round tip or a plastic freezer bag with one end snipped off. Dab a small amount of frosting onto the back of each candy eyeball and stick two onto each chocolate candy to resemble eyes. Then pipe frosting in four thin lines, starting at the base of the candy, on each side atop the cookie to resemble spider legs.

Let frosting harden at room temperature, about 30 minutes. Store cookies in an airtight container.
Brownie Cupcakes
Ingredients:
Brownie Mix
White Cake mix
Cupcake Liners
Ghost cookies:
12 oz. vanilla-flavored candy coating, cut into pieces
(1-lb.) pkg. peanut butter-filled sandwich cookies
64 miniature chocolate chips (4 teaspoons)
Directions:
1) In small saucepan, melt candy coating over low heat, stirring constantly until smooth.
2) Line cookie sheets with waxed paper. Holding cookie with tongs, dip entire top and side of each cookie into melted coating, letting excess drip off. Lay flat, coated side up, on waxed paper-lined cookie sheets. Place 2 chocolate chips in coating to form eyes. Let stand about 10 minutes until set.