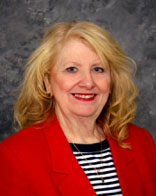 Sandy Ferguson, board candidate
If you are elected to be on the school board, what will your top priority be?
1st. Safety of students in school.  Our school district has always been on top of this issue, revisiting it many times throughout the year.  We have done well but, we always have room for improvement. I will always keep this as a number one priority.
2nd.  I support fiscal responsibility.  This is paramount to ensure each dollar is wisely spent benefiting students first.  I support keeping the school district budget in balance. I have experience to manage during tough economic times.
3rd.  Technology is key in our children's education for today, tomorrow and the future.  With putting our technology on the back burner the past two years, my priority will be to make sure funds are placed for training our Teachers, updating computers, or purchasing new ones.  
Where do you see the district in five years?  In ten years?
I see the district moving forward as one of the best districts in our great state.  With our five-5 year strategic plan in , lace we will strive to accomplish it. In ten years and with a new five-year strategic plan in place I can see great and wonderful things for our district.  I see more programs in place for all students. I can see all our buildings clean and in to shop. I do see a revamp of some of our older school or even a tear down and rebuild.
In your opinion, what is the boards most important responsibility?    
The boards most important responsibility is hiring of a superintendent, (which we did)  It is the board responsibility to set goals and a vision for the superintendent and our district.  We must evaluate his or her performance keeping the boards goals and vision for the superintendent. We also Hold the superintendent accountable for the administration, staff and teachers of our district making sure all goes as expected.
What measures the success of the school and its students?
Building climate, test scores, how many students graduate, how many students go on to college.     
Describe a controversial decision you made that you feel was for the better.
Outside the board controversial decision is letting girls into the boy scouts. We must of talked about this for over a year. My vote was to open it up to girls. My reasons were girls already are in scouting at the Venture Crew Level thats 14-21 year olds. That program is high adventure and is for both male and female. It works well and all the safeguards are already in place. All other countries already call the program Scouting and its for both boys and girls. Although the Girl Scouts is an amazing program, some girls just don't fit. These girls would rather be doing the stuff we do with the boys like more camping, hiking, scuba diving, repealing, boating and lots more. I also voted for it because today most parents are working and when you have a boy and a girl two different meetings can be challenging for some. I am overly excited with the great change in the boy scouts of America. Within the school district, a controversial decision was the reading recovery program. I voted in favor at this time in keeping this program for students. One of the reasons I wanted this to stay (not saying in time we may revisit this) is for the students that just may get lost without this program. It is proven that it is a successful program for students who need the extra help one on one. I know as a district we can improve this program and taylor it to fit the needs of our students. We can find other programs that will work and when and if we do change may happen.

Sandy Ferguson, board candidate