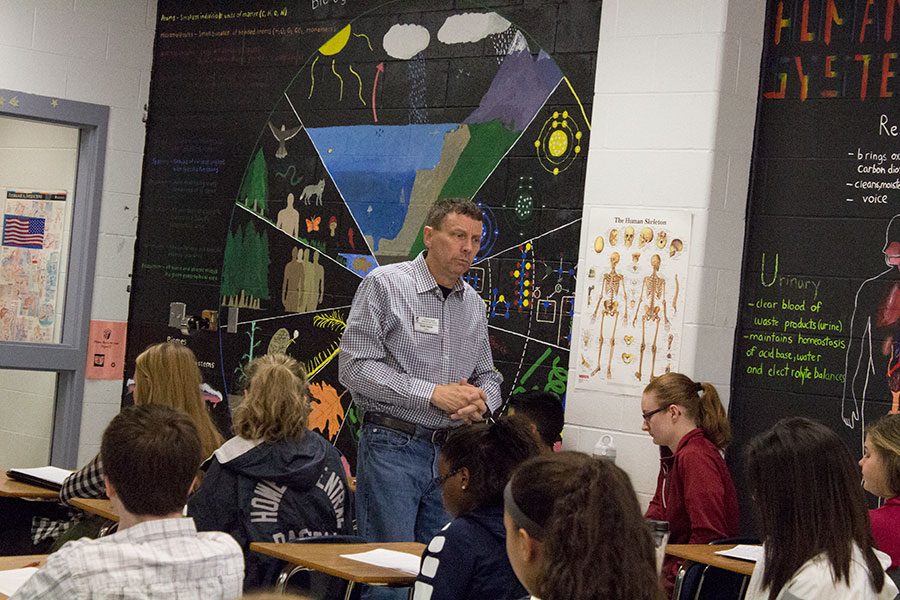 Mr. Scott Dauve
Chloe Bockhorst:
Going into biology my sophomore, I was excited – but that excitement was diluted with doubt. Science had not been my strong suit in previous years, and I had many reasons to think my grade would be subpar in the class. My doubts soon dissolved; Dauve's lectures were far from boring, and everything taught was going to directly help on the test. For the first time since I could remember, I not only liked the science class I was in, but was good at it as well. The confidence I gained in Biology caused me to take Anatomy this year. Anatomy has proved to be more difficult than Biology, but Dauve is clear that as long as we are working hard, he's proud of us. Going from doubting myself to wanting to have a career in biology has been surprising, even to myself. Thanks to having a great teacher for two years in the subject, no one is surprised.
Aayushi Shah:
"Life is a roller coaster."
These were the words Mr. Scott Dauve wanted us to walk away with.
Mr. Dauve cares for his students; he takes a keen interest in what they are doing with their lives. He shows up to school everyday and no doubt puts a smile on every single one of his student's faces and by doing so he leaves an impact, his impact, at FHC. It's hard to put into words exactly how amazing Mr. Dauve is, and that's simply because there's so much to say and simply not enough words. Mr. Dauve is the THE teacher who sees a stressed out student and makes sure that he or she leaves his class with a smile. He teaches with such a passion that you can see it in his eyes. The reason so many students are receptive to his words is simply because of the fact that he cares about what he is teaching, and he cares that it should reach his students. He adds jokes in his lectures to not only mix in a little fun, but to have students remember the information better. Not only humor, Dauve also gives life lessons. I have learned so much from that class and surprisingly a lot to do with the real world. It is an honor to be his student and I'm so glad that I took his class for his last year at Central; I truly hope he has the best retirement life he can imagine! I've learned so much this year that looking back, I can sincerely say that I grew as a person. Thanks to Mr. Dauve for being my first "medical" teacher and for letting me embrace every part of the complex topic of the human anatomy and its physiology.