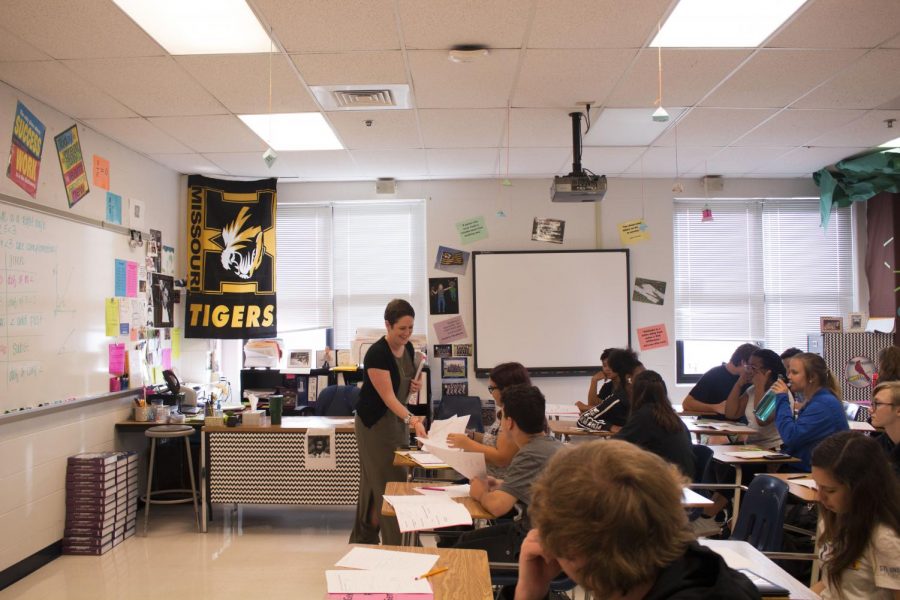 Beyond expectation
A good teacher not only teaches, but goes beyond expectations when they build bonds with students.
Kids spend their childhoods being taught everything the state requires for their education, but most teachers go above and beyond their requirements when they form bonds and friendships with each and every one of their students; making kids feel like they mean something more than just a grade or a number in a school of thousands.
"A good teacher not only teaches but inspires," Senior Aubree Williams said. "They grow close with students and make sure they are doing well not just in school, but in their everyday life."
A bond between a teacher and a student makes both parties feel like they matter; teachers know that they are doing their job to the best of their ability and students know they mean something. This is true in schools across the country, but especially at FHC. Students like Aubree Williams and her fellow seniors Nick Cummings and Gabby Buchholz feel teachers can be true friends.
Cummings gained a friendship with his Sophomore year Geometry teacher, Mrs. Fetsch, in her 3rd hour Geometry and 7th hour Success classes.
"She is someone that I modeled myself after; my friend," Cummings said.
Their relationship grew in class, but the summer following Cummings' sophomore year, Fetsch fell ill with Leukemia leaving him lost, but not diminishing their relationship.
"I talk to her a lot, but when she got leukemia, she wasn't able to teach. That was hard for me," Cummings said. "We still talk. She's somebody I can go to for advice about life or school. She's smart and a great woman; someone I can really trust."
Their friendship allowed Cummings to see his teachers as real people.  He describes his teacher as "one of the strongest people [he has] ever met." Fetsch inspires Cummings and other students every day to be happy above all odds while showing them that kindness allows everyone to feel cared for.
"She has a positive outlook on everything. And the positivity that she has just rolls onto you. It's contagious. It's the positivity of one person that makes everyone else positive. She never gives up on you no matter what. She's always going to be there for you. She cares about you, even if you think you're nobody," Cummings said. "I know I can go to her with something and I know she's gonna be real about it while still having a positive attitude."
When a student bonds with a teacher, it gives them an outlet; someone with real world experiences who can give them real advice for their issues. Having an adult in your life who you feel you can go to about anything is beneficial to growth. They help students see the best in themselves and others while teaching them to deal with what's stressing them out.
Senior Gabby Buchholz feels that her French teacher Mme. Roznos is a guiding hand when it comes to struggles in life.
"I would describe us as pretty close. She's my favorite teacher that I have here at Central. And she's one of those teachers where if I'm ever struggling with something or ever need advice on anything, I know I can turn to her at any time," Buchholz said."She gives really good advice. Because she is an adult, she has all of these experiences. She can give it to me straight and give me a solid, honest answer that will really help me. I know that I can take to heart what she tells me. Her advice is something I know I should truly listen to."
Teachers giving great advice in times of trouble is also true in Williams' case. Her teachers a shoulder to cry on if ever needed and they're ready with advice as soon as asked.
"Besides learning, they've helped me figure out tough situations I'm in. If I'm having a problem at home or something, I can always talk it out with them and they can just give me some good insight because they've been through stuff and have lots of knowledge," Williams explained.
Teachers being friends with students means everything to them. The bonds make students enjoy being at school which can make for more productivity in classrooms.
Williams values her bond with her teachers because it helps make school less frustrating.
"My bond with my teachers means the world to me. I'm glad I'm close with them because school's hard enough as it is, and to have those teachers that you can go to and just really be friends with really means a lot," Williams said.
Cummings sums up his feelings about Central and it's teachers. Great feeling shows behind his words as he tells the story of how he was awestruck by the news of Fetsch's illness, giving an idea of the family atmosphere found within the halls of this school.
"I think at Central a lot of teachers do this, not just her. We have a lot more of a family-like atmosphere. I have good relationships with all of my teachers. Let me give you an example: So obviously, Mrs. Fetsch means a lot to me, and I look at her as, almost like, friends or family, [and when she got sick], I was pretty awestruck. My teachers knew I was sad. I had teachers I didn't even know come up to me and ask me how I was doing and were looking after me while she was gone. I had people backing me and that feeling is unbelievable," Cummings said. "The fact that you have people you don't even know and even people that you do know that when something happens you know are still looking out for you so that's at least what I love about Central: everyone cares."