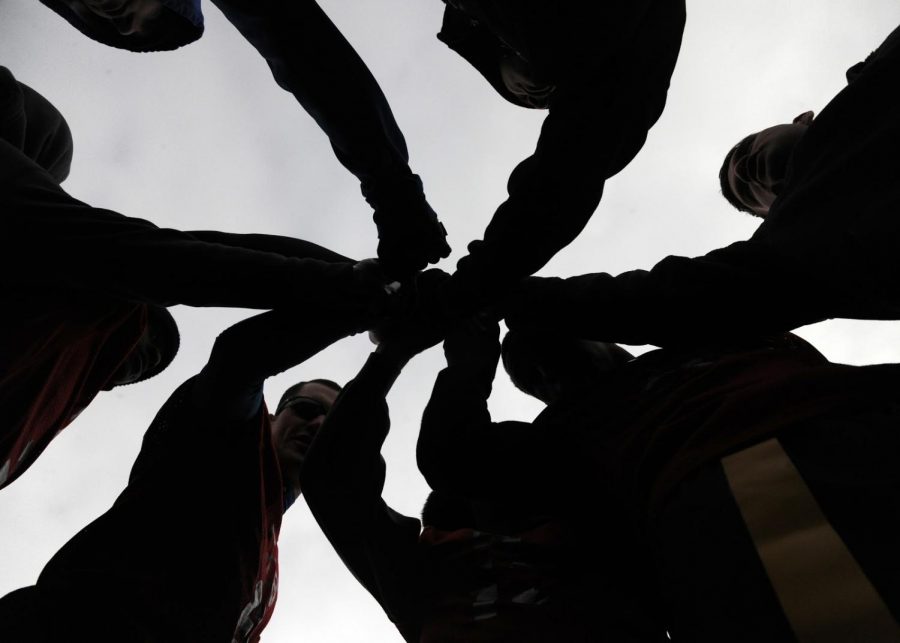 Chosen family
School activities form bonds between students
Lights pour out onto the stage, casting light onto the audience that is beginning to filter in. The wings surrounding the stage are dark, empty of the usual hive of busy students it holds. Even the green room, used to a constant stream on coming and going students, is empty. Production staff, crew heads, and crew members alike have filed into a dressing room for a favorite tradition. Their arms are around each other, forming a circle, waiting expectantly for the moments to come. Theater has an affinity for traditions, all created with the intention to create a tighter bond among all involved. Senior Janelle Klos, the troupe's president and stage manager, didn't expect to make such good friends when she joined freshman year.
"Honestly, I did not expect to bond with people, because the only theatre experience I had prior to high school was being in a play in fourth grade, and none of us were close," Klos said. "[Theatre is] one of the only things I look forward to when walking into school every day."
The stress, hours together, and love of theater creates strong bonds amongst those involved. Similar to theater, other people in clubs become close because of the work they must put in together. Senior Laurel Ammond, who participates in marching band, believes everyone is good friends because the work has made them get along.
"I think it's just the fact that we've struggled through so many things together, like staying outside for four hours, one hundred degree weather, or whenever people are feeling well, people are always there to look at each other for help each other through injuries," Ammond said. The struggles they go through cause plenty reasons for stress. Even so, the friendships created remain strong through moments and traditions. Senior NJ Heckencamp, captain of the girl's tennis team, believes that their trust in each other is so strong because of their circumstances.
"One big difference with our sport is it isn't a big team sport. It's a very individual sport, so we don't get mad at each other a lot. Like if the soccer team or the football team if one person's messes up the team they mess up the whole entire team." Heckencamp said. "For tennis, though, we keep it separate about how we play because we know that no matter how good or how bad you are, you're still going to have a support system and it doesn't really affect any other player except for your doubles partner or yourself." The trust they hold in each other is why their bonds are so strong. Many team sports and clubs feel this way; but how they choose to bond influences the strength of their friendships.
"When rehearsal ends, we're just kind of like, 'What now?', because we don't really want to go home. So sometimes we'll do homework at someone's house, or get something to eat, because we just want to be around each other constantly." Klos said. Friendships are not only made and kept during the time they see each other. They are created outside of school, and teammates become true friends. Those in group activities often call themselves family, and in some cases they truly create bonds just as strong as their real family.
"One thing that makes us all bond together is how much we care about music, and how it brings everyone together," Ammond said. "We focus on communicating through differences and not focusing on what makes us different."