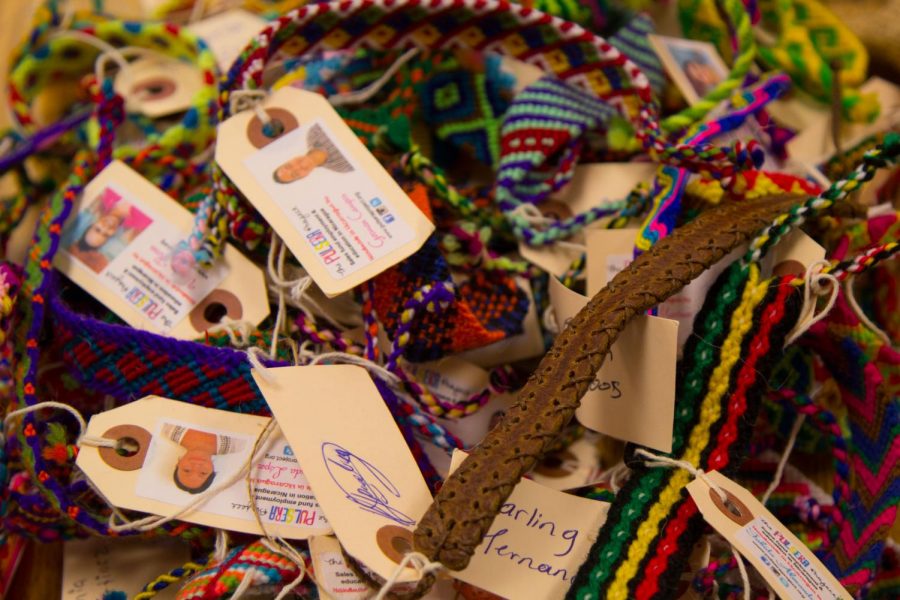 Beyond themselves
Clubs, student leaders create culture of giving at school
Senior Grace James is involved in Central Outreach, National Honor Society, Principal's Council, Areté, women's tennis, track and field, and formerly Student Council and has witnessed first hand the impact of helping others can create.
"Helping others has influenced me greatly because it has helped me to realize the importance of giving," James said. "I feel like it's just kind of part of my job. I guess because I've been involved at my church. I've been exposed to it since I was really young."
For the last six years James has been giving her time to help the Oasis Food Pantry through her church, New Hope Presbyterian Church. Oasis Food Pantry is an organization providing goods, such as food and hygiene items, to residents living in the area. When volunteering there, James is charged with the task of finding items on a list to bag up. In a warehouse piled high with canned food, James tracks down corn, baked beans, mandarin oranges, and chicken noodle soup to add to her bag that will be tied and walked to the car of a resident in need of food. She does this over and over, list after list, until every car that has pulled up to the Oasis warehouse has been given a bag, full of not just food, but love and compassion.
"I am so blessed to have a supportive family, food on the table, and shelter over my head. It makes me want to help others that don't. I think that is such an important part of life- being able to give to others that aren't as fortunate as you," James said.
Like James, many students at FHC are involved in clubs or activities that are impacting the community, not only at FHC but throughout the county.
Athletic Director, Mr. Scott Harris, calculated that FHC last year donated $35,057 and 4,166 hours of counted volunteer work to charities and organizations with nothing in common except the desire to help those around them and make an impact on the community. To say that giving, money or time, is not a popular trend at FHC would be dead wrong.
Since Aug. 9 of this year, clubs have been working to serve others through donations, money, and time. Clubs like Student Council, Spanish Honors Society, Central Outreach, and Central International, to name a few of the many clubs students can become involved in to serve others.
For some, giving is routine and something that you just do because it's right. Others have a deeper meaning behind their giving ignited by past situations and experiences.
Senior Hattie Ransom, who is in NHS and involved in her church, began collecting prom dresses last year after prom was different than what she expected it to be. She talked to hair salons and worked with them to get free hairstyles for girls who could not afford them, and she talked to a lot of teachers who helped her raise money to allow students with financial  problems to attend prom.
"It was such a cool experience to be able to know that, especially being at prom, that there were people there that I was able to help. And that there were people there that would not have been able to go unless those tickets had been bought for them," Ransom said.
This year Ransom plans to host an actual Prom Dress Drive where girls can bring in old prom dresses and donate them to girls who cannot afford to buy a dress. The drive is still in the planning stages, but be sure to look for it around February and March as another way to get involved at FHC to help others. Donations will also be accepted, no matter how small, to purchase prom tickets.
Giving, however does not have to involve money. Simply giving time to help others can create a huge impact.
Every year, Student Council plans the Homecoming dance and parade. They put up decorations, sell tickets, make posters, and tear decorations down after. Jordan Merli, a senior and Student Council member of three years, two of those in an officer position, describes Homecoming as being a lot of work.
"We start planning the theme and decorations for each section in May/June and pick out certain things we like over the summer," Merli said.
When August comes around, the goal is to be as prepared, decoration wise, as possible so that other important things, like picking a charity to donate to for homecoming and the Light the Field Event can be a primary focus. This year, Student Council donated one dollar from every homecoming ticket purchased to the Backpack Program: a local program that provides meals for students in FHSD to take home over the weekend with them because they do not have food at home. As a result Student Council, and the rest of the student body, raised $1,200 to donate to this program that gives back to the FHSD community.
Junior Ian Ingram, a three year Student Council member serves his school and community with the help of his sister by making posters advertising events put on by Student Council.
"Recently my sister and I both made posters for the blood drive," Ingram said. The Ingrams have also made posters for Light the Field, Homecoming, and the MDA Penny Wars. Yet another, small way students at FHC give their time to help create events that add something special to being at school.
Principal's Council is another club that takes time out of their busy schedules to give and represent the student body. Things like Valentine's grams and selling ornaments to hang on a Christmas tree and donating the money to a charity is just scratching the surface of the community service that happens in Principal's Council as described by member Reagan Miller, a senior, varsity sensation, and a member of Spanish National Honor Society among other activities.
"The majority of it is talking to Dr. Arnel about what needs to be changed or what we think could be better or ways to do things differently. And then also, he'll ask feedback on things like the ACT or finals schedules or assemblies," Miller said.
Students involved in Principal's Council are invested with the small things in school; things that get overlooked. They take in feedback from their peers and give voice to it in meetings with Dr. Arnel, not to mention giving up precious class time for these meetings.
Other clubs like National Honor Society (NHS) and Central Outreach specialize with community service outside of FHC. For NHS this includes service projects available even during the summer time for members to participate in. Vice President of NHS Hamzah Bari, a senior, talks about some of the service projects that NHS has been involved in past years.
"We do the Race for Reversing, which is an Alzheimer event. We also do a bunch of stuff during Thanksgiving… in the past we've done kind of a canned food drives, donations, coat drives, all that kind of stuff," Bari said. "[Giving] feels good you know, because you're helping out someone, you're making someone's day."
Senior Grace Brodland, involved in NHS and Central Outreach, described a recent event hosted by Central Outreach that involved members giving up their time on the weekend to help out.
"We actually just did a food drive where we went to Dierbergs and we sat outside and we passed out these flyers that said like,can you buy these items for these kids? And it's [for] this program called Bear Necessities," Brodland said.
The program goes to helping kids at Henderson Elementary have food on the weekends and impacts many families. Central Outreach members braved the cold from 1:00-5:00 pm in two hour shifts to stand outside the doors of Dierbergs and pass out flyers with a list of food hoping that when shoppers exited the store, they would drop a bag off with the members for the program.
"We actually had a huge turn out. People going into the store with the store with flyers and buying stuff, and then donating it on the way out which was super cool," Brodland said.
Giving is "super cool."
Spanish Honor Society sold bracelets from impoverished people in countries like Nicaragua and Guatemala for $5 and sent all the money back to them so they could make a living. These bracelets are hand made and come with a tag that has the name of who made it as well as a picture of them, so you know who your money is going to support.
Epsilon Beta hosted a Veteran's Day weekend breakfast before school in the Learning Commons. This breakfast honored Veterans who are teachers, teachers whose spouse is a veteran/still in service, and junior and senior students who plan to serve after high school. They supplied fruit, coffee, Chick-fil-a breakfast sandwiches, and pastries for those in attendance. The choir and band also took time out of their morning to show up early and provide entertainment for those being honored.
Central International this year celebrated World Peace day by providing all seminar classes with paper and instructions on how to make an origami crane, the symbol for peace. A small, but simple way to connect all classes and promote peace in a hands on way. They have also raised money to give goats to families in Ethiopia. These goats can provide milk, cheese, and other resources for these families in need.
Health Occupations Students of America (HOSA) held a food drive and spiced it up by making it a battle between seminars. Mrs. Staback's seminar was the winner with a total of 62 items donated out of 231 total items. Another example of how clubs at FHC work to create fun ways to give.
Diversity Club recently held a coat drive. In total 55 coats were collected and will be given to those who are in need this winter season as temperatures get low. Now, 55 more people will be able to brave the cold of a St. Louis winter and still be warm.
FHC has an abundance of students who are moved by compassion to help those in need around them. They do not brag about their good deeds and expect nothing in return for giving their time, energy, and money towards creating a better world for everyone. This holiday season, open your eyes, open your hearts, and see what clubs are doing around you for others and how you can step up and give. Giving is an important part of the culture that is FHC and will continue to be  because as Mr. Harris says, "FHC gives back and FHC cares."