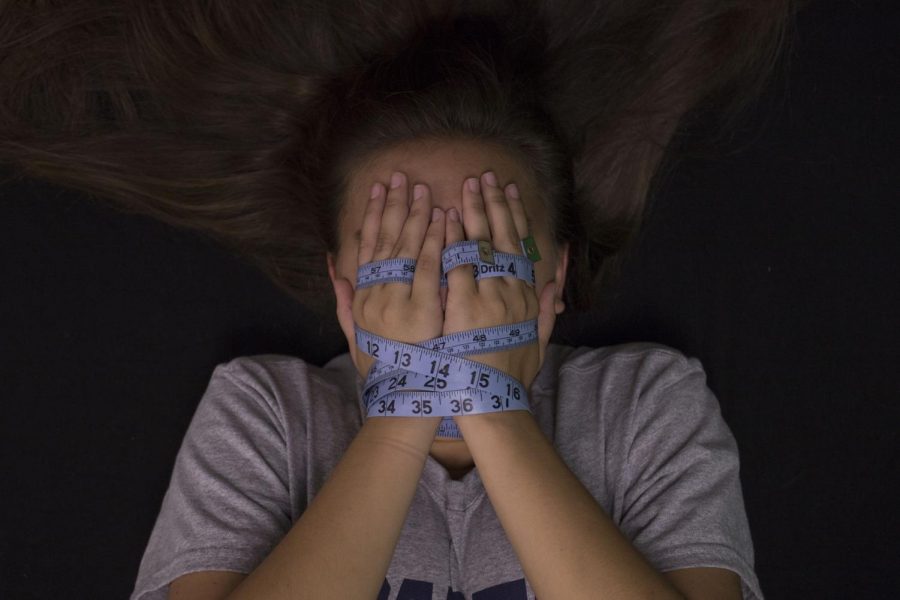 Photo Illustrations by Kayla Reyes
Finding Support
Reaching out to loved ones about struggles with an eating disorder is a helpful step in the process of recovery.
November 18, 2019
Like a fortune cookie, she laid: wafer thin, concealing the truth regarding the uncertain moments to come within the walls of her emaciated frame. Outside her hospital window, snow drifted down from the heavens as a chilling, serene reminder of one's mortality. As time too drifted and she remained unconscious, her family feared the worst.
 Four years ago, on Christmas Eve, sophomore Aayranna McInnis collapsed. Her heart had stopped. Born with a heart defect, McInnis was exceptionally weak because she had been starving herself for months.
"I didn't even have the strength to look at my heart monitor," McInnis said.
 Waking from her unconscious state, she realized the path she had been walking for five months, anorexia, had waned until it was nothing more than a tightrope on which she tottered, her life and death in the balance.
"I seriously thought that was the end. I did not think I was going to make it," McInnis recounted. "In my head, I was like, 'Oh my God, this isn't right. I have to fix this. I can't, I can't be like this.' And I started getting really scared. And I'm like, 'could this happen again? Could I actually die at this time?' I don't want to be like that, because I have so many friends here."
McInnis's battle with anorexia started in 6th grade. 
"When I was 13, I decided it would be a good idea because I was getting bullied a lot, being called fat, chubby," McInnis said. "So I'm like, 'You know what? I'm going to stop eating. I'm going to do better. I'm going to make everyone else happy. I'm going to do this…Just stop eating. Stop doing what you love.' " 
Evidently, everyone's happiness came at a steep price, one which her body had to work overtime in order to pay.
"When I started to stop eating completely on some days, I started noticing my body started shutting down… I'm not as strong as I was before I decided to go into the starving spree that I did. Because basically when I starved myself, I didn't think of 'Oh, this is what's going to cause it. I'm going to get weak. I'm getting sick.' I wasn't thinking that. I'm like, 'I'm just going to get smaller and who cares?' " McInnis said.
Counselor Kris Miller has periodically checked in on McInnis since her freshman year to help her along the process of recovery. An experienced counselor of more than 20 years, Mr. Miller knows the detrimental impact eating disorders can have on a student.
"At its base, it's an anxiety disorder. But, a lot of times, you know, that anxiety will increase and it can become overwhelming in terms of your ability to try to continue your regular lifestyle — keep your grades up, keep your social interactions up — because you're so preoccupied with your eating," said Mr. Miller. 
With McInnis, as she continued to abstain from food, she likewise embarked on a social isolation binge, fasting, severing herself from family, friendship, and love — the vitamins of life.
"I didn't want to interact with people, because I knew they could see … So I actually started withdrawing from people, including my family," McInnis said. "When my social life went down … my mental stability went down too because without people try[ing to] talk to me, and me not letting them in, I started thinking, 'Oh, I'm worthless. I'm not good [enough] for this.' I started getting more angry with myself, but I started going after the people I loved [rather] than myself … [I'd] lash out at people without meaning to, but I couldn't control myself because I was not mentally okay."
Fortunately, McInnis's time in the hospital proved to be a sobering turning point; she soon found strength and solace in those around her. Sophomore Dakota Dunman, a cherished confidant for McInnis since the start of her trek against the slippery slope of anorexia, has been dedicated to aiding her in her fight.
"If she needs emotional support she always calls or texts me or [she comes] to my house and just talks about life," said Dunman.
As McInnis valiantly stands in the trenches of starvation, she does so arm in arm with Dunman and other friends, forging stronger relationships.
"We've bonded closer together and … we've had to go through a lot of challenges and tasks, especially involving her anorexia. So like, we grew really close," said Dunman.
"
We've bonded closer together and … we've had to go through a lot of challenges and tasks, especially involving her anorexia. So like, we grew really close."
— Dakota Dunman
Similarly, McInnis's eating disorder has reinforced her bond with her mother.
"When [my mom] saw what I had, she went, 'You know what? Forget all those people and what they got to say. It's just me and you — and of course your little sisters — against the world. Don't let any man, woman, children, old people, bring you down,'" said McInnis.
McInnis's mother has struggled with bulimia for years. Her experiences enable her to foster a new, poignant connection to her daughter.
"When my mom helps me fight this, we can better ourselves," McInnis said. "[My mom] takes her experiences and she passes them to me and helps me through it. 'Cause she's like, 'I've been in your shoes before… Me and you, we're going to go at this together. Don't think you're by yourself.'"
Now, McInnis continues her journey with anorexia as she walks the halls of Francis Howell Central. Numbing frost may have encroached upon McInnis's reality as she lay motionless, utterly consumed with the precious brevity of life, but through support, guidance, and persistence, the bitter cold has begun to thaw. Germinating in the grounds of gradual acceptance, her confidence is blooming, revealing that her fortune was, and is, one of inspiring hope.