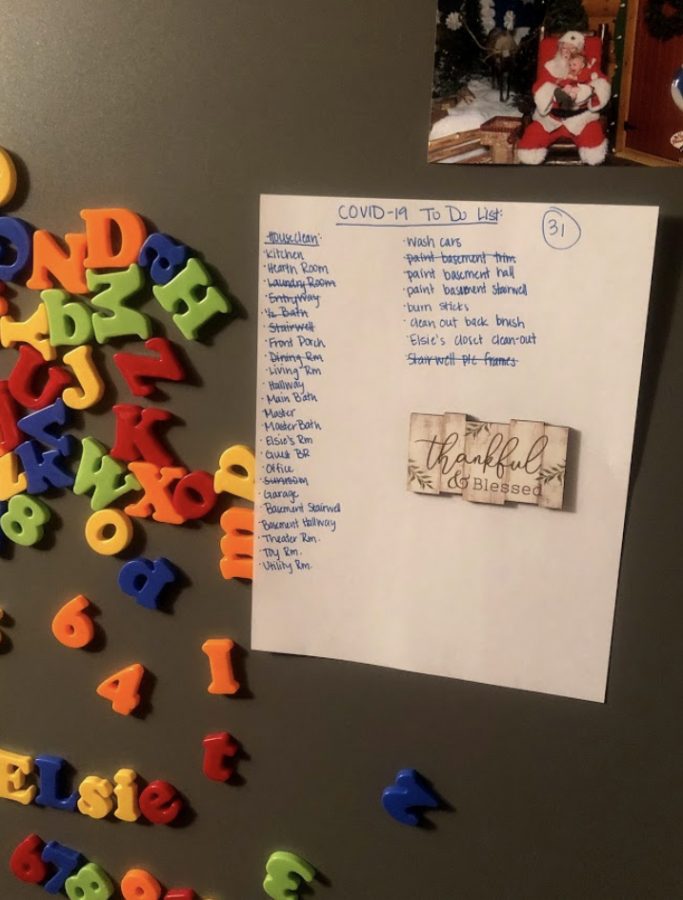 Days In The Life: Sarah LaRue, AKA A Clean Freak
Between chilling with her daughter and spending time with her husband, Mrs. LaRue cleans
As many who have walked into my classroom or my home can observe, I'm a bit of a neat freak. I like everything to have a place, and I love my world to not just be organized, but clean. This is how I was raised, and this goes back generations in my family; my great-grandmother cleaned the dorm rooms at Lindenwood University, my grandma ironed her six children's cloth diapers so they looked nice on the shelf, and my mother taught me, "It's easier to clean a clean house than a dirty house." When we received the news on Sunday about three weeks away from school, I knew this was the perfect opportunity to begin Spring Cleaning.
Growing up, I DREADED springtime because it meant spring cleaning. As I have become an adult with my own home, though, I have picked up the habit of deep cleaning my home once a year like my mother taught me. I clean my house pretty frequently, which includes dusting, vacuuming, mopping, and washing, but once a year, each room is given my full attention as opposed to the brief sweep it's given the rest of the year. Usually, my spring cleaning takes place in the summertime, as that is when it is easiest for my schedule, but Sunday night, I took out a piece of paper and wrote out my Spring Cleaning list to be completed in these next three weeks. (I'm also a list freak, but that's a whole other story for another time!)
Today, March 18, I feel quite accomplished as I already have checked off eight of my 31 items on my list. Now, I know what you're probably thinking: 31 items on a to-do list for Spring Cleaning?! And you're only done with EIGHT?! So here's some more information:
My husband works for the City of St. Charles School District as a speech therapist, so he is also home. Some of those 31 items are also honey-dos for him so we don't drive each other crazy these next three weeks.

We bought a house that was pretty much a fixer-upper four years ago, and we've spent a ton of time making sure each room in our home is ours, not the nasty home we bought; however, when we had our first child, that seemed to pause (weird, I know. It's not like she needs all of our attention or anything). Some of the items on my to-do list include fixing up the basement — one of the last areas that need our love!

Spring cleaning in my world is probably a lot more intense than any spring cleaning you may have experienced. Thanks, Mom.
Now that you know some of the back story, here was my day:
I woke up today around 8:30 because it was my husband's morning to wake up with our 16-month-old, so I got to "sleep in."

After I ate breakfast and drank my coffee out of a mug, not a travel cup, I played with Elsie in the living room. We played with blocks, baby dolls, and Little People, and we read a ton of books.

Elsie was a sleepy girl this morning, so she went down for a nap around 10 a.m. This is when I'm able to get most of the cleaning done.

We (meaning my husband and I), started in the dining room today. When it comes to spring cleaning, anything in the room gets cleaned. Light fixtures, walls, trim, decorations, windows, floors, floor vents, air return vents, all get a scrubbing. Everything is taken off the walls so it's cleaned thoroughly. Furniture is moved so the floor underneath can be attended to. Wood furniture gets cleaned. Carpet is vacuumed. Other furniture if vacuumed. Then, everything gets put back together! It took about 1.5 hours to complete the dining room, and Elsie was still sleeping, so we moved to our sunroom. While I finished that, my husband went downstairs to paint trim in our basement.

Sarah LaRue
Elsie LaRue models her new shoes after they arrived in the mail, which is her favorite.

By this time, Elsie woke up from her nap around 12:30. Since my husband was still painting, I was on Mom duty. Elsie and I ate lunch and played for a bit.

Then came mail time! Elsie's favorite part of the day! She loves the mail; it's weird, I know. Today, though, she got new shoes, and she was obsessed!!!

(She wears clothes normally. I promise. This was just post-lunch. She basically gets her clothes taken off for every meal because my husband is OCD and hates food messes. Once again, another story for another time.)

After this, we went for a walk. That's our goal in all of this: to make sure we get outside at least once a day.

The rest of my day was typical. I cooked dinner (chili), we ate, I cleaned up the kitchen while my husband did bath time. We FaceTimed grandparents so Elsie could see other faces besides Mommy and Daddy. We played some more and watched some Disney songs (Elsie is a big fan of Frozen). Then she was put to bed around seven. Now, my husband and I are chilling on the couch, watching some "American Idol," and discussing what these next weeks/months may look like for us as a couple, a family, employees, and citizens of the US.