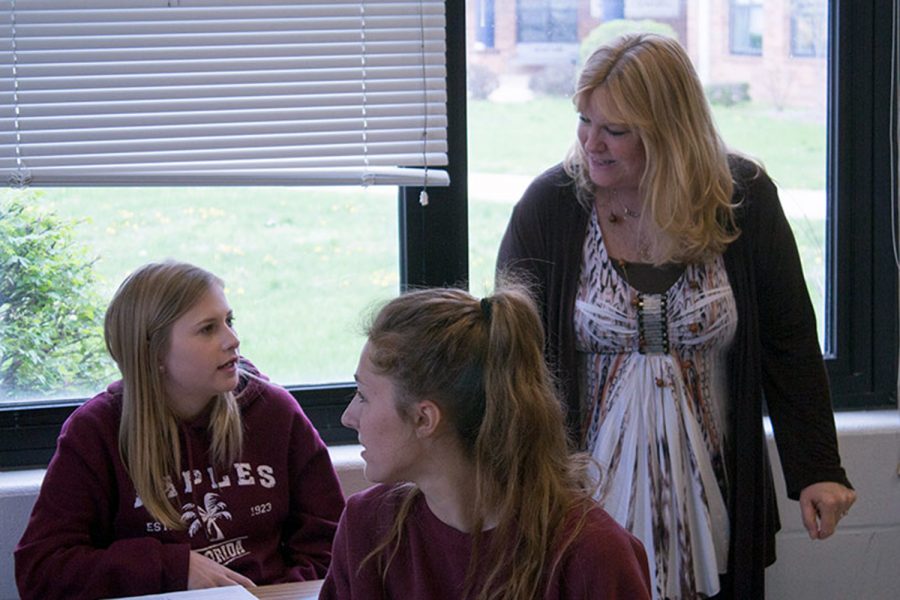 Patti Shockley
When I think of Mrs. Shockley, I see the word hearty flash across my brain in a golden yellow, retro 70's, kind of font with rays of light branching from all around it. When I think of just the word hearty, I think of one of those super healthy granola cereals or a bowl of oatmeal with only a little brown sugar, otherwise it defeats the purpose of the bland tasting oats being healthy. You may be asking if I am comparing Mrs. Shockley to a bowl of breakfast oats and granola, and the answer is yes.
There is nothing like a hearty cup of oats and granola to start your morning, and there is nothing like coffeeless morning Mrs. Shockley to get you invigorated for the day. Her sarcasm and irritation only amplified as the day goes on, radiating complete cheerfulness at being sleep deprived with no caffeine to sustain her. Like oats and granola, Mrs. Shockley is classic and timeless. Her love of all things ancient, that show history and teach lessons, is so wholesome and inspiring. It reminds you that you don't need a lot to feel full, just a few spoonfuls of oats and some good books. Besides maybe a smidgen of brown sugar, oats are pretty bland, and Mrs. Shockley doesn't sugar coat things. She takes you on journeys through books and makes you stare our worldly evils right in the face, while she laughs in her witches laugh (maybe the only un-oat-and-granola-like quality she has). Despite all the death and despair, she teaches in the course of a year, she is full of joy because she knows where there is evil there is also good. Where there is fear there is also hope.
Nothing is more substantial than a good old bowl of oats and a hearty Mrs. Shockley. After only one spoonful, making you feel all warm and fuzzy inside, you just can't help but hope that the day ahead will turn out alright. Thank you, Mrs. Shockley, for being my hearty bowl of oats every morning.
Mrs. Shockley is an absolute gem! I feel really blessed to have been in her class. I feel like the two of us get along really well. I love how easy she is to talk to and I love how much she loves literature. I never feel nervous about asking questions in her room or needing help. Mrs. Shockley is a wonderful teacher to start my day with at school because just being in her room lifts me up. Every part of her class is full of personality. Shockley, thank you so much for being a friend to me this year. I loved being your TA and helping with anything I could. Spending time with you and being a part of your crazy English world was genuinely a highlight of my high school experience.
Love, Hannah Hodges