All Dine, No Dash
Switch to three lunches causes crowds, confusion
October 21, 2021
Walking into lunch this year students are met with the excited chattering and full tables of the crowded cafeteria. Due to last year's COVID-19 restrictions, the school implemented five lunches, but this year we're back to three. While the three-lunch schedule is what should have always been commonplace, the adjustment back has still been difficult. Junior Joseph Hornberger is one of many that see's the difficulties in this switch.
"[The cafeteria is] just chaos," Hornberger said. "Especially if you want to get into something along the lines of the deli, you're going to be there for upwards of 10 minutes for one sandwich."
The atmosphere of the cafeteria can sometimes be overwhelming for senior Kouper Campbell as well.
"It's really crowded in [the cafeteria] and really loud, so it's hard to hear people," Campbell said.
Not only have the long lines and crowded kitchen been undesirable, but many students preferred the split lunch they got in the five lunch system.
"I had a split lunch so not only could I have a break mentally from my classes, but then when I got into a line I could go through it quickly, eat, and then check up on grades and my homework," Hornberger said. "Now if I finish lunch by the time the bell rings, I'm lucky."
To be able to have a break in the middle of class gave many students the opportunity to get a reprieve from the monotony of a full 50-minute class.
"[Split lunch] was nice because mine was in the middle of English, you would do [classwork] and then you got a break," Campbell said. "[After lunch] you got to go back to that class and it was way quieter in there and you could just enjoy it more, it wasn't so stressful."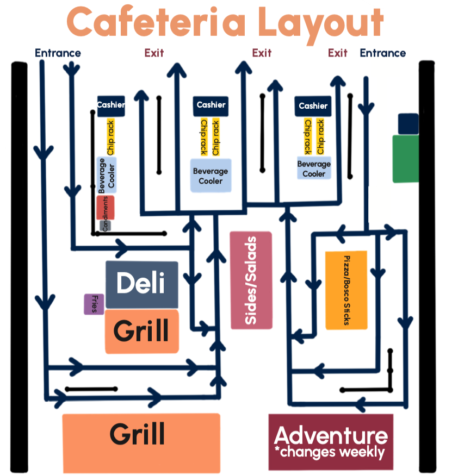 While students worry about getting in and out of the lunch lines with enough time to eat, the cafeteria staff are working to deal with the renewed influx of students coming through these lines. Cafeteria worker Heather Toebben works hard to make sure the flow of students stays consistent.
"I've been timing [how long it takes for students to get through the lines] […] I've been manually ringing some of the kids out to try to push them through, we'd like to keep [the wait] around seven or eight minutes," Mrs. Toebben said.
The miscommunication within the lunch lines also add to the wait. Many students, especially freshmen, will simply go into a line without knowing what that line is for.
"A lot of times people see a line and go in and stand in them and they don't realize there are other lines," Mrs. Toebben said. "[I've had to ask students] if they're in line for pasta or nachos and some will say yes, some will look confused and say no, and then you move them on."
No matter the workload, the cafeteria staff does all they can to ensure each student who comes through is fed and has the proper energy to get them through the school day.
"Nutrition is a very important part of the learning process, [students] need that nutrition to focus and retain [information]," Mrs. Toebben said.
This task is taken extremely seriously by the lunchroom staff who are always available to assist anyone who may need help.
"We love what we do […] If students have questions, concerns, dietary needs, or anything like that they know to just reach out, that's what we're here for," Toebben said.