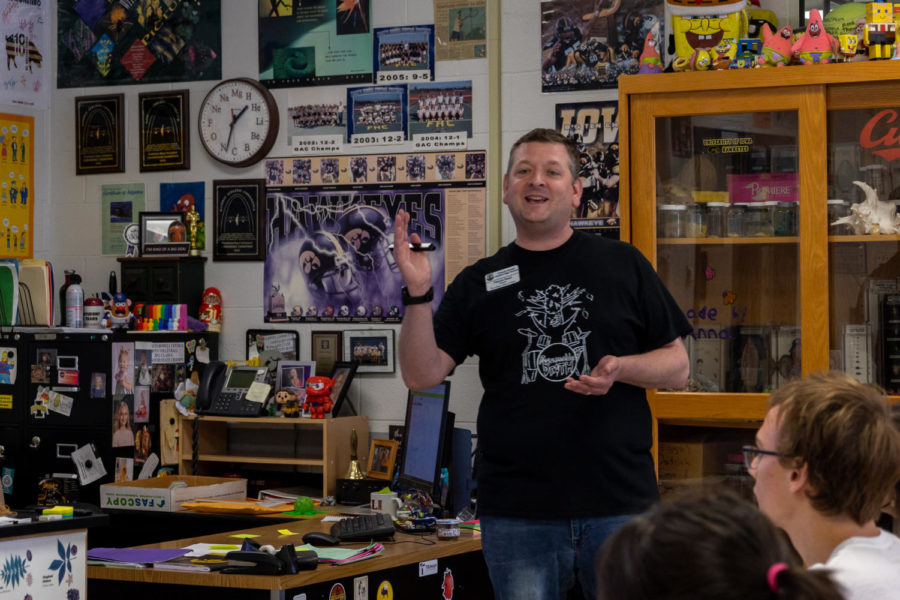 Patrick Reed
Mr. Reed,
Cheese stick lover, 
Squishy octopus haver, 
Flatulence finatic, 
Meme mastermind, 
Dad joke attempter, 
Thank you. I'm not exactly sure how you tolerate us all, but I hope you know how thankful we all are. I think it is the coolest thing that your love for your job is so evident. Unless it's all just a facade, that would be pretty lame. If we didn't have teachers like you, the education system would be substantially worse. I hope to one day have the love and passion for my career that you display for yours. People say that nobody really wants to be a teacher. As I've told you before, I was told it's wasted potential. But I want to be the kind of teacher for someone else that you have been for me. Once last year I came into your class and asked you for your honest opinion on the workload and time commitment for your class. I didn't really think I was going to end up taking it. But you were so excited to tell me about your class, just that one conversation was convincing enough. I'm very glad I have gotten to have you as a teacher this year, I definitely would have regretted taking something else instead. 
Once again, thank you 
Madi Hermeyer
Heyo,
Mr. Reed. I am almost at a loss for words. Words cannot describe how much of an impact you've had on me and the joy I get from being in your classroom. 
The first few days of school, I remember thinking, "Yea, I want to spend my study hall in his class". And I recall how at first it was quiet, as I worked at the lab and you worked at your desk a couple feet away. And how slowly the conversation worked itself in and I got to have the best time every 4th hour. From mysterious mints to Perrier(Peru) I've never laughed so much in a classroom before. The lunch gang will be undefeated and one of the most fun groups I've hung out with.
Mr. Reed. You don't only create an environment where students can be successful through your constant workshops with those who struggle. You create a place where students can be themselves, and show their weird side. Thank you for your endless work and support for students, it has not gone unnoticed. You truly are the bomb diggity.
-Syd