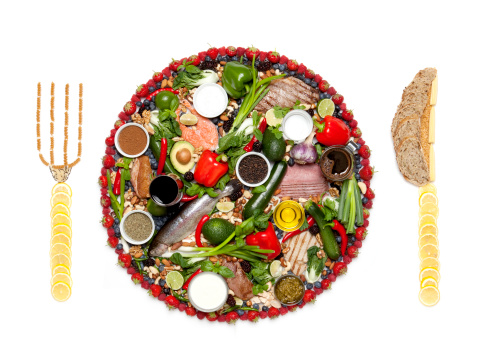 Nutrition and the modern teen
Students, teachers, and nutritionists give their two cents on whether or not you really are what you eat.
May 12, 2014
One of the basic building blocks to a healthy life is proper nutrition. The average American eats approximately 1,996 pounds of food per year, however, the bulk of it consists of processed foods which have chemical additives and preservatives added to them to extend shelf life and improve taste. However, in the process, the trans fat, saturated fat, and sodium content skyrockets, making these foods high in calories, but low in nutrients, which is why these foods are are often called empty calories. Nutrients are the fuel the body runs on, so having a proper diet has many benefits.
"Food is the main source of fuel for the body.  It helps with numerous things, including energy level throughout the day, ability to focus, keeping the immune system strong, and preventing risk of things like heart disease later in life." dietician Jamie Joyner Cassell said.
Mr. Cassell is a dietician for the Athletic Republic, a training facility for athletes in Frontenac. They offer specialized training for many sports as well as an 'Intro to Sports Nutrition program that allows teen athletes to learn more about the foods they eat and how a poor diet can affect their life both on the field and off.
"A poor diet can affect many things.  Mentally it will make you feel more fatigued during the day and make it hard to focus on whatever you may be doing.  Physically, poor nutrition can decrease speed, power and endurance. " Cassell said.
Mr. Cassell teaches athletes the basics of a healthy diet, which is getting the right combination of macro and micronutrients. Macronutrients are the fuel that keep the body running. These include carbohydrates, protein, and fat. Carbohydrates energize the muscles and the brain. Protein helps muscle tissue grow and helps produces key hormones and enzymes. Fat keeps the immune system strong and provides long lasting fuel for workouts. Micronutrients on the other hand simply help body processes run smoothly. Some teens try to enhance their diet with supplements, but according to Mr. Cassell that still may not be enough.
"No supplement can counteract a poor diet," Mr. Cassell said.
Poor diet habits continue to be on the rise among teens. The Office of Adolescent Health reports that in national poll only 34% of teens sampled reported eating fruit or drinking 100% fruit juices two or more times per day, while only 15% of teens reported eating vegetables three or more times a day. According FHC Anatomy teacher Mr. Scott Dauve these vegetables are a key part in a person's diet, but one that is often forgotten.
"The big thing is those green leafy vegetables because that's where you get the folic acid and the unique vitamins and minerals that you don't get from meat and the other processed food. Also the ruffage keeps your colon clean." Mr. Dauve said.
Processed foods have become a staple in the modern day diet, providing a lot of calories quickly to suit the fast paced lifestyle of todays world. Teens are often crunched for time and must rely on these foods for most of their diet. Others however have gone a different route, rejecting these processed foods for healthier alternatives in hopes of a healthier lifestyle. One such rebel is senior football player Ben Carey who has recently started to eating "clean". According to Carey this new diet has had a positive influence on his life.
"I feel really good all the time. I have more energy, I feel better about myself, and I'm in a better mood. It definitely pays off a lot if you do it," Carey said.
For Carey, football was the catalyst that propelled him to try and lead a healthier lifestyle. Freshman year Carey started off as a second string football player with a chip in his shoulder. Through the support of his teammates, a weight room, and a drive to improve Carey worked relentlessly and rose to captain of the varsity team. But success bred ambition, and as he improved his motivation continued to rise.
"It's addicting because you see the results you enjoy it and you want more," said Carey.
"You're using more of your body's energy and relying less on things like caffeine to keep it running," Mr. Dauve said.
Another reason that Carey started this diet was to create healthy habits for the future, something that both he and Mr. Dauve agree is one of the most important aspects of having a proper nutrition.
"In the short term, it's not the most important thing in the world. It's about the habits that you develop today, whether it be exercise or what you eat or how much you eat, are going to affect you the rest of your life but that's what makes it bad," Mr. Dauve said.
Mr. Dauve assures teens that eating a piece of pizza or drinking a soda won't kill them, but he stresses the detrimental effects of poor eating habits over long periods of time which may lead to obesity, which in turn can branch into dozens of different diseases.
These days obesity is a hot topic for activists who label it as the next big epidemic. Celebrities such as professional athletes and politicians such as First Lady Michelle Obama have made it their mission to combat youth obesity. By encouraging exercise and healthy eating these activists hope to curb childhood obesity and set up this generation with healthy habits. One of the ways that they have tried to implement healthier diets for today's youth is through a more regulated school lunch program. Over the past two years the school's lunches has been tweaking it's menu increasing the amount of fruits, vegetables, and grains. Deep fryers are replaced with ovens and regular chips are replaced with baked variants. This is all due to the new guidelines by the federal and state government. Schools that comply are given reimbursements, schools that don't lose out on the money.
Despite several federal and state laws being passed in hopes of curbing childhood obesity, the U.S. Government Accountability Office reports that these new programs have led to problems. The report revealed that these new programs have led to high food costs and waste due to kids throwing away the fruits and vegetables that are now required to come with the meal.
"One of the things is getting students used to more healthful foods", Howell Wechsler said, who is the chief executive of the Alliance for a Healthier Generation and former director of the Division of Adolescent and School Health at the U.S. Centers for Disease Control and Prevention. "It takes a while to get them used to new food. . .It takes a little bit of trial and error,"
Only time will tell whether or not these programs will have any effect on obesity rates. In the meantime, students will have to rely on themselves to develop healthy eating habits for their future.