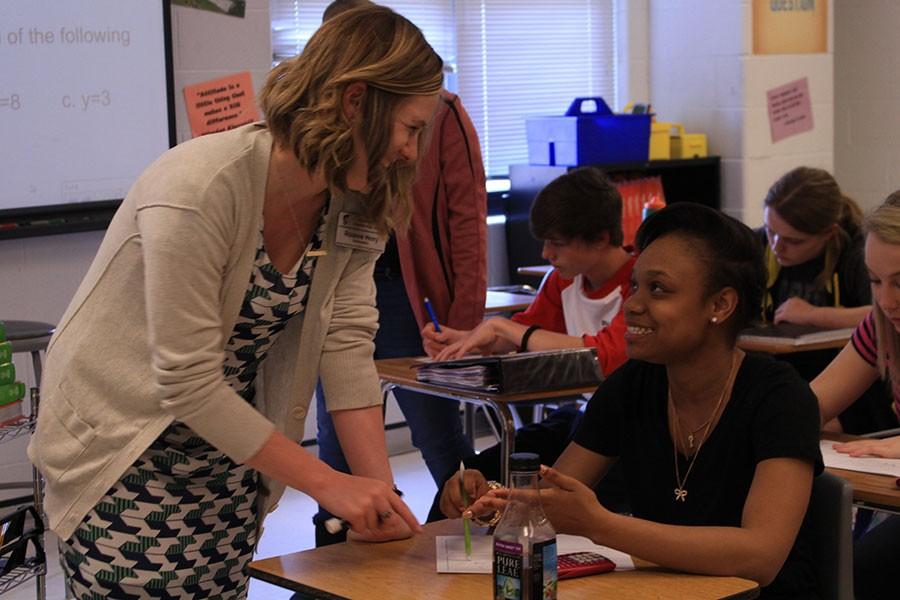 Teacher appreciation week: Ms. Henry
First year teacher helps struggling students learn to love math
May 5, 2015
By Alexis Labarge
Ms.Henry is one of my favorite teachers. She always makes math more fun and interesting. Which I think would be hard to do considering its math, but she never ceases to amaze me. Before this year I hated going to math, but now it is one of my favorite classes. She is always in a good mood and is always joking around with us. There is nothing better than a teacher who can joke around with us and still teach us and that definitely describes you. Everyone I know that has her loves her. She is always encouraging us to do our best no matter what. If we are struggling she makes sure we understand what we are supposed to be doing and doesn't give up on us. Before her class I was always afraid to ask questions in math because I didn't want to feel stupid, but not once has Ms.Henry ever made me feel like that. I have always thought about being a teacher and I would definitely want to be like Ms.Henry if I do pursue teaching. I appreciate everything she has ever done and taught me. So thank you Ms.Henry for being an outstanding teacher and just a great person in general.
By Anna Dillon
Dear Ms. Henry,
I wanted to take the  time to recognize you as a teacher and how you have helped and affected me as a student. From the beginning of the school year, I thought it best to give you a fair warning that I always have struggled in math.
From the moment we had that talk, you watched me more closely. You made sure I completely understood the information. You were more than happy to answer all my questions, and when I still didn't comprehend it you would patiently explain the problem or concept until I understood it.
There is a situation that occurred during 3rd quarter that I'll never forget; half embarrassment, half thankful. There was a test I was taking that I had studied hard for. I even took the time to pay you a visit during Seminar beforehand so I could go over the information with you just so it would be fresh in my brain.
It seemed like everyone was breezing through it, as I sat there in awe at the fact I had forgot half the things we had went over just hours before. Finally, the bell rang. You told me to finish up the test and you'd write me a pass. It was just me and two other people finishing, in which even they had left minutes after. It was just you and I in the room and you called me up to your desk. You asked me if I was doing okay and I lost it.
I felt so embarrassed that I was crying like a five-year-old, but I couldn't lie to you, I told you it was rough. I was so upset with myself that I couldn't remember what I had learned even when it was very recently retaught to me.
Instead of ignoring the fact I was crying, you told me everything was going to be okay. When you filled out my hall pass you gave me a few extra minutes so I could go to the restroom and pull myself together. You even gave me an extra shot at taking the test. That showed me you care,  and you  have been extremely generous with the one on one time you take into helping me.
I see you as a very compassionate person that is dedicated to her career as a teacher. Even when I feel like I can't figure something out, you give me the confidence to believe maybe I can. Between the atmosphere you set in the classroom and the quality of your teaching you're an amazing teacher and I feel privileged to be your student.