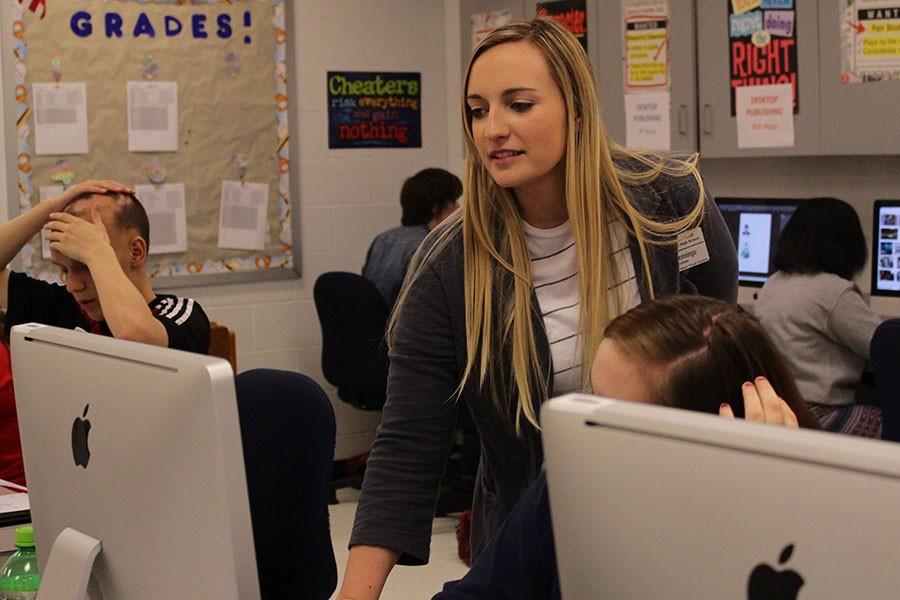 Teacher appreciation week: Ms. Jennings
Multi-year relationship from softball team translates into the classroom
May 5, 2015
During the summer before my sophomore year I decided to play softball. Not knowing what I would be getting myself into I went to the camp. During the tryouts I found myself working more with the freshman coaches. This being the first time I had played softball in the last year-and-a-half, it did not surprise me that I would be held down at the freshman level. I am not going to lie I was kind of frustrated with being put there, but I took what I could get.
After a few days of playing with the freshman team I started to get along really well with all of the coaches. The coach was the one that really made me enjoy the game and helped me become a better softball player. To me this meant a lot. I was no longer a lost cause, I began to actually see myself as a softball player. I was sad whenever I had to say goodbye to the season and the coaches.
Lucky for me, I was able to have this coach again my junior year as they were moved up as the JV coach. That was one of my favorite seasons. I enjoyed playing with the team with an exception of a few. I was able to get to know the new coach and push myself harder to have a spot for the team. I was not to happy with the result of how much I got to play, but I did enjoy being able to be apart of the team, and being able to see my friends everyday.
My senior year I decided that I did not want to play for the school any longer. It is a great softball program, but I had issues with grades that made me want to hold back to focus on my grades more, considering I need to get into a college this year. I was sad that I would not be able to see the coach this season, but I had to focus on my grades more than my sport.
During my marketing class we found out that our teacher was going to be having her baby soon and that we would be having a substitute for almost the rest of the year. When I found out that my old softball coach would be teaching us I was so excited. She is a great coach, an awesome teacher and just an overall great person. She is the type of teacher that one would never complain about. She is very easy going and relates to her students very well. Thank you Allie Jennings for making me a better softball player and making marketing bearable.
From Lauren Nosal
Throughout my four years at FHC, she has been the one teacher that has been there through everything. She was an amazing coach and friend, although shes only a substitute she has had the biggest impact on my career. She has been there to talk me into the things I should do and talk me out of the mistake I was going to make. She is the teacher that supported me and fought for me when other teachers have given up. She has been there through everything and made me realize my potential. She has brought me food before games and let me be her TA for every hour. She is the teacher who listens to my problems and helps come up with the best solution.  This year while I had a concussion she was the one who understood what was going and helped me work through it and take the best course of action while not getting behind. I thank her for her commitment to education and being an awesome coach in sports and dealing with my intensity with joy and understanding.