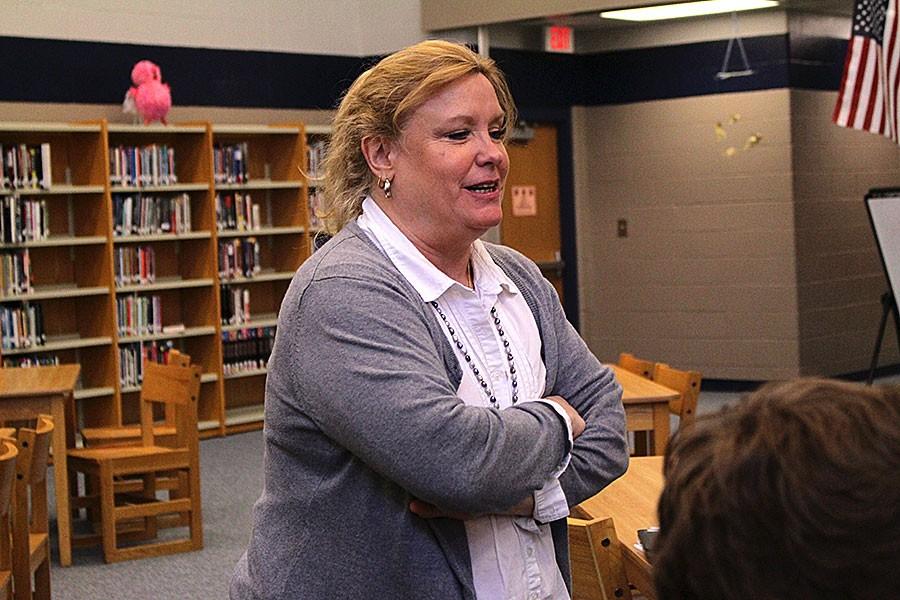 Teacher appreciation week: Mrs. Shockley
AP lit teacher shows students her understanding of the life of an AP student, all the while still challenging them at a pace they can handle
May 5, 2015
After emerging from the bloody battle otherwise known as AP Language and Composition, I marched onward in hopes of defeating my next test of faith in the cursed room of 147. AP Literature was a course many warned me of, but my desire to be challenged overcame the pressure of slacking off my senior year.
The woman at the center of this cursed inferno of a class, the one and only Mrs. Patricia Shockley, has helped me overcome any and all obstacles I face, some she put in front of me and some just personal struggles. Whether it be improving my reading skills or bettering my ability to write formal essays, Mrs. Shockley was and continues to be there for me every step of the way in my journey through literature.
Mrs. Shockley is probably the most understanding teacher I have ever met when it comes to the pressure on an AP student. She understands the fact most of us are struggling through multiple AP courses and cuts us some slack when it seems the responsibilities are becoming too overbearing. In no way am I saying she's making the class less of a challenge, but she is just more aware of the sometimes overwhelming work load her students receive. She's willing to mold her lessons to best benefit her students, which is what makes her so incredibly unique in her teaching style. She is willing to give, as long as her students are willing to put in the effort.
Thank you, Mrs. Shockley, for always being the teacher I feel I can come to with any problem, school-related or not. Thank you for being so understanding and lenient with your workload, but still testing my abilities along the way. You are a teacher I will remember long after I leave Francis Howell Central, and a person I am glad to have had the privilege of knowing and learning from.
By Emily Herd
English class has always been a class that I have looked forward to, and has fed my desire to learn. I learned how to improve my writing, vocabulary, and to fully understand the purpose of rhetorical strategies. English has invariably been my favorite subject, but I have sometimes struggled to succeed in some areas.
I was at first hesitant to join AP Lit. because I lost interest in English, but I forced myself to take it and it was the best decision I've made. Mrs. Patricia Shockley not only helped me gain my passion again, but flourish and truly acknowledge how important it is to me. She would take something complex and make it simple to digest and comprehend. She would also relate it to current events and circumstances which helped me understand that age does not define relevancy and importance.
Everyday I look forward to learning from Mrs. Shockley and having off topic discussions that are impactful and down right hilarious. She's open and honest and when our agenda has to change, she alters it so that it is beneficial for everyone. I laugh every time there is a feud with the AP Lang. class about how AP Lit. is equally as hard of a class. Everyday is full of laughter and smiles that make my day and remind me of how blessed I am to have a great teacher.
As I began to realize how much I loved the class, literature such as 1984 and "Macbeth" became an addiction; I wanted to read as much literature and classics as I could. This new addiction thrived due to Mrs. Shockley; she taught me how vital English is. How it is educationally beneficial, but also is fun and intriguing. I was exposed to great works of literature that I never would've read if it wasn't for her. Due to this, I view life often in a literary lense and ponder life's many mysteries. If I wasn't exposed to works of literature, I would be oblivious to life's recurring hardship in others lives as well as mine.
Thank you Mrs. Shockley for all you have done. When I go off to college and have to leave this school, I will remember that I walked across the stage and got my diploma thanks to you. Thanks to you and your impact on my life and education, it will be something that I will always remember.