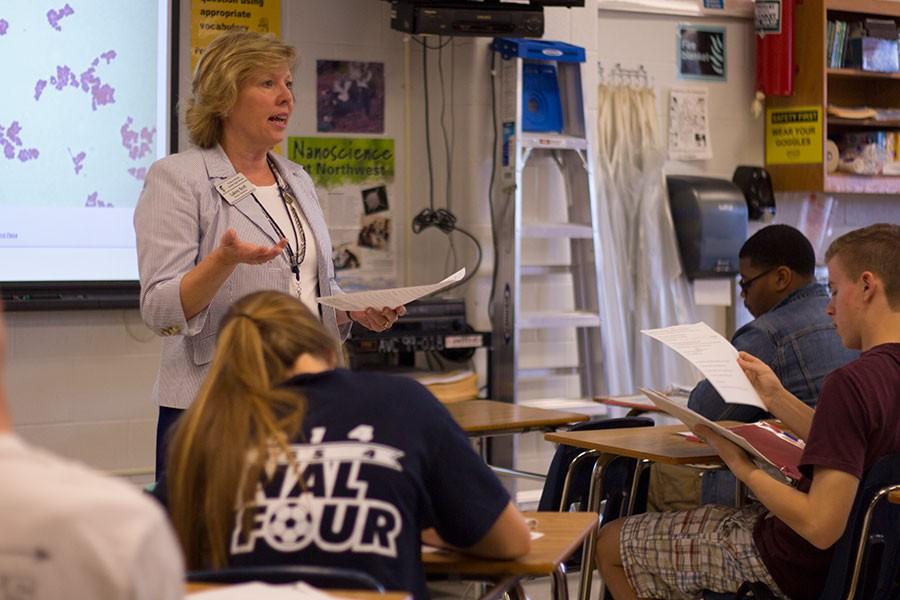 Teacher appreciation week: Mrs. Scott
Biology teacher helps make learning the subject fun in a focused manner.
May 6, 2015
Of all of the teachers I've had, I've never experienced a teacher who was so genuinely kind and who loved her job so much as Mrs. Luanne Scott. I've never been sure what I want to do as far as my career goes, but after a few weeks in Mrs. Scott's class, I knew I wanted to pursue science. She gives her students as many resources as she can find as far as camps and internships are concerned and her passion for the subject is clear in every single lesson she teaches.
In all honesty, biology isn't always fun. Sometimes it can be monotonous or boring or even gross. It doesn't matter, though, because Mrs. Scott always finds a way to make it interesting. I remember one time we were learning about genetics and rather than giving us some worksheet that would have probably been a chore to do, she put us in pairs and had us create our own child out of genetic codes. It was fun and lighthearted and she put a lot of thought into how to teach us what we needed to know without making us feel like we were being hammered with the information.
Mrs. Scott showed me science is more than repetition and weird smells. I appreciate her so much for all the effort she puts into class every single day. She somehow manages to be kind and thoughtful on top of everything else and I hope she now knows how big of an impact she's had on me.