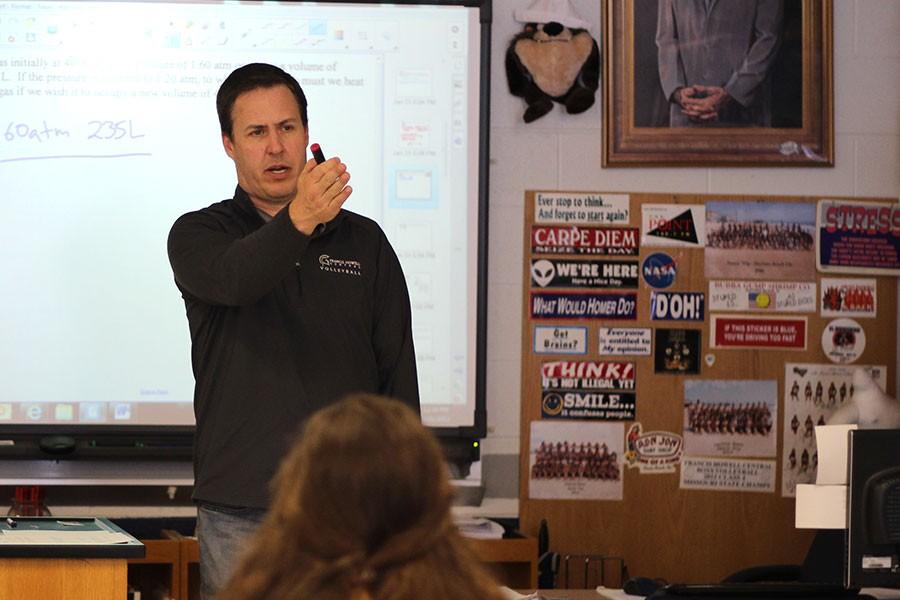 Teacher appreciation week: Mr. Thorpe
Science teacher and volleyball coach shows energy and enjoyment in the classroom and on the court
May 6, 2015
From Kayla Schoenig:
To be a great teacher you have to be a friend too. Someone a student can not only turn to for educational help, but personal help as well. In that case, Mr.Thorpe is a great teacher and friend.
He has helped me understand that life isn't easy. When my volleyball career ended early this year he let me know that I can still achieve, and explore other things that are important to me.
The amount of energy and enjoyment he has in the classroom really has helped me strive higher in not only school, but life in general. He relates a lot of his lessons to regular life experiences, and his jokes aren't that bad either.
Thank you Mr.Thorpe for not only helping me as a student, but a person as well!
From Daniel Tedder:
Mr. Thorpe was the scariest teacher I've ever had. I can still remember that during the first week of school my freshman year, Ian Fletcher was sleeping in his class and Mr. Thorpe went off. He yelled and made Ian stand up in the back of the class, so that if he falls asleep "he'll wake up when his head hits the lab table." After a few weeks, I still didn't know if Mr. Thorpe had an inside voice.
I had Mr. Thorpe as my volleyball coach later during that spring, and if I thought that he wouldn't yell as much, I was definitely proven wrong. He was a great coach, he knew how to teach the basics and how to get the most out of all of us. We weren't his best team, but he instilled the "state" mentality into us. After the Howell North tournament that year, he talked to us for what seemed like forever in the hallway. He didn't yell, all he could say was how proud he was of all of us, and how he believed we could be the class that finally hung a state banner. To this day, that belief still drives me.
A year and a half later, as I'm managing the girls volleyball team, he approached me and asked if I wanted a job at the Verizon Amphitheater. Of course I said yes, and its made for some pretty great stories. Now, two years later, I can't wait to return for this next season.
This man, who had seen me come in as a short and chubby freshman, now is going to see me leave as a tall and not as chubby senior. Everytime I see him, he's always upbeat and ready to crack a joke. He taught me how fun it was to learn and how to push myself to do the best that i can. In his class, it wasn't about getting a B or an A, it was about perfection, and he was upset if he didn't see us achieve that.
Mr. Thorpe, thank you for all that you've done for me, this page of words cannot adequately describe how thankful I am for all of the influence that you've had in my life.
Oh, and by the way, LGB stands for LET'S GO BLUES!!!!