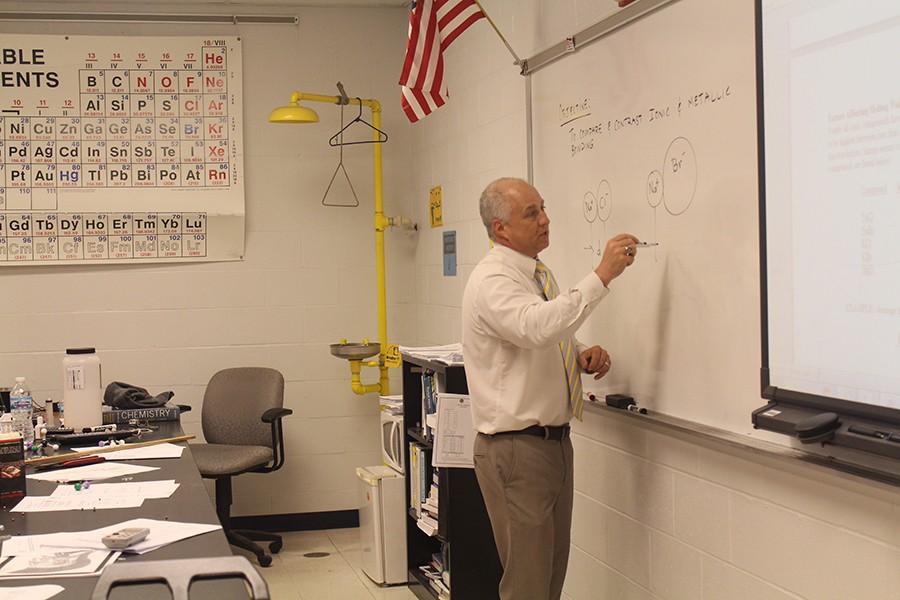 Teacher appreciation week: Mr. Kozlowski
Chemistry teacher makes the sometimes monotonous, subject entertaining and fun
May 7, 2015
From Cadence Bippen:
Mr. John Kozlowski is a teacher who cares about his students, and his students know. By the first week of school, I knew I was in good hands and well on my way to learn about chemistry. He does the simple things that make a huge difference to a student; he explains examples thoroughly, and always stops to make sure we understand.
He answers every question he can, and even if he has already gone through it, he will try a different way until the student can get it. He gives back every worksheet and test, and gives opportunities to fix what you did wrong. He does things as small as asking how our weekends were, which not every teacher takes the time to do.
I admire how in his tests, he applies the concepts to real things we experience on a daily basis. Instead of just giving a random chemical formula, he will give the formula for a common gas that is used for something we know about.
When he tells his jokes, I sometimes feel like I am the only one who laughs, and I don't necessarily laugh because I feel bad for him, but because they are so bad they are funny to me.
His class is one of the only that I feel like I learn something in virtually every day. And even when he teaches something useless, he lets us know that as well. Today he said "knowing about the size trends of atoms will not help you at all. It will neither increase nor decrease your quality of living." His students appreciate the honesty!
Thanks for a great class, Mr. Koz! Even if your manilla envelopes terrify me, I still look forward to sixth hour every day!
From Beth Weirich:
Signing up for chemistry junior year was a little frightening, I'm not going to lie. Chemistry has never been my strong suit, being more of a biology person.  Having Mr. Kozlowski as a teacher definitely made chemistry an enjoyable experience for me. He is able to take a subject that is not always the most exciting, and turn it into something you want to learn more about.
Because of him, chemistry as well as science in general have become more interesting. He's very engaging and you can tell he cares about the success of his students. His passion for the subject he teaches is evident. His bad chemistry jokes and puns would probably have to be one of my favorite things!
Usually there's not much laughing going on in a chemistry class, but in Mr. Koz's class there is. He is very knowledgeable in his field and wants his students to be able to learn about an important subject in our world. He is always ready to help a student review for a quiz a test, or put in the extra effort to help a student succeed. Koz is an awesome teacher that any student would be lucky to have.