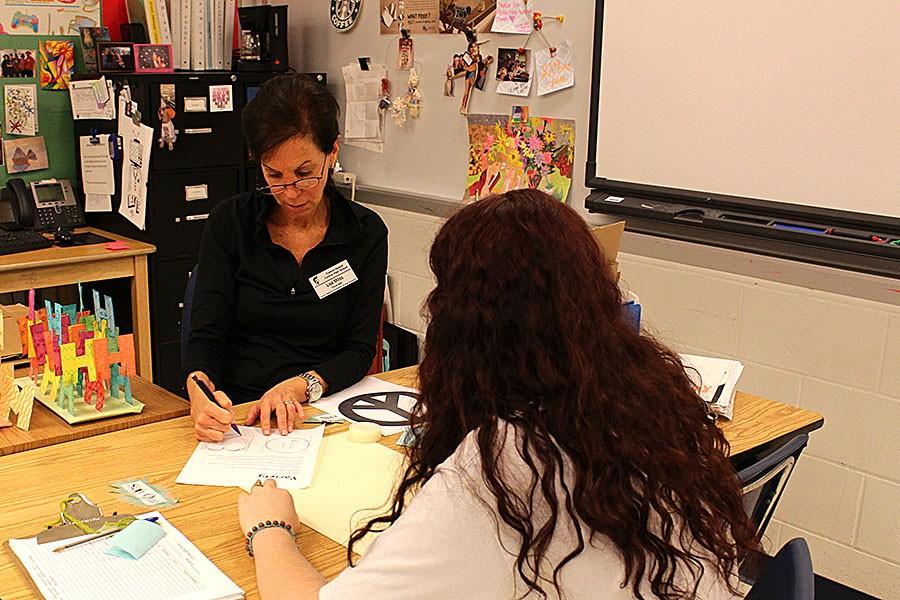 Teacher appreciation week: Mrs. Milos
Art teacher helps students express their creativity
May 7, 2015
Mrs. Milos
What is an art teacher? An art teacher can touch the heart of students and send the love of art surging through their veins as soon as they walk into the classroom. They show the students how to express their creativity and put a splash of color into each and every day.
Mrs. Lisa Milos, a teacher passionate for art, is definitely on my list of people I look up to. Day by day, I look forward to my Drawing 1 class. I look forward to walking into room 247, with the smell of paint and clay wafting around the room; the drafting tables splashed with accidental acrylic paint marks; and most of all, Mrs. Milos' welcoming smile.
Every day, the seventh hour drawing class is greeted with enthusiasm, as Mrs. Milos walks in after the bell rings and tells us what we will be doing that day. It's not just Ms. Milos' constant positive attitude that makes the class so enjoyable; she connects with her students. She shows us that we are all capable of making incredible art and that we all have potential.
Much like Mrs. Milos, I love art. I love how I can convey a message through something as simplistic as a couple lines on paper or as complex as a life-size sculpture. I've known for a while that I've wanted to go in an artistic direction for college and an occupation. Mrs. milos has definitely helped me with that. She encourages not only me, but the majority of her students to see the world in an artistic way; to focus on the little details that could easily be missed; to have a colorful outlook on the world around us. She's encouraged us to visit art museums to get a feel of the different styles of art. That's what I consider a great teacher and a wonderful role model.
Thank you, Mrs. Milos for making every day a fantastic one.