Alan Meister
May 17, 2016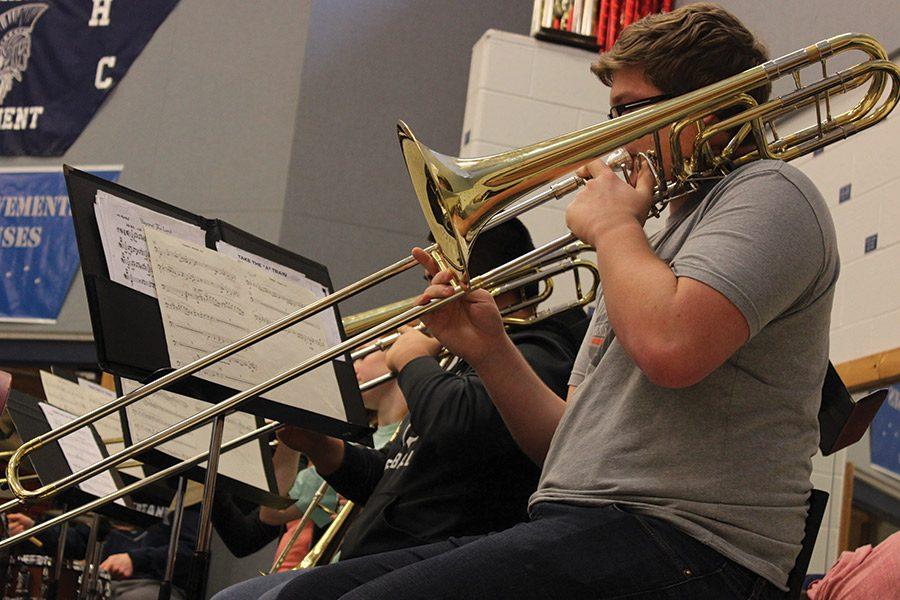 Every day during the late summer and fall, the marching band students trek their way over to the fields, instruments and equipment in hand, ready for a three hour practice. However, once they get to the field, something incredible happens as each student hits their set, ready to plow through another 'top of the show.' Senior Alan Meister has grown to call these long hours of practice comforting and just like home, however the year has come to an end, and graduation is seconds away. For many people, high school marching band is the end, for some, it's college marching band; but for Meister, the season on a DCI corps has just begun.
"DCI stands for Drum Corps International. So there's the marching band at our school, we practice like two and a half, three hours every day after school, and DCI does that for 12 hours a day all summer long. So, in short they're really good marching bands that compete all summer long. Kind of the NFL of marching band, more or less, but instead of them paying you, you're paying them," Meister said.
DCI is a well-known branch of marching band that members of the FHC Spartan Regiment know and love. Oftentimes during band camp lunch breaks, students will go and discuss their favorite corps of the summer and their favorite shows, and maybe even travel to see DCI competitions in their free time. The decision for Meister was an easy one to join DCI after seeing his favorite corps perform.
"I guess what's really inspired me is the thought of being in The Cavaliers which is a DCI corps that I really would like to be in and be a part of. So just thinking about how awesome it would be under the finals stadium lights playing the last note of a show is just really, really inspiring," Meister said.
Meister plays the baritone in the FHC Spartan Regiment, trombone in the Spartan Wind Ensemble, and bass trombone in the Spartan Jazz Ensemble, however his involvement with music began way before the middle school instrument try-out day.
"Well, when I was really young, my parents told me that I was going to do music because they did music. So, they started me on piano and told me I had to do that for 2 years, then I moved to drums, and then I moved to trombone," Meister said. "I've had involvement with music for probably ten or eleven years; a long, long time."
Unlike the Spartan Regiment, where anyone who plays an instrument in the school programs is welcome to join, and those who don't are welcome to try out for color guard, DCI corps have a long, grueling tryout time. Students will travel hundreds of miles for a weekend just to try out for a corps, and the cutoffs are tough.
"The tryout process is long. It starts in November and you go and go for a weekend; you get there Friday and you're auditioning till Sunday at 1," Meister said. "The entire time they're grading you on musical stuff all the way down to your social abilities. They're grading how well you mesh with the other people, and then of course there's the stuff like music, visual, and all that stuff."
Not only is the tryout process time consuming, but the prep time can be extensive and a little stressful. Meister practices long before tryouts to make sure his performances go well, and even so that he may have a leg up on the competition.
"I print out the music the second that they send it out because you have to prepare music beforehand, and then like after practicing that into the ground, I also go and watch some of their videos and see if I can decipher any of their marching technique from the video and then try to emanate that so that I'm not going in completely blind," Meister said.
DCI is an extremely time consuming and expensive activity, however Meister deems it well worth the time and money.
"From my side, if you make the corps, then you've already paid for 3 camps up to that point, each camp is $150, and then summer is $3000. It's a pretty expensive activity and the time commitment is massive because you're basically gone from May 28 to Aug 12," Meister said.
Meister leaves June 10 to pursue his passions for the summer, however he will always be home the moment he steps foot on a football field.