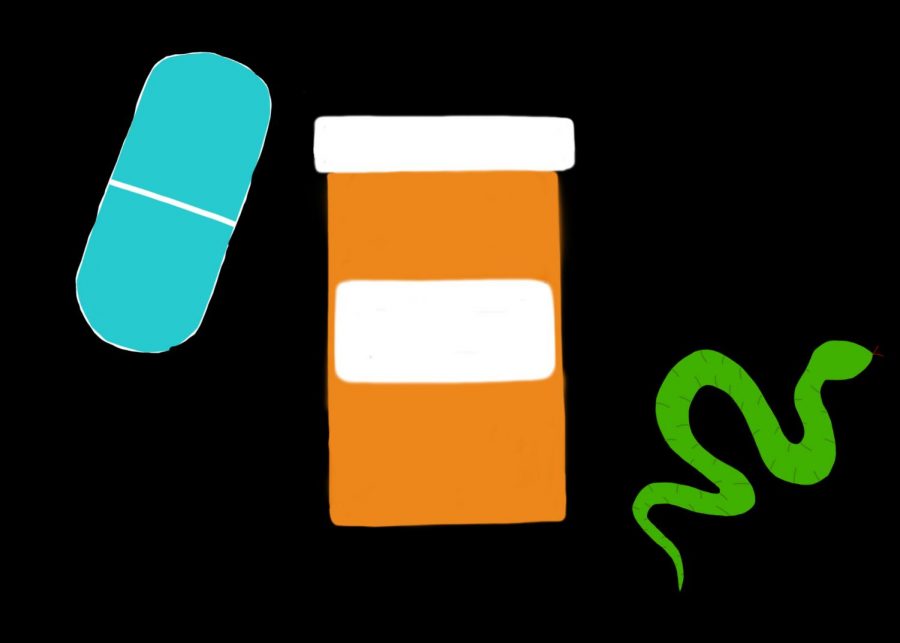 Mental Illness, Meds and Me
Sydney Tran shares her story about mental health
April 26, 2021
The hardest part isn't the mental illness, the hardest part is stepping out of your comfort zone to fight it. It took me years to get help because it was easier to talk to friends than my parents. But, the difference between friends and parents is: your friends don't sign consent forms for therapy.
My mom always believed that mental illness is the direct road to the insane asylum, which led to a preconceived notion that if I had mental illness I too would be committed to a hospital. Even today she still says, "You are normal."
But, with everything I've been through, I know I am not. From my skin picking disorder to my lack of a will to live, I knew something was wrong and I haven't been "myself" in a long time.
I had seen four therapists.
The first, I cannot remember her name, was a family therapist and I loved her. But when she told my mom, "Rosie if you believe in God then why do you try to play God by controlling your children?", my mom completely disliked her immediately. This woman was the first person who heard me, and after that appointment, I never got to see her again.
The next therapist was Randy, our family's second therapist. Randy was okay, I don't really like him because he had insinuated my own self harm issues were an act of rebellion against my parents, which was out of line. It was only my first visit with him, and after that, I never saw him again.
Then there was Kathryn. I had spilled my heart out to her, I had been going through so many self harm issues I couldn't take the weight anymore. But, I had only gotten to see her once. And then she never answered my messages after COVID.
But now I have Alex, and she is everything I could ever want. I see her once a week and fill her in on what is going on. The best part is she tailors the sessions to my interests. We do lots of drawing for therapy, and honestly, after the first two sessions, I had felt like my life was the same. After the third, I felt like it was getting pointless. But I realized as I saw her more and more I felt better. I got to experience different activities that helped me visualize and get in touch with my emotions.
Such as playing with "trauma sand" to visualize the overstimulation I experience in school. Trauma sand is just sand in a box. But, then add certain objects such as animals, plants, people to represent how you feel. You just think it's just objects in the sand but then you start to notice the hidden meanings and symbolism that help you become "one with your emotions".
And the more I talked I realized I started opening up more in my social life. I remember saying, "For a long time I felt like I was better off alone, but it was really just me cutting off the world because it felt like the world was cutting me off." That was how my depression felt.
The reason I love therapy so much and strongly advocate for everyone to see a therapist at least once in their life is because it provides time for you. Once a week for an hour I get time to look after my mental health and talk about what has been putting me down for years. It's my time to let go, and find myself.
But, as you can see, it takes time to find someone who works for you. For a lot of people, many factors go
into finding the therapist for them. Flexibility, chemistry, availability, and money are all crucial for a good fit. Money was a big one for me, and thanks to the resources offered by the behavioral support specialist, I was able to find a free therapist. But there is more than talk therapy for people with mental illness, there's also medication.
Before I had started seeing Alex, I had met with a psychiatrist to get a step in the door and during my first session she said I was at risk for a personality disorder. I had to take the medication and the therapy seriously if I wanted things to get better. And that was the first time someone other than myself has told me that. Because in reality, I had to be serious about what I was going through, and determined to find help, or else I wouldn't have had a psychiatrist or therapist.
I first started with Prozac at a baseline dose. It came in a teal green capsule and I picked up the prescription the day she prescribed it because I wanted to start as soon as I could. The weird thing was, I was actually losing sleep at first and I couldn't shake the feeling of being in my skin. I would be sitting in school, and it would feel like there was a suit on me, and it was constricting me but it was just my skin.
After two weeks of Prozac, I had missed almost a week of school because I couldn't get up. I thought about going to school but my body said "No, stay here." I was so frustrated, it wasn't as simple as walking out the door for me. My parents were furious; they were expecting me to get better immediately after three therapy sessions and a few weeks of meds.
It took a long time to get used to the medication but coupled with therapy, it helped me a lot. I found myself outside of the house more, and my skin picking happened relatively less frequently. The next thing I knew, I was back at the psychiatrist's office, and my meds were upped. The pills went from green capsules to half white and half green capsules. After a week, I felt overwhelmed. My head felt like it was being twisted and turned upside down with a blanket of headache on me. I feel it the worst in Spanish class. The class is loud, which usually didn't bother me, until all of a sudden I felt suffocated by everyone's conversation. It was like I had super hearing and heard what everyone in their pod were talking about, and I couldn't take it. I had to open a window and stick my head out to feel a release from the chokehold of overstimulation. For the most part, I now experience overstimulation and headaches. But, overstimulation is the worst. It's hard coming to school every day on time when I know I didn't want to. I feel the pressure to get better faster and sometimes crack. Still, I see the progress I've made. I see that I get out of bed with more confidence in the morning. I see that I am getting out of the house instead of hiding in my room. I see I finally turned in some of my homework assignments that I used to ignore. But most importantly I start to see more of myself when I look in the mirror, and she's not the girl I used to know. She's the girl I want to know and I know I have to push through it to find her. I worked so hard to get into therapy and I want it to pay off.
So if you are considering getting help, from a mentally ill person doing the work, do it. Don't put it off. And when you decide to, understand it's hard, and it takes time to truly get in the rhythm of the treatment, the highs and the lows you experience. It's important to know that it takes time, even years. It sounds daunting, but once you get started the challenge isn't going to be where to begin, it's going to be figuring out how to keep going. And once you keep trudging along the bad days where getting out of bed seems impossible and the days where it seems like there is nothing else, you start to see who you can be. Someone who is strong enough to fight for you, loves you, and is truly you. It's not about fixing you, it's about finding you