Boys swim team takes first against Holt
The team celebrates their senior night and their a win against Holt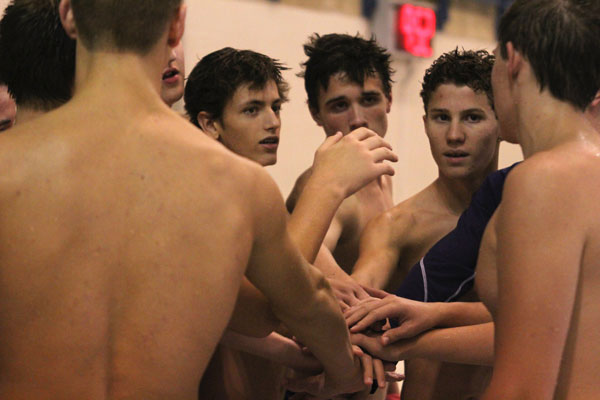 Wednesday, the boys' swim team faced off against Holt High School. They won by a large margin and  finished with a score of 122-60.
In addition to the win, the team celebrated their one senior, Zachary Harrellson, at the team's senior night.
"The highlight of last night's meet was probably me." said Harrellson jokingly. "We walked down and I had on my senior speedo and my cowboy hat and vest."
Junior Ryan Eilers talks about the fun of planning Harrellson's celebration.
"Harry is very big into country stuff. About half of us brought cowboy hats and wore them when he walked down." said Eilers.
Junior Devon Ridout enjoyed the senior night festivities as well.
"We played him some country music and he wore his cowboy speedo. It was pretty fun." said Ridout. Aside from the excitement of senior night, the team swam great and
"It was a great meet. We got first place and it seemed like everyone had good swims and dives." said Eilers.
The diving team made a splash by taking the top three spots at the meet. Sophomore Michael Lippincott took first place, Ridout took second, and Harrellson took third. According to Ridout, diving gave Central a leg up on Holt.
"I was excited about diving. Taking first, second and third was great. That was one thing that gave us a lot of extra points. I remember last year we didn't have any divers and we lost points that way." said Ridout. The team was happy with the overall outcome of the meet.
"The team did really good. I'm always so happy with how we do." said Harrellson.
The next meet is this Saturday at the Fort Zumwalt North Invitational. The team is hoping to continue their winning streak.