Forget the critics, "Batman v Superman" was awesome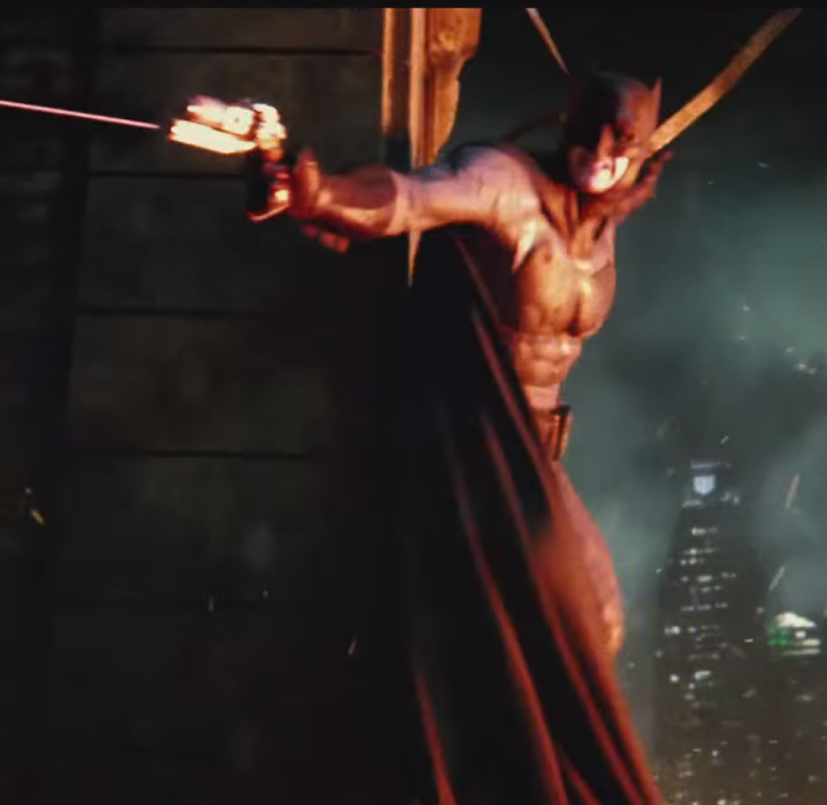 Last Thursday, I stood in a line for about 30 minutes, eagerly waiting to get a good seat for my most anticipated movie of the year, "Batman v Superman: Dawn of Justice." While I was incredibly excited, I was also quite nervous. The Rotten Tomatoes score fell almost by the minute, dropping from a 44 percent all the way to 28. Critics bashed it, fans were split down the line, and the once highly anticipated film seemed to be doomed. As the lights dimmed and the film started, my fears slowly began to slip away.
I usually always agree with the critics, but occasionally I don't ("Sinister 2," "Man of Steel," "The Passion of the Christ"). After seeing the film twice, I can safely add "Batman v Superman" to that relatively short list of films.
The basic story of the film follows the events of "Man of Steel," in which thousands died, Bruce Wayne (Ben Affleck) has become convinced, along with Lex Luthor (Jesse Eisenberg), that Superman (Henry Cavill) is more of a foe than a friend and must be stopped at all costs. What followed was two and a half hours of nonstop fun.
The film feels and flows like a comic book with several scenes being ripped directly off the pages of several famous DC comics' stories such as "The Dark Knight Returns." Director Zack Snyder's ("300," "Man of Steel") visual style is one of the more unique in Hollywood up there amongst the ranks of "Mad Max: Fury Road" director George Miller and "Pan's Labyrinth" director Guillermo Del Toro. There are several beautiful scenes throughout that truly capture the tone and style of the film.
The strongest points of the film would definitely be the acting. Ben Affleck was absolutely jaw dropping as Bruce Wayne/Batman, perfectly playing the Dark Knight. It's tough to rank him amongst the likes of Christian Bale and Michael Keaton, but that's only because he's on par with both of them. He gives a physicality and brutal nature to the character unlike anything we've seen before on the big screen, more akin to his comic book counterpart.
Gal Gadot was also very solid as Diana Prince/Wonder Woman. While I did not think she would be a good Wonder Woman when she was initially cast, I must say that she was strikingly perfect in the Amazonian goddess' first feature film. While not necessarily possessing the physicality usually known to the character, Gadot definitely made up for it with her charismatic charm and strong performance.
The performance that has significantly divided its audience is that of Jesse Eisenberg's interpretation of Lex Luthor, arguably the most well-known super villain in comic books. Eisenberg's portrayal was of a more psychotic and narcissistic Luthor, more like the Riddler than that of Superman's famous arch nemesis. However, that doesn't mean that his performance is bad. In fact, it is quite good. Keeping with the trend of rebooting famous characters and making them different, DC and Warner Bros. decision to change the baddie provided a much needed breath of fresh air. We have seen the iconic version of Luthor for years, from Gene Hackman in the original four Superman films to Kevin Spacey in "Superman Returns." It was a nice change of pace that will hopefully be welcomed more warmly within the next few years.
The rest of the cast also provided solid performances. Henry Cavill was once again great as the Man of Steel himself and I can only help but feel that the returning cast from "Man of Steel" gave better and stronger performances here with the major improvements being Amy Adams as Lois Lane and Laurence Fishburne as Perry White.
Additional new talent was brought in, including Jeremy Irons as Bruce Wayne's faithful butler Alfred. Irons provided a strikingly great and different performance with the character, giving us my favorite Alfred on the big screen yet.
Other great performances come from Holly Hunter as June Finch, a junior senator from Kentucky who opposes Superman, Scoot McNairy as Wallace "Wally" Keefe, a former Wayne Enterprises employee whose legs were crushed in the fight between Superman and General Zod from "Man of Steel," and Callan Mulvey as Anatoli Knyazev, a low-level mobster who becomes the super villain KGBeast in the comics.
Without any doubt, the most important thing in a movie called "Batman v Superman" is the action, which I strongly believe is the best in any superhero movie that I have ever seen. The fight choreography is brilliantly done and is well shot by veteran cinematographer Larry Fong ("Watchmen"). The CGI mixed in is also some of the best that I've seen in a comic book movie ever, and there was a substantial amount of it used. The fights were long and incredibly brutal, something I would expect to see in a Batman movie no less a Superman and Wonder Woman movie as well.
The truth is, this is a hard film to give a grade to. While I definitely looked at it objectively, I still can't help being slightly biased, being that I am a huge Batman and DC fan. Not to mention, "The Dark Knight Rises" is my favorite movie of all time. Because of that, I think that it's only fair to give two ratings here: a biased fan grade and a completely objective grade. Regardless, the film is incredibly well made and is a lot of fun. It's far from a perfect film, but that doesn't mean that it failed in what it tried to do. It attempted to be a fun action comic book movie with ambition, and that's exactly what it was. While I cannot guarantee that everyone will like it because of the rather negative reviews the film has seen so far, I still think that the film should be viewed and judged for yourself.
Biased fan grade: A
Objective grade: B+
What appeals to FHC students: a fun comic book film, good acting, and the first time Batman and Superman have appeared on screen together
Director: Zack Snyder
Stars: Ben Affleck, Henry Cavill, Gal Gadot, Jesse Eisenberg, Amy Adams, Jeremy Irons
Runtime: two hours and 31 minutes (151 min.)
MPAA rating: PG-13 for intense sequences of violence and action throughout, and some sensuality
Leave a Comment
Your donation will support the student journalists of Francis Howell Central High School. Your contribution will allow us to purchase equipment and cover our annual website hosting costs. FHCToday.com and our subsequent publications are dedicated to the students by the students. We hope you consider donating to allow us to continue our mission of a connected and well-informed student body.