Strong competitions and new additions
Girls' tennis team adjusts to new members and continues to fight hard through every match and tournament.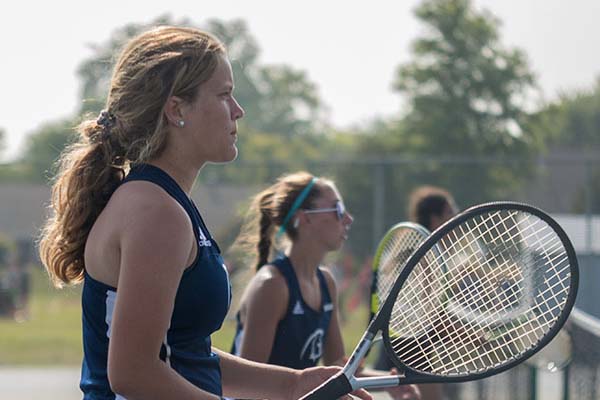 This past week, the varsity girls' tennis team had the opportunity to compete against Fort Zumwalt South in singles and doubles matches. The girls have been competing fiercely since the beginning of the season and have shown true sportsmanship through each match and tournament, whether the result be a win or a loss.

For senior JV captain Payton Frick, playing tennis for the first time has been an adjustment, but she makes the most out of her time competing and taking in every second of the new experience.

"Unfortunately, my partner and I went zero and seven. It's the best out of seven, so even if you get to four first, you still play to seven so you can get the practice, which is what JV is more about," Frick said. "It didn't really bother me because I'm new to the sport, [I've] never played before in my life. The matches were close, it just so happened that the other team got the last point."

Similar to Frick, Corrina Trimble, junior, had encountered losses in the matches against FZS, but maintained a positive attitude and focused on communicating with her match partner.

"

"

I sadly lost two to four, but of course it's just a learning experience on how to get better and communicate with my partner better"

— Corrina Trimble

," said Trimble. "My doubles partner this year is new, and sometimes they can struggle, especially when things aren't going the way they want them to, and just being able to help them during the middle of the game, is a nice feeling a vet player has."

Maintaining an optimistic attitude is an important aspect of competing on the girls tennis team. For Brynlee Hendricks, junior, competing in matches away from home is tough, since teams are more comfortable on their home courts.

"(The match) was at South. Usually you have better matches when you are at home, but the experience was actually really fun. We all rode on the bus together and we brought a speaker," Hendricks said. "It was just a really good feeling, being together with my team. We had a positive attitude the whole time, and it helped a lot."

Even though the team the team is young and has many players who are new to the sport, the matches against FZS resulted in an overall win. The girls competed positively and passionately, and will continue to do so throughout the season, including in their next match on Tuesday against Saint Charles High.
Leave a Comment