Relentless victory
Varsity softball team once again sends FHN to the sidelines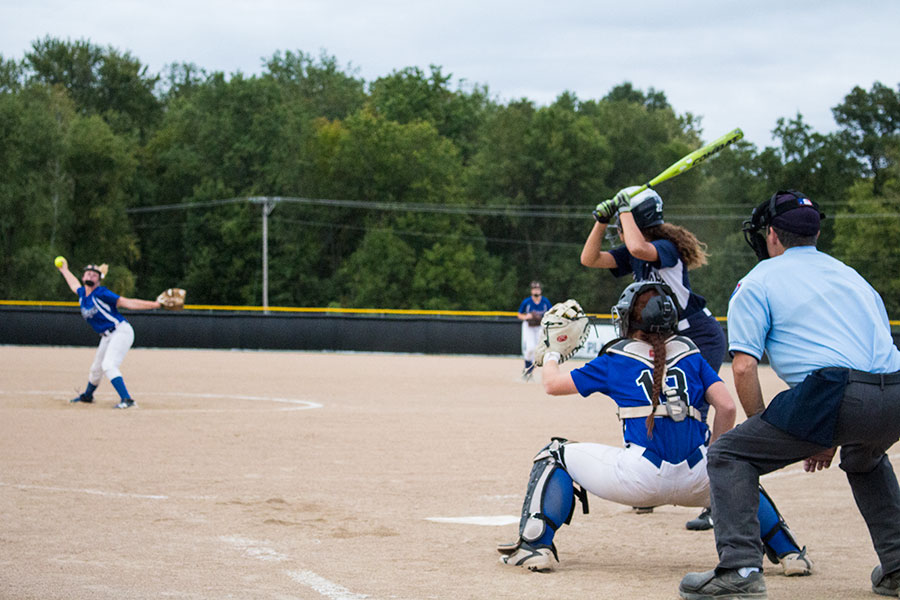 Once again, the varsity softball team defeated FHN on Sept. 14. Coming in as their third victory against North this season, the team has made themselves known to all that oppose them, with a higher win-loss ratio than any past year.
To get through this time, the varsity team needed a solid foundation of teamwork, a quality they have been trying to improve.
The team has been digging down on working together, and catcher Kaitlyn Chadwick, senior, wanted to help as much as everyone else.
"The attitude change [is great]," Chadwick explained. "Last year, we didn't really get along, but this year we're pushing the team dynamic in the hope that on the field [it will shine through]."
As Chadwick believes, the team's thinking is that teamwork will, in other words, make the dream work. And to increase the dynamic positively, she thinks team bonding experiences will help.
"We could do more team bonding later on," Chadwick reasoned. "You all start out as friends, but things can go bad [and then] you don't have the family dynamic. Team bonding can help bring people together."
First baseman Lizzie Orf, senior, agrees with Chadwick.
"Our attitudes are better," She said. "Our surroundings have become more positive, and we're there for one another."
As attitude becomes more positive, so will team effort. And as effort increases, so will their skill.
"[State] is very close for the taking," Orf said. "I think we could go to state — with our skill level right now — definitely."
With hopes of state, junior pitcher Jessica Koeling also believes game-by-game teamwork can get them into a consistent winning mindset.
"They always pick me up. We get pumped before the game and we stay like that the rest of the time." Koeling said. "We have our issues here and there, but otherwise [our dynamic is good]."
The varsity softball team plays against Troy at Troy tonight for their orange-out game in support of Mrs. Fetsch, and against Timberland this Friday, with expected wins for both. The team begins their run for state next month.