Theme of "Changes"
How the FHC winter guard is bringing "Changes" to the floor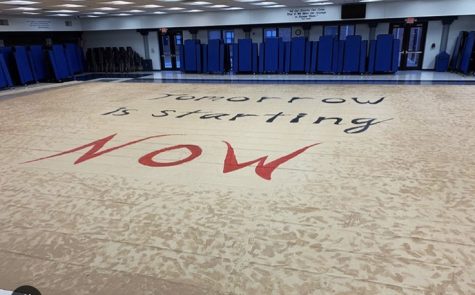 A Saturday morning, eight visual artists, paint and a tarp; the winter guard is sitting on their fully blank canvas with three volunteers in the empty cafeteria with only the sun shining through the windows.
    Sophomore Kory Martin experienced her first color guard bonding experience while painting the tarp which in only several hours later would read "Tomorrow Is Starting Now" in bold black and red font.
    "It took about seven to eight hours to paint the whole tarp; it was a whole day sort of ordeal"
    Although the guard had long work hours and a large canvas to cover, Martin seemed to enjoy her time hanging out and working with fellow guard members.
    "It was fun working together as a team to paint our tarp for the show and I really did enjoy bonding with them"
    She also likes the coaches and how they treat all guard members as adults.
    "They're really friendly and they really do support us a lot. Especially if we're newcomers"
    Winter guard member and clarinetist Klara Kümpfel seems to be enjoying the winter guard season. She says she likes the theme "changes" because of its meaning.
    "Like changes in history. That's why we have [the tarp] look like paper, like the Declaration of Independence. We're using the song 'If You Were Out There' by John Legend" said Kümpfel.
Kümpfel is excited about how the season is succeeding and she loves how the song they are going to use in their show is one that allowed her to show her interest in music.
"I listen to almost everything. I'm not picky at all, but I prefer songs where we can sing"
One of the winter guard and color guard coaches, Brandon Fink, is happy about this season's winter guard show.
  "The idea started with the John Legend song, and it's really all about being uplifting and finding confidence in yourself and what you believe in," Fink said
"We kind of developed this idea that tomorrow starts now, and that you can't wait until tomorrow. If you've got something that you believe in, start working on that goal today," Fink said.
       The show's theme, title, and song are very representative of the winterguard itself, and who they are as a group.
     "We decided that that is something the Howell Central guard needed. They believe in this, they have a passion for this; let's not wait till tomorrow. Let's start today,"Fink said.
   Like the tarp, the flag silks being used portray a metaphor that is seen in everyday life.
"There are 3 flags that we use," Fink said. "The first flag will look like an exposed brick wall, that's kind of broken and tattered. The 2nd flag is the same, but with a lot more saturated color in it, and the 3rd flag is that same exposed brick with saturated color and the word "love" graffiti spray painted on it."
    They are supposed to show the progressions of something simple and basic blossoming into something beautiful.
"It starts as this very broken down, fundamental thing, and expands and blossoms into something beautiful," explained Fink.
    The costumes are supposed to be beautiful but also normal in an uncanny way.
"All of the ladies will be wearing a very simple, flowy, navy blue wrap dress. Brady, our one gentleman in the show, will be wearing just some nice khaki slacks and a button up shirt. It is meant to look very 'pedestrian'." said Fink.
         The uniforms, along with the tarp and flags, will help portray the theme of change. The guard is excited to put the show together and show everyone that there is no need to wait to work for your dreams.