The mighty eight show how "Tomorrow Starts Now"
FHC Winter Guard take seventh place out of sixteen in their first Class A competition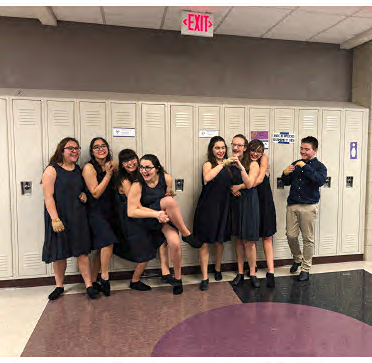 Everything seemed to be going wrong for sophomore Gianna Deidrick, it was her first winter guard competition, her coach was late and no one knew where their coach was.
  "We were a huge mess. Nami was late due to her accidentally sleeping in an extra half hour to an hour and we had no idea what to do," said Deidrick.
   Not only was the competition and makeup frustrating, but the bus ride was confusing and baffling.
  "When we got on [the bus], the bus driver just kind of looked at us like something was wrong, like we were recruits for something," said Deidrick
  She was very puzzled when she and her teammates ended up at a location that was not the school they were meant to go to.
  "The bus driver got the high school mixed up with an Army and Navy base in Illinois. We had no clue what was going on," said Deidrick
  After the performance, Deidrick knows there is only room to keep improving on her guard skills.
  "I feel I could've done better especially because I forgot work at some points during the show but there's only room to grow and keep improving my skills to help my family thrive," said Deidrick.
  After the performance and into awards, freshman Brady Steele felt exhilarated about his performance and the team's placement as adrenaline rushed through his veins.
  "There were 16 different guards in our class, we scored seventh out of nine for the first half of the day. So, for being a partially new guard that's pretty good," said Steele.
  Steele really feels as though the theme of the show reflects the guard and their goal for this winter season and into the following marching season.
  "The title of the show is 'Tomorrow Starting Now' and basically our director's main goal for the season is to get guard in general more noticed and to get more people into guard," said Steele.
  He understands it as standing your ground and taking back what is yours while helping the group.
  "It's more so standing up for ourselves and getting ourselves out there and gather more guard members," said Steele.
 Junior and soloist Gabby Soto felt good about the show itself. At the beginning of the show, she has a solo in which she starts everything out.
  "I run across the front sideline, and it's dance at the beginning. I'm the first to pick up my equipment. It starts out with this strip toss, and it's really high. I was really afraid I was going to drop it, but I caught it at the competition," said Soto.
     Though she felt very nervous about her solo, it seemed as though her hard work paid off.
  "I think it went great. I was really nervous about it, but I thought it was my best part," she said.
    The general feeling of the show is upbeat, and so it Gabby's solo. "It's all about standing up," she said.
     Though many of this seasons' winter guard members are new, they seem to be picking up on the new material relatively well.
     "There are things to improve on. There are a few snags in the show, so a lot of it is just knowing our work," said Soto. "I think they're [the new people] doing good. It's new, and it's not something you do every day."
     Most of the show is already put on the floor, even this early into the season. "Some of it is just drill still, but we just need to add work in those places." The FHC winter guard is off to a good start this season, and are ready to keep adding onto an already fantastic show.
     When asked if there was anything she would like to tell FHCToday readers, Gabby smiled and said, "Guard is a lot of fun, you should try it. We're always happy to have new people."