Taking Control
Sophomore Gracie Stugart spreading her work ethic and energy on and off the court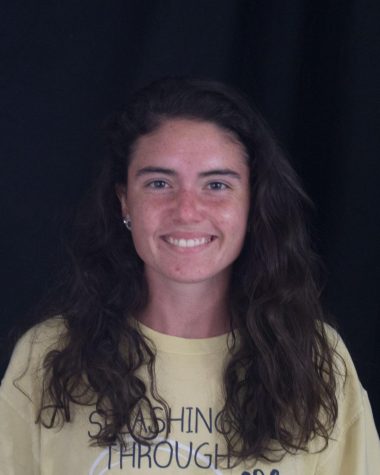 More stories from Kierigan McEvoy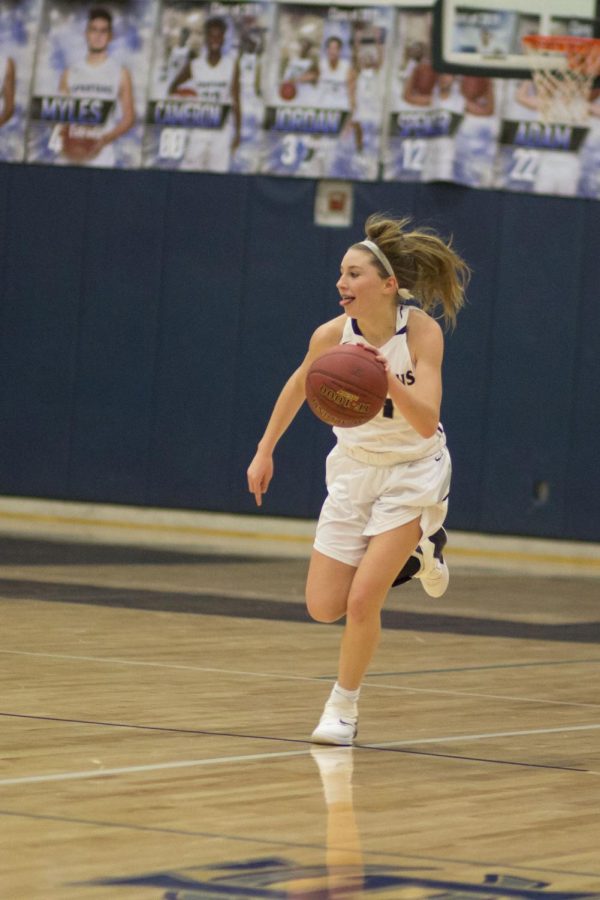 The lights go out. A single spotlight illuminates the opposite sideline of the court with teammates lining both sides like a tunnel to the light. Sophomore Gracie Stugart sits covered in darkness with four of her other teammates. Mr. Patrick Reed bellows out her teammate's names, position and number as they run through the tunnel of teammates, the spotlight igniting the white and blue of their uniforms. She sits waiting, thinking, planning, and preparing for the task ahead. She closes her eyes and hears the crowd around her. She hears her dad's voice, "control the controllables." She takes a deep breath. "At guarrrd, sophomore number eleven, GRACIE STUGARTTTTTTT!!!," Reed shouts.
Her eyes fly open, she's running past her teammates, giving high-fives, to the end of the tunnel, all eyes on her following the spotlight glow. She can do this. She has to for her team, for her family, and for her school.
Stugart, who plays varsity girls basketball and is new to the team this year has taken FHC by storm. Moving from South Dakota and going to Christian High School freshman year, Stugart transferred to FHC this year looking for a new adventure and some new competition. According to stats provided by head Coach Hayley Leake, Stugart has played 330 minutes, the most on the team so far this season.  
"[Central] is definitely bigger and more competition than where I'm from at Christian High School because that is a very small school. It is definitely tougher," Stugart said.
Stugart lives for new challenges. Coming from a family where her father is the head football coach at Lindenwood University, and a brother who also plays basketball and golfs undoubtedly assists in her love of being pushed to her max.
"Gracie has an incessant drive to be better – in everything she does, in every capacity she operates. This makes her a winner on so many levels," Coach Leake said.
Currently Gracie is a starting guard for the team and as of Jan 10 after the team played Rock Bridge High School, Stugart had 38 assists, 29 steals, and 42 rebounds.
"Gracie impacts the game in so many ways. She plays at a ferocious pace, distributes the ball in places where her teammates can be successful and also has the ability to score the basketball. With the ball in her hands so much, there are heavy expectations to run and manage a team. She has stepped up to this challenge and gets better every game," Coach Leake explained.
Not only has Stugart's work ethic appeared on the court but also in the classroom. Mrs. Teresa Odle, Stugart's English II teacher, did not even realize that she was such a basketball star. Once informed of Stugarts athletic ability Mrs. Odle easily made the connection of her classroom work ethic to her work ethic on the court.
"I would say the second thing that stands out about [Stugart] is her work ethic and I think that can definitely be connected back to basketball and the expectations that Mrs. Leake sets forth for all of her athletes," Mrs. Odle said.
To say that Mrs. Odle has enjoyed having Stugart in class this year is an understatement. She loves Stugart's optimism and willingness to encourage others.
"Whenever other people start to make improvements like that she's always willing to tell them 'Good job' or 'Hey that's awesome…' and those are things that you can't always teach," Mrs. Odle explained.
Not only is Stugart's work ethic noted by teachers and coaches, but her teammates and peers see the hard work she puts in to be a better player, but also a better friend, according to teammate Azaria Hulbert, a junior and three-year girls basketball player.
"She just seems like she never gets tired and like if you make a bad play on the floor, she always tries to pick you up and say it's good. Or if you make a good play, she always acknowledges you for that. It's just really nice," Hulbert said.
Energy is definitely a recurring theme when it comes to describing Stugart's personality. It is also a trait that she knows her self to be a strength that she possesses. When asked what she brings to the team, Stugart's response was simple: energy.
"I'm a loud energetic person and so I always try to be loud and encourage teammates," Stugart said. Then jokingly, "Hopefully I don't get too annoying."
This energy stems from a multitude of factors in her life. From playing a variety of sports growing up, the support system she has at home, but most importantly her love for the game.
"I love to play basketball because I love working with a team and being a part of one. I love the team effort of it, how its a very fast-paced game, and it takes a lot of strategy," Stugart explained.
Memorizing plays, always being 'on your toes,' executing plays, setting up the defense based on another team's plays; all these things play a role in strategizing within seconds on the court. Her love for the game shows in her play and practice. Leading up to tryouts for the season, this passion was evident from day one and separated Stugart from the rest in a very positive way.
"When I first met Gracie, I knew she would immediately be such a strong ambassador and contributor to the culture within our program. She would live it, protect it, and embrace it," Coach Leake said.  
'Live, protect, embrace.' Living out the expectations of hard work on the court and in the classroom. Protecting the name not on the back of her jersey, but on the front by demonstrating good character and encouraging others. Embracing every challenge thrown her way and stepping up to be a leader in the midst of also learning the ropes.
The competitors get into position on the court. The student section is on their feet, and she can hear her teammates on the bench throwing encouragement her way. She knows she can do this. She has trained for it, physically and mentally. The ball is in her court and she knows what to do. 'Control the controllables Gracie.' The referee blows the whistle, here comes the storm.
Leave a Comment
Your donation will support the student journalists of Francis Howell Central High School. Your contribution will allow us to purchase equipment and cover our annual website hosting costs. FHCToday.com and our subsequent publications are dedicated to the students by the students. We hope you consider donating to allow us to continue our mission of a connected and well-informed student body.