Steady Improvement
The boys tennis team not only work on their skills, but find ways they can improve as a team.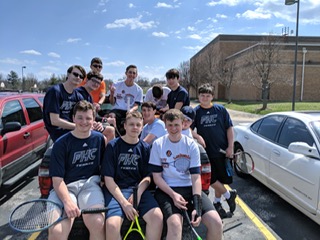 After several games delayed due to the rain, the boy's tennis team finally returned with a game against Liberty on March 27th. Juniors Emerson Smith and George Broyles played side by side on the court during this challenging game.
"I was playing with Emerson Smith and we lost our first game, the score was 2-6 but I thought we both played well. The second game, it was six games to five and we won. It was really close, they came back but we secured it," Broyles said.
Even if the team loses from time to time, Broyles tries to view it as a temporary learning experience rather than a defining loss.
"I try not to let mistakes get to my head, I try to always keep a consistent play style and not get too aggravated because I think having a bad mindset can really affect your game," Broyles said.
The team is working towards playing stronger games, and sophomore Killian Mcevoy finds the bond between the players helps them find the motivation to practice more often.
"Were bonding a lot easier and everyone knows each other, everyone is friends, everybody jokes, and we all have fun at practices but still get stuff done. The drive that we have [is a strength], we stay late after practice and [practice] on weekends when we don't have practice," Mcevoy said.
Sophomore Connor Lee attributes their success to a structured practice routine the team does each week.
"We always talk about how to play better in doubles and how to play better with everybody. We usually go out there for 10-15 minutes and warm up by hitting the ball back and forth. Then we'll go into drill stations and rotate, working on different moves and different hits," Lee said.
Although the team struggled against FZN on Monday, they made an improvement against FHH on Tuesday. Lee says the team always talks about their game after and find ways to improve.
"I know half of the JV team won, I think most of the varsity team won too. We always talk about how to play better in doubles and how to play better with everybody," Lee said.
While practices are essential for improvement, Mcevoy believes attitude can make or break a game.
"We have the players, we have the skill, we just need to go in with confidence and if we go in and play our hardest we can win," Mcevoy said.