Advancing to Semifinals
Varsity girls soccer beats Howell in in the districts 4 quarter finals, advancing then to semifinals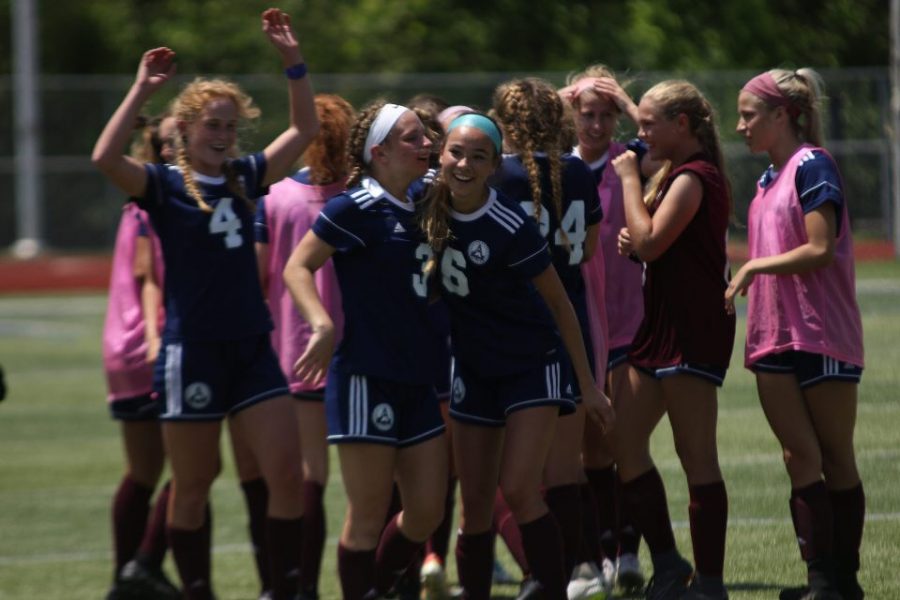 It's high noon on the Saturday afternoon after school has let out. Many students have long forgotten their responsibilities and started getting into the relaxing lull of summer, but standing in the sweltering heat, the 21 girls who make up the Francis Howell Central varsity girls soccer team have kept their focus and used that focus to defeat Francis Howell High 2-1.
      This game was the District 4 Quarterfinals, meaning FHC will now move on to Semifinals in Kansas City to compete next Friday at 2:00 p.m.
     Going into the game, the team felt pretty confident according to Coach Kim Schellert, who put the confidence she had in the team on how well they had been training. She also believes in the team going forward, citing their adherence to the plays throughout the playoffs thus far.
     "We're all pretty confident because the girls have been really training hard, and they've been very focused," Coach Schellert said. "They've been doing a great job executing each game plan that we've given them since this playoff run has started, so we know that we are peeking through this district championship and then onward and we are feeling good about our chances."
        Senior and captain Jenna Mathis says that despite never definitively predicting the outcome of a match, she had faith in her team going into the Quarterfinals, even though she believed it would be a close game.
      "I'll never tell you if we're going to win or lose. I say, 'we'll see'. And I think it's not a good thing to go into a game cocky," Mathis said. "Howell's a really quality team, so I thought it was going to be a pretty even match. But I believed in our girls going in no matter what."
    The driving point for the girls, according to Head Coach Eddie Mulholland, was during the first half, which he says he felt the girls knew there would be times in which they'd have their shot, despite being down by 1 at the time.
   "I think they knew in the first half that there were going to be opportunities. We were playing good soccer, we weren't playing bad. They knew the opportunities were going to come and they trusted each other," Mulholland said.
     Despite Mathis making both goals that ultimately led to the varsity team's victory, she said that she believes what led the most to the win was that every person on the team contributed.
    "I don't think it was any one player, and I don't think it ever is with our team. I think it's all a team effort. I think that's definitely what helped us the most," Mathis said.
     Coach Mulholland agrees with Mathis, and adds that even those who stayed on the sidelines did everything they could to contribute to the win.
    "Jenna Mathis had two goals, but it was all about everyone. You know, there's some girls that didn't touch the field that wanted to be there, and did everything…[they] got water [and did] every little bit, just to help us. It took all 21 girls out to get to where we're at from day one," Mulholland said.
    The idea of teamwork has been consistently threaded into the framework of the team's philosophy, notably by Coach Mulholland, according to Schellert.
   "It's their mentality. They bought into the message that Coach [Mulholland has] really been hammering in with them all season long…[which is that] it's all about team first and we're in it together no matter what," Schellert said.