The pop-punk single that tore us apart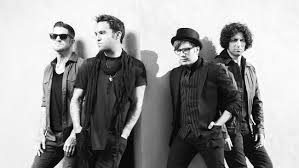 After the huge success of "Save Rock & Roll", Young Bloods everywhere were waiting for more new material from pop/punk legends Fall Out Boy. After just a little over a year, the band released their first single called "Centuries". This is a song that anyone with a radio has heard before, being featured on almost every rock and pop station and being included in NFL and MLB promo videos. The song included music styles from both Folie A Deux and Save Rock and Roll for a beautiful, melodic, hard hitting tune. The band also released a song for the Disney Pixar movie, Big Hero 6, called "Immortals", which followed the same guidelines that "Centuries" did. "Immortals" was fast paced and fun to listen to, as well as deep lyrics that most Fall Out Boy songs deliver. So when FoB fans heard of a new single released on Tumblr and migrating to YouTube, excitement exploded. Unfortunately, the song created a schism between Young Bloods everywhere.
The song American Beauty/American Psycho sounded, to some, like a mix between pop and techno, with very little of their emo or punk influences, which is partly true. The guitar and bass are either very hard to hear, or not there at all. The song mostly relies on frontman Patrick Stump's vocals, which are, as always, the equivalent of a choir of angels singing Bohemian Rhapsody. Other than that, the bass sounds like it would in any techno song. Even if that's not what bassist Pete Wentz had in mind, that's what we, the audience, hear. As stated before the guitar is hard to distinguish. I would even go so far as to say its not there. As for percussion, there is a battle raging on whether or not its a drum machine or drummer Andy Hurley. The argument against Andy is that the drums are too "complicated," but that doesn't mean anything. There are drummers out there that can play some pretty crazy riffs. Case and point: Buddy Rich. People don't give Andy enough credit as a drummer. He plays in a predominantly pop-punk band, so the percussion isn't exactly Rush or Slipknot crazy. The drums in ABAP are playable, and Andy is a good drummer, so personally, I think he is indeed playing without aid of a drum machine.
But while the instrumentals are not what any Young Blood expected, the song in and of itself is fun to listen to. Its upbeat, its fast, and Patrick's vocals are the greatest thing since toilet paper. The song is a little repetitive yes, but you can definitely hear the Fall Out Boy we fell in love with. The lyrics, the style, the feel, its all there, just tougher to see. FoB, like any band, evolves, its just a part of music. The key to liking ABAP is to accept that, and once you do, you'll be just as excited to hear this song live as I am. But until then, the war between the pro-ABAP and anti-ABAP rages on.
The new album is due to be released on January 20th and its called American Beauty/American Psycho (mind = blown).