Starting off the season on the right foot
The girls' tennis team has started their season off with many changes, but gets right back into the swing of things.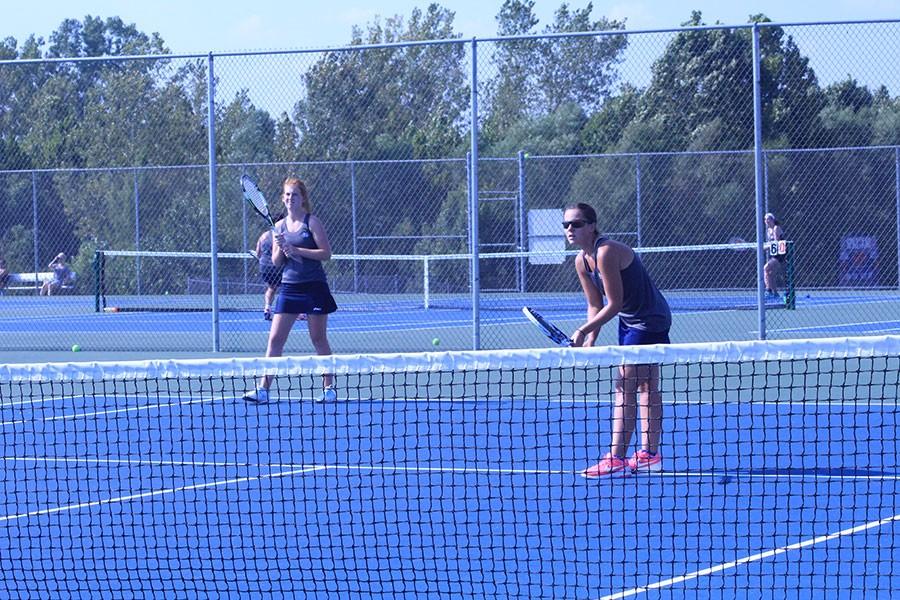 The JV and varsity girls' tennis team has started off their season quite a bit different from last year. New members and new coaches are just a couple of things they've had to adjust to. They played their first home match against Howell on Tuesday, August 25th.
Senior Abby Conoyer and junior Maddie Gunnell played one of the few winning matches of the day.
"When it comes to conditions today was an awfully brutal day. The wind makes it really hard to track the ball, but we just won our match so no complaining," Connoyer said.
"I mean I think I did well. I kept it together mentally which is good," Gunnell said.
The team has really changed this new year, with many losses and gains of teammates.
"We have a lot of new girls which is exciting, we lost a lot of seniors last year so these girls really had to step up and put in a lot of effort and hard work to get to where they are," Conoyer said. "I think they've done a great job and we'll have a very successful season."
With following up a successful season, many expect the team to do just as well, if not better. The team is working to improve and keep on top of the competition as the season progresses.
"We personally have high expectations for ourselves, but we believe the team won't do too shabby either," Conoyer said. "We've put in a lot of time off season, playing year round, getting on the court at least 5 days a week, working out. All the healthy stuff."
However, putting in time outside of practice isn't the only helpful change made this season. The team also has two new coaches, Jeremy Rohrbach and Nick Jury,  who are really pushing for the team to rise above the competition.

"They're great. We're really lucky to have such understanding coaches. They complement each other perfectly," Conoyer said.
"Which is nice because we only had one coach last year," said Gunnell. "One for varsity, one for JV. It's much more organized."
With all these changes, the girls' tennis team is definitely one to watch this season. Their next tournament this weekend.
Leave a Comment